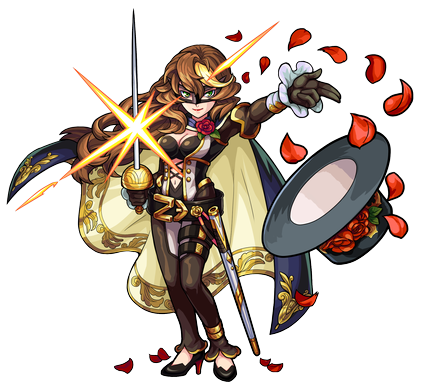 JP Name
-
JP #
1315
Class
Paladin
Element
Gender
-
Rarity
-

Sling
Bounce
Max Luck
90
Type
Speed
Rating
-
Ability
Null Gravity Barrier
Gauge
-
HP
12602 (+2460) = 15062
Obtain
-
ATK
13487 (+1325) = 14812
SPD
346.67 (+34.85) = 381.52
Luck Skill
-
Badge
Strike Shot
Momentary Fendez-vous - 13 Turns
Bashes the first contacted enemy and sends it flying.
Bump Combo
Spread Shot XL3 (2009)
Fires three 16-way sprays of massive elemental bullets.

To Evo

1 Divine Sharl
5 Light Sharls
10 Light Stoans
30 Maxstoans

To Asc

Wyatt Earp (3)
Kennel Kop (3)
Recommended Form - Ascension
Not many Samurai Bosses for Evolution
Cunning Vixen Zorro (Evolution)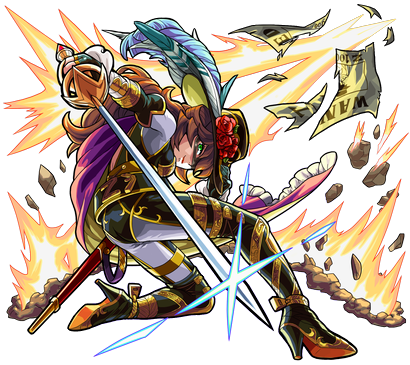 JP Name
-
JP #
1316
Class
Paladin
Element
Gender
-
Rarity
-

Sling
Bounce
Max Luck
99
Type
Speed
Rating
-
Ability
Samurai Slayer M
Gauge
Null Gravity Barrier
HP
17055 (+3900) = 20955
Obtain
-
ATK
16511 (+2400) = 18911 (22693 w/ Gauge)
SPD
356.63 (+53.55) = 410.18
Luck Skill
Badge
Strike Shot
The Mark of Zorro - 16 Turns
Bashes the first contacted enemy and sends it flying.
Bump Combo
Spread-struction XL3 (4499)
Fires three 16-way sprays of massively powerful elemental shots.

To Asc

Wyatt Earp (2)
Kennel Kop (2)
Strengths
Effective against Samurai Bosses
Weakness
SS doesn't do a lot of damage
Ableberries
Class Kinstrength - Increases her damage towards Samurai enemies
Detox - Works well in 24F of the Tower
Viable Quests

Impossibles/Colossals:


Fire: Crimson Blade Muramasa


Water: Okita Soji


Wood: Tokugawa Yoshinobu


Light: Radiant Blade Muramasa | Minamoto no Yoritomo | Miyabi


Dark: Shadow Blade Muramasa

Tower: 24F

Temple: Water (Time) | Wood (Carnage) | Dark (Carnage)
Masked Outlaw Zorro (Ascension)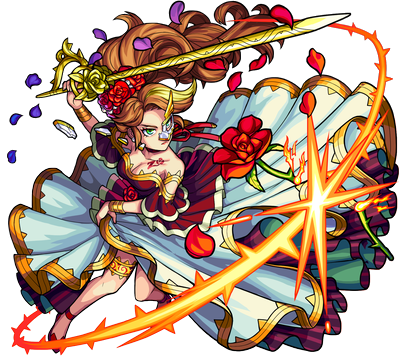 JP Name
-
JP #
1317
Class
Paladin
Element
Gender
-
Rarity
-

Sling
Bounce
Max Luck
99
Type
Speed
Rating
-
Ability
Dark Resistance
Gauge
Null Gravity Barrier
HP
18666 (+4200) = 22866
Obtain
-
ATK
19497 (+2850) = 22347 (26816 w/ Gauge)
SPD
368.13 (+55.25) = 423.38
Luck Skill
Badge
Strike Shot
Impassioned Alegrías - 18 Turns
Passes through enemies while attacking.
Bump Combo
Homing Destruction 8 (10981)
Randomly targets foes with 8 powerful elemental shots.

Sub Bump

To Evo

15 Light Sharls
30 Light Stoans
90 Maxstoans
Strengths
Mitigates damage from Dark enemies
Weakness
Bump Combo doesn't do damage
Ableberries
Survivor - Mitigate damage from Dark enemies even more
Class Kinstrength - Increases her SS damage
Viable Quests

Impossibles/Colossals: Tsukuyomi | Yomi


Fire:


Water:


Wood:


Light:


Dark: Dark Wyrm | Princess Takiyasha | Visceron | Bahamut | M. Bison | Shadow Blade Muramasa | Deathscoil x 9th Angel | Gilles de Rais | Bastet | Kabushido | Krishna | Inari | Deathscoil | Valodica | Gigazombie

Tower:

Temple: Water (Time) | Wood (Carnage) | Dark (Carnage)
Ad blocker interference detected!
Wikia is a free-to-use site that makes money from advertising. We have a modified experience for viewers using ad blockers

Wikia is not accessible if you've made further modifications. Remove the custom ad blocker rule(s) and the page will load as expected.