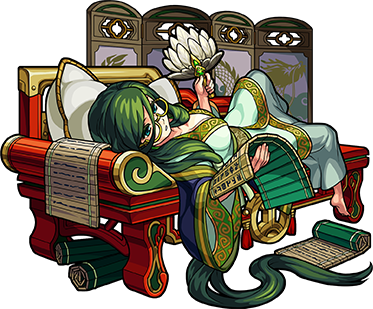 JP Name
-
JP #
2330
Class
Samurai
Element
Gender
-
Rarity
-

Sling
Bounce
Max Luck
90
Type
Balanced
Rating
-
Ability
Null Warp
Gauge
-
HP
11751 (+2460) = 14211
Obtain
-
ATK
14353 (+1400) = 15753
SPD
247.03 (+24.65) = 271.68
Luck Skill
-
Badge
Strike Shot
Third Visit - 12 Turns
Increases Speed.
Bump Combo
Lock-on Piercewave 6 (13259)
Attacks foes with 6 non-elemental piercewaves.

To Evo

1 Divine Sharl
5 Green Sharls
10 Green Stoans
30 Maxstoans

To Asc

Meng Huo (2)
Sun Quan (2)
Huang Gai (1)
Recommended Form - Ascension
Two Null Abilities for high versatility
Chancellor Zhuge Liang (Evolution)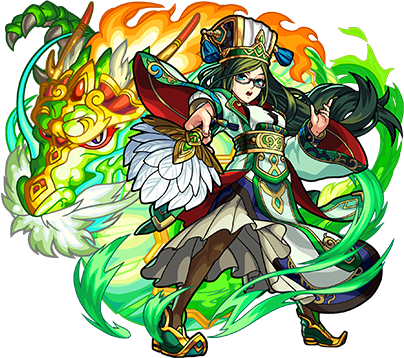 JP Name
-
JP #
2331
Class
Samurai
Element
Gender
-
Rarity
-

Sling
Bounce
Max Luck
99
Type
Balanced
Rating
-
Ability
Null Warp
Gauge
Recovery / Strike Shot Reducer
HP
19142 (+3900) = 23042
Obtain
-
ATK
19751 (+2875) = 22626 (27151 w/ Gauge)
SPD
290.40 (+44.20) = 334.60
Luck Skill
Badge
Strike Shot
Dragon of the Southeast Wind - 18 Turns
Passes through enemies while attacking.
Bump Combo
Lock-on Piercewave 6 (18562)
Attacks foes with 6 non-elemental piercewaves.

To Asc

Meng Huo (1)
Sun Quan (1)
Huang Gai (1)
Strengths
Recovery to keep your team's HP topped off
Weakness
Ableberries
Survivor - Mitigates damage from enemies
Viable Quests

Impossibles/Colossals: Doom | Izanagi


Fire:


Water: Koalius | Louis XIII | Sima Yi


Wood:


Light: Origami | Ghoulie


Dark:

Tower: 22F

Temple: Water (Time) | Water (Carnage) | Wood (Time) | Wood (Carnage) | Dark (Time)
Brilliant Tactician Zhuge Liang (Ascension)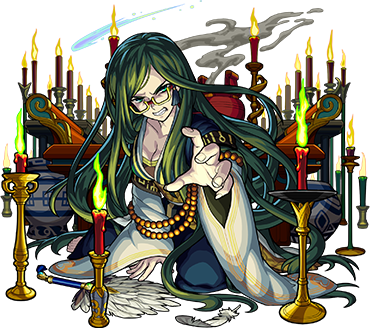 JP Name
-
JP #
2332
Class
Samurai
Element
Gender
-
Rarity
-

Sling
Pierce
Max Luck
99
Type
Balanced
Rating
-
Ability
Null Damage Wall
Gauge
Null Warp
HP
18006 (+4200) = 22206
Obtain
-
ATK
20368 (+2975) = 23343 (28012 w/ Gauge)
SPD
313.33 (+47.60) = 360.93
Luck Skill
Badge
Strike Shot
The Big Reveal - 25 Turns
Reveals all a boss's weak points on contact.
Bump Combo
Lock-on Piercewave 6 (18562)
Attacks foes with 6 non-elemental piercewaves.

Sub Bump

To Evo

15 Green Sharls
30 Green Stoans
90 Maxstoans
Strengths
Double Null Abilities for high versatility
Weakness
Ableberries
Survivor - Mitigates damage from enemies
Cutthroat - Useful against Nirai Kanai or Penglai
Sidekick - Increases her Bump Combo damage
Viable Quests

Impossibles/Colossals: Bishamonten | Nirai Kanai | Doom | Izanagi | Penglai


Fire:


Water: Louis XIII |Dracula | Sima Yi | Taira no Kiyomori


Wood: Medusa


Light: Zashiki Warashi | Fenrir | Origami


Dark:

Tower: 34F

Temple: Water (Time) | Water (Carnage) | Wood (Time) | Wood (Carnage) | Dark (Carnage) | Dark (Time)
3 Kingdoms III Series

Hatcher Monsters

Zhuge Liang

Zhao Yun

Lady Sun
Drop Monsters

Huang Gai

Sima Yi

Meng Huo

Sun Quan
[Savage] Guide
[Lethal] Guide
[Extreme] Guide
[Extreme] Guide
Ad blocker interference detected!
Wikia is a free-to-use site that makes money from advertising. We have a modified experience for viewers using ad blockers

Wikia is not accessible if you've made further modifications. Remove the custom ad blocker rule(s) and the page will load as expected.