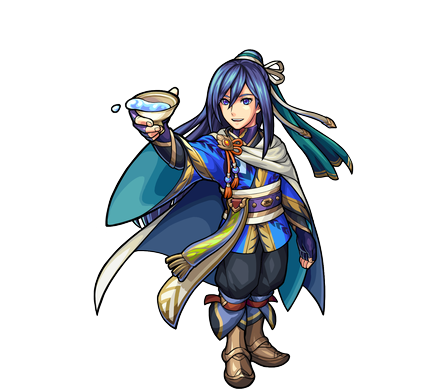 JP Name
-
JP #
1755
Class
Samurai
Element
Gender
-
Rarity
-

Sling
Bounce
Max Luck
90
Type
Blast
Rating
-
Ability
Null Warp
Gauge
-
HP
12184 (+2460) = 14644
Obtain
-
ATK
13849 (+1350) = 15199
SPD
257.47 (+25.5) = 282.97
Luck Skill
-
Badge
Strike Shot
Wisdom of Wu - 12 Turns
Increases Speed.
Bump Combo
Strafing Shotgun (3099)
Hits nearby foes with 100 elemental shots in all directions.

To Evo

1 Divine Sharl
5 Blue Sharls
10 Blue Stoans
30 Maxstoans

To Asc

Yuan Shao (3)
Diaochan (2)
Recommended Form - Evolution
Recovery more valuable than the two Slayers
Zhou Yu Gongjin (Evolution)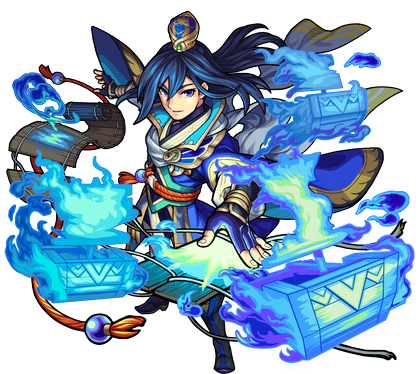 JP Name
-
JP #
1756
Class
Samurai
Element
Gender
-
Rarity
-

Sling
Bounce
Max Luck
99
Type
Blast
Rating
-
Ability
Null Warp
Gauge
Recovery
HP
17552 (+3900) = 21452
Obtain
-
ATK
18822 (+2750) = 21572 (25886 w/ Gauge)
SPD
266.9 (+39.95) = 306.85
Luck Skill
Badge
Strike Shot
Azure Blaze - 18 Turns
Further weakens a boss's weak points on contact.
Bump Combo
Strafing Shotgun (4428)
Hits nearby foes with 100 elemental shots in all directions.

To Asc

Yuan Shao (2)
Diaochan (1)
Strengths
Increases effectiveness of enemy weak points (becomes x4.5 for 4 turns)
Bump Combo good for mob clearing, especially scorpions
Weakness
Only one Null ability
No single target damage
Ableberries
Cutthroat - Great for Izanagi: Zero (Impossible)
Survivor - Mitigate more damage in Avalon (Colossal)
Viable Quests

Impossibles/Colossals: Avalon | Izanagi | Izanagi: Zero


Fire: Surtr | Daisy | Zuma | Figcel | Zetton | Shen Gongbao


Water:


Wood:


Light: Origami


Dark: Vanilla | Bull Demon King

Tower:

Temple: Water (Time) | Water (Carnage) | Dark (Carnage)
Zhou Yu the Handsome (Ascension)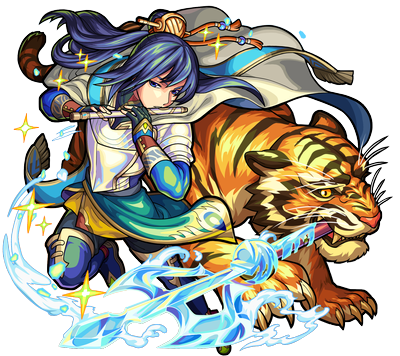 JP Name
-
JP #
1757
Class
Samurai
Element
Gender
-
Rarity
-

Sling
Pierce
Max Luck
99
Type
Speed
Rating
-
Ability
Dragon Slayer / Vivolith Slayer
Gauge
Null Warp
HP
16717 (+4200) = 20917
Obtain
-
ATK
18326 (+2675) = 21001 (25201 w/ Gauge)
SPD
384.83 (+57.8) = 442.63
Luck Skill
Badge
Strike Shot
Tiger Blade Stance - 18 Turns
Further weakens a boss's weak points on contact.
Bump Combo
Strafing Shotgun (3163)
Hits nearby foes with 100 elemental shots in all directions.

Sub Bump

To Evo

15 Blue Sharls
30 Blue Stoans
90 Maxstoans
Strengths
Increases effectiveness of enemy weak points (becomes x4.5 for 4 turns)
Weakness
Hardly any dungeons to make use of his two Slayers
Ableberries
Sidekick - Increases his Wave damage
Knockout - Synergies with Sling and high SPD
Viable Quests

Impossibles/Colossals:


Fire: Fire Wyrm | Captain Mica


Water: First Empress | ZENIGATA


Wood:


Light: Emerald Dragon | Typhon | Hakwa


Dark: Dark Wyrm | Necali

Tower:

Temple: Water (Time) | Water (Carnage) | Dark (Carnage)
Ad blocker interference detected!
Wikia is a free-to-use site that makes money from advertising. We have a modified experience for viewers using ad blockers

Wikia is not accessible if you've made further modifications. Remove the custom ad blocker rule(s) and the page will load as expected.