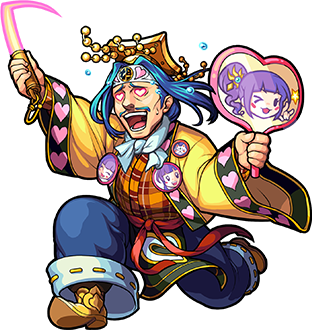 JP Name
-
JP #
2047
Class
Demihume
Element
Gender
-
Rarity
-

Sling
Bounce
Max Luck
72
Type
Balanced
Rating
-
Ability
Null Gravity Barrier
Gauge
-
HP
7654 (+1400) = 9054
Obtain
-
ATK
7996 (+775) = 8771
SPD
191.23 (+18.7) = 209.93
Luck Skill
-
Badge
Strike Shot
My Dear Daji - 12 Turns
Increases Speed.
Bump Combo
Ex Laser S (2706)
Attacks in an X pattern with 4 small elemental lasers.

To Evo

1 Blue Sharl
5 Light Stoans
10 Maxstoans
30 Stoans

Material For

Shen Gongbao
Lover Boy Zhou Wang (Evolution)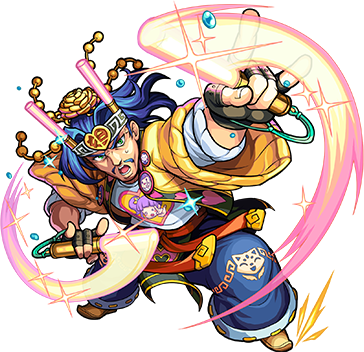 JP Name
-
JP #
2048
Class
Demihume
Element
Gender
-
Rarity
-

Sling
Bounce
Max Luck
90
Type
Balanced
Rating
-
Ability
Null Gravity Barrier
Gauge
Dragon Slayer
HP
13395 (+2460) = 15855
Obtain
-
ATK
11701 (+3975) = 15676 (18811 w/ Gauge)
SPD
223.43 (+79.05) = 302.48
Luck Skill
Badge
Strike Shot
Daji or Bust - 20 Turns
Explodes on first enemy contact and does a lot of damage to all foes in the vicinity.
Bump Combo
Ex Laser M (4735)
Attacks in an X pattern with 4 medium-sized elemental lasers.
Strengths
Effective against Dragon enemies
Explosion SS can deal damage to Boss
Weakness
Fengshen Yanyi Series

Hatcher Monsters

Nezha

Jiang Ziya

Yang Quanqi
Drop Monsters

Shen Gongbao

Undead Master Ron

Wen Zhong

Zhou Wang

Imperial Debauchery
[Extreme] Guide
[Savage] Guide
[Extreme] Guide
[Savage] Guide
[Savage] Guide
Ad blocker interference detected!
Wikia is a free-to-use site that makes money from advertising. We have a modified experience for viewers using ad blockers

Wikia is not accessible if you've made further modifications. Remove the custom ad blocker rule(s) and the page will load as expected.