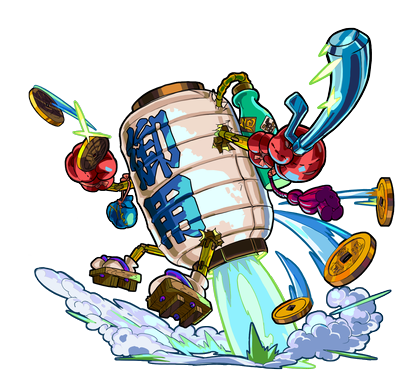 JP Name
-
JP #
1324
Class
Mech
Element
Gender
-
Rarity
-

Sling
Bounce
Max Luck
90
Type
Balanced
Rating
-
Ability
Null Warp
Gauge
-
HP
13085 (+0) = 13085
Obtain
-
ATK
14918 (+0) = 14918
SPD
251.8 (+0) = 251.8
Luck Skill
-
Badge
Strike Shot
Program: ZENAKU - 12 Turns
Increases Speed.
Bump Combo
Lock-on Shockwave 6 (13259)
Attacks with 6 non-elemental shockwaves.

To Evo

1 Divine Sharl
5 Blue Sharls
10 Blue Stoans
30 Maxstoans

To Asc

Wyatt Earp (3)
Kennel Kop (1)
Madame Zenny (1)
Evil Magistrate (1)
Recommended Form - Evolution
MS-ZENIGATA (Evolution)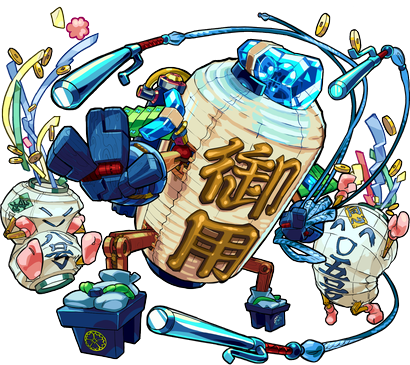 JP Name
-
JP #
1325
Class
Mech
Element
Gender
-
Rarity
-

Sling
Bounce
Max Luck
99
Type
Balanced
Rating
-
Ability
Null Warp
Gauge
Vivolith Slayer
HP
17400 (+3900) = 21300
Obtain
-
ATK
14319 (+4900) = 19219 (23062 w/ Gauge)
SPD
226.13 (+79.90) = 306.03
Luck Skill
Badge
Strike Shot
Program: EDO808 - 18 Turns
Increases Speed and Strength.
Bump Combo
Lock-on Piercewave 6 (18562)
Attacks with 6 non-elemental piercewaves.

To Asc

Wyatt Earp (2)
Kennel Kop (1)
Madame Zenny (1)
Evil Magistrate (1)
Strengths
High stats
Bump Combo does relatively high damage
Weakness
Only 1 Null and not many uses for Vivolith Slayer
Ableberries
Class Kinstrength - Increases damage towards Vivolith enemies
Cutthroat - Useful against Avalon
Survivor - Mitigates damage from high damaging dungeons like Avalon
Viable Quests

Impossibles/Colossals: Avalon


Fire: Captain Mica


Water:


Wood:


Light: Typhon


Dark: Vanila | Geppetto

Tower:

Temple: Water (Carnage)
ZENIGATA ZERO (Ascension)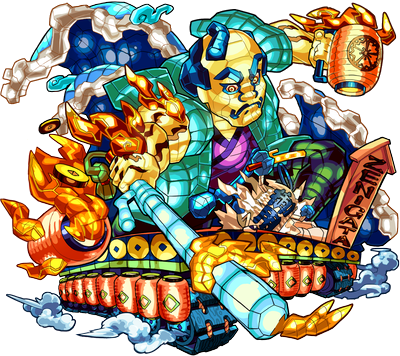 JP Name
-
JP #
1326
Class
Mech
Element
Gender
-
Rarity
-

Sling
Bounce
Max Luck
99
Type
Balanced
Rating
-
Ability
Null Warp
Gauge
-
HP
18857 (+4200) = 23057
Obtain
-
ATK
21561 (+7375) = 28936
SPD
224.37 (+79.90) = 304.27
Luck Skill
Badge
Strike Shot
Boisterous Jitte - 26 Turns
Gigantifies the user on enemy contact and mows enemies down.
Bump Combo
Lock-on Piercewave 6 (18562)
Attacks with 6 non-elemental piercewaves.

Sub Bump

To Evo

15 Blue Sharls
30 Blue Stoans
90 Maxstoans
Strengths
High stats
Bump Combo does relatively high damage
Weakness
Ableberries
Class Kinstrength - Puts his ATK over 30000
Cutthroat - Useful against Avalon
Survivor - Mitigates damage from high damaging dungeons like Avalon
Viable Quests

Impossibles/Colossals: Avalon


Fire: Grey Alien | Captain Mica | Zetton


Water:


Wood:


Light:


Dark:

Tower:

Temple: Water (Carnage)
Ad blocker interference detected!
Wikia is a free-to-use site that makes money from advertising. We have a modified experience for viewers using ad blockers

Wikia is not accessible if you've made further modifications. Remove the custom ad blocker rule(s) and the page will load as expected.