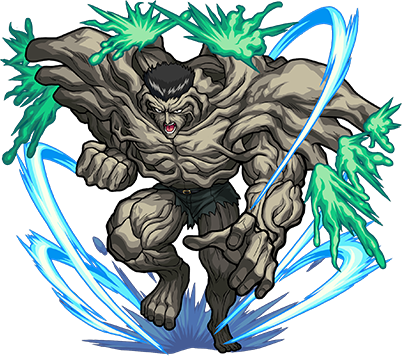 JP Name
戸愚呂弟 100%中の100%
JP #
2318
Class
Demon
Element
Gender
-
Rarity
-

Sling
Bounce
Max Luck
99
Type
Power
Rating
-
Ability
Deity Slayer / Paladin Slayer
Gauge
Null Warp
HP
18726 (+3900) = 22626
Obtain
-
ATK
21017 (+7175) = 28192 (33830 w/ Gauge)
SPD
184.23 (+65.45) = 249.68
Luck Skill
Badge
Strike Shot
筋肉操作 - 22 Turns
Increases own power for a set period of time and sends the first contacted enemy flying.
Bump Combo
Rebound Ex Laser L (1775)
Attacks in an X pattern with 4 large elemental lasers that rebound three times.
Strengths
Effective against both Deity and Paladin enemies
SS increases his own ATK (x2) and DEF (25% reduction) for 1 round
Weakness
Long cooldown for a Bash SS
Can't make use of Slayers due to low SPD
Ableberries
Class Kinstrength - Increases SS and Slayer damage
Sidekick - Increases Bump Combo damage
Viable Quests

Impossibles/Colossals: Izanagi | Avalon | Izanami


Fire: Leopoint | Captain Mica


Water: Louis XIII


Wood:


Light:


Dark: Bull Demon King

Tower:

Temple: Fire (Time) | Water (Time) | Water (Carnage)
Ad blocker interference detected!
Wikia is a free-to-use site that makes money from advertising. We have a modified experience for viewers using ad blockers

Wikia is not accessible if you've made further modifications. Remove the custom ad blocker rule(s) and the page will load as expected.