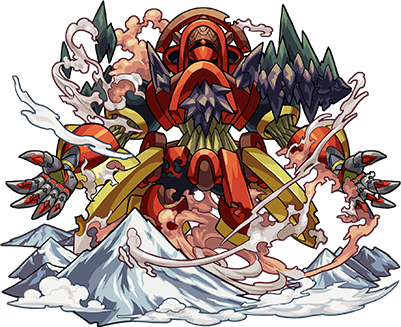 JP Name
ユミル
JP #
2559
Class
Vivolith
Element
Gender
Male
Rarity
5★

Sling
Pierce
Max Luck
90
Type
Power
Rating
-
Ability
Mine Sweeper
Gauge
HP
12671 (+0) = 12671
Obtain
ATK
19784 (+0) = 19784
SPD
166.57 (+0) = 166.57
Luck Skill
-
Badge
Strike Shot
原初の波動 - 12 Turns
Increases Speed.
Bump Combo
Ex Laser M (3314)
Attacks in an X pattern with 4 medium-sized elemental lasers.

To Evo

1 Divine Sharl
5 Red Sharls
10 Red Stoans
30 Maxstoans

To Asc

Jotun (2)
Garm (5)
Recommended Form - Evolution
Evolution has more versatility
Ymir (Evolution)
JP Name
始祖たる巨人 ユミル
JP #
2560
Class
Vivolith
Element
Gender
Male
Rarity
6★

Sling
Pierce
Max Luck
99
Type
Power
Rating
6.5
Ability
Mine Sweeper
Gauge
Null Warp
HP
19659 (+3900) = 23559
Obtain
Evolution
ATK
20929 (+7200) = 28129 (33755 w/ Gauge)
SPD
183.97 (+64.60) = 248.57
Luck Skill
Badge
Strike Shot
アウルゲルミル・レイジング - 12 Turns
Increases Speed.
Bump Combo
Ex Laser L (6237)
Attacks in an X pattern with 4 large elemental lasers.

To Asc

Jotun (1)
Garm (4)
Strengths
Weakness
Viable Quests

Impossibles/Colossals: Kushinada | Marishiten | Daikokuten | Kushinada: Zero | Mag Mell


Fire: Grey Alien


Water:


Wood: Diaochan | Tokugawa Yoshinobu | Zhang Jiao | Jiraiya


Light:


Dark: Satellite | Drillmax | Typera

Tower:

Temple:
Ymir (Ascension)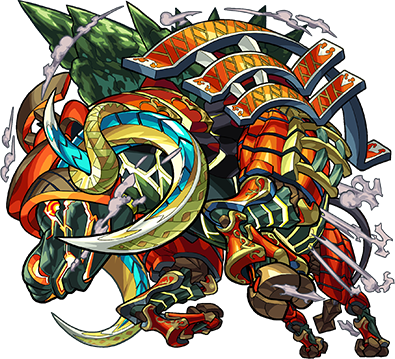 JP Name
喚き叫ぶ者 ユミル
JP #
2561
Class
Vivolith
Element
Gender
Male
Rarity
6★

Sling
Bounce
Max Luck
99
Type
Power
Rating
6.5
Ability
Deity Slayer M
Gauge
Null Warp
HP
19904 (+4200) = 24104
Obtain
Ascension
ATK
21070 (+7250) = 28320 (33984 w/ Gauge)
SPD
173.57 (+61.20) = 234.77
Luck Skill
Badge
Strike Shot
アウズンブラの号哭 - 21 Turns
Fires a number of homing shots.
Bump Combo
Ex Laser XL (8794)
Attacks in an X pattern with 4 massive elemental lasers.

Sub Bump

To Evo

15 Red Sharls
30 Red Stoans
90 Maxstoans
Strengths
Base Deity Slayer M
Bump Combo and SS procs the Slayer
Weakness
SS can hit shields/drones
Only 1 Null
Mediocre on non-Deity Boss Quests
Viable Quests

Impossibles/Colossals: Izanagi


Fire:


Water:


Wood: Serket


Light:


Dark:

Tower: 23F

Temple:
Ragnarok 3 Series

Hatcher Monsters

Skuld

Urd

Heimdall
Drop Monsters

Ymir

Jotun

Garm

Angrboða
[Lethal] Guide
[Extreme] Guide
[Savage] Guide
[Extreme] Guide
Ad blocker interference detected!
Wikia is a free-to-use site that makes money from advertising. We have a modified experience for viewers using ad blockers

Wikia is not accessible if you've made further modifications. Remove the custom ad blocker rule(s) and the page will load as expected.