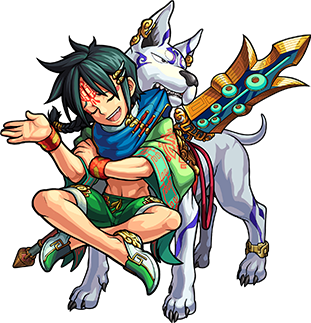 JP Name
-
JP #
2036
Class
Demihume
Element
Gender
-
Rarity
-

Sling
Pierce
Max Luck
90
Type
Balanced
Rating
-
Ability
Mine Sweeper
Gauge
-
HP
11859 (+2460) = 14319
Obtain
-
ATK
18291 (+1800) = 20091
SPD
191.33 (+18.70) = 210.03
Luck Skill
-
Badge
Strike Shot
Seeker of Knowledge - 12 Turns
Increases Speed.
Bump Combo
Ex Laser M (4735)
Attacks in an X pattern with 4 medium-sized elemental lasers.

To Evo

1 Divine Sharl
5 Green Sharls
10 Green Stoans
30 Maxstoans

To Asc

Shen Gongbao (3)
Undead Master Ron (2)
Imperial Debauchery (2)
Recommended Form - Evolution
Rider Yang Quanqi (Evolution)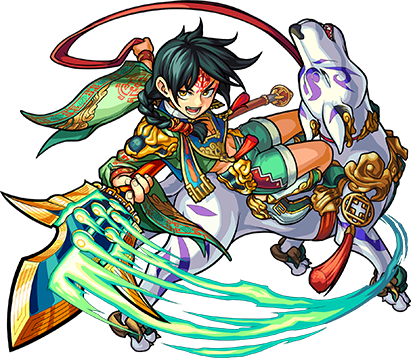 JP Name
-
JP #
2037
Class
Demihume
Element
Gender
-
Rarity
-

Sling
Pierce
Max Luck
99
Type
Balanced
Rating
-
Ability
Mine Sweeper
Gauge
Null Damage Wall
HP
18174 (+3900) = 22074
Obtain
-
ATK
24920 (+3650) = 28570 (34284 w/ Gauge)
SPD
257.50 (+39.10) = 296.6
Luck Skill
Badge
Strike Shot
Emerald Trident - 20 Turns
Sends the first contacted enemy flying and restores HP.
Bump Combo
Ex Laser XL (12312)
Attacks in an X pattern with 4 massive elemental lasers.

To Asc

Shen Gongbao (2)
Undead Master Ron (1)
Imperial Debauchery (1)
Strengths
Two Null Abilities for high viability
Powerful Bump Combo with high coverage
Weakness
Low SPD for a Pierce monster
Ableberries
Style Kinstrength - Increases team's ATK for Penglai
Sidekick - Increases his Bump Combo damage
Viable Quests

Impossibles/Colossals: Marishiten | Yamato Takeru: Zero | Bishamonten | Penglai


Fire:


Water: Ra x 6th Angel | Queen Butterflight


Wood: Basilisk


Light: Roller Girl | Vishnu


Dark: Typera | Yeti

Tower:

Temple: Water (Time) | Water (Carnage) | Wood (Time) | Light (Carnage) | Dark (Time)
Awakened Eye Yang Quanqi (Ascension)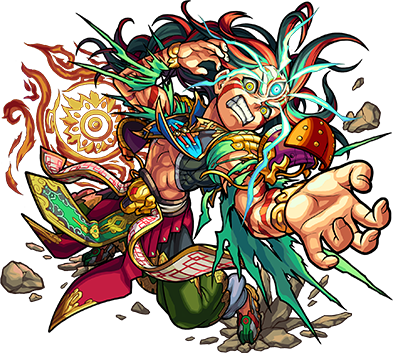 JP Name
-
JP #
2038
Class
Deity
Element
Gender
-
Rarity
-

Sling
Bounce
Max Luck
99
Type
Balanced
Rating
-
Ability
Mine Sweeper / Water Resistance
Gauge
Samurai Slayer
HP
18809 (+4200) = 23009
Obtain
-
ATK
23537 (+3475) = 27012 (32414 w/ Gauge)
SPD
244.87 (+36.55) = 281.42
Luck Skill
Badge
Strike Shot
Three-Eyed Fury - 12 Turns
Dizzies foes with speed and cancels projectiles for a set number of turns.
Bump Combo
Ex Laser XL (12312)
Attacks in an X pattern with 4 massive elemental lasers.

Sub Bump

To Evo

15 Green Sharls
30 Green Stoans
90 Maxstoans
Strengths
Short CD that can immune attacks
Powerful Bump Combo with high coverage
Weakness
Ableberries
Sidekick - Increases his Bump Combo damage
Survivor - Mitigate damage from enemies
Viable Quests

Impossibles/Colossals: Yamato Takeru: Zero


Fire:


Water: Queen Butterflight | Kay | Princess Iron Fan | Jabberwock


Wood: Tokugawa Yoshinobu


Light: Vishnu


Dark: Honda Tadakatsu

Tower:

Temple: Water (Time) | Light (Time)
Fengshen Yanyi Series

Hatcher Monsters

Nezha

Jiang Ziya

Yang Quanqi
Drop Monsters

Shen Gongbao

Undead Master Ron

Wen Zhong

Zhou Wang

Imperial Debauchery
[Extreme] Guide
[Savage] Guide
[Extreme] Guide
[Savage] Guide
[Savage] Guide
Ad blocker interference detected!
Wikia is a free-to-use site that makes money from advertising. We have a modified experience for viewers using ad blockers

Wikia is not accessible if you've made further modifications. Remove the custom ad blocker rule(s) and the page will load as expected.