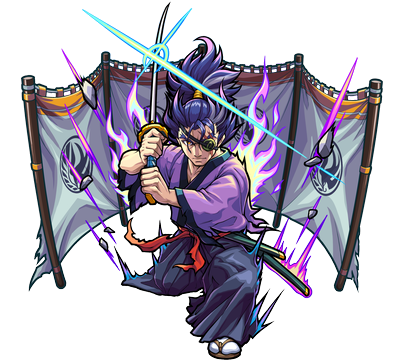 JP Name
-
JP #
1863
Class
Samurai
Element
Gender
-
Rarity
-

Sling
Bounce
Max Luck
90
Type
Power
Rating
-
Ability
Null Gravity Barrier
Gauge
-
HP
12735 (+2460) = 15195
Obtain
-
ATK
23711 (+2300) = 26011
SPD
193.77 (+19.55) = 213.32
Luck Skill
-
Badge
Strike Shot
The Art of Looking at the Moon - 12 Turns
Increases Speed.
Bump Combo
Slice 'n' Dice (883)
Randomly slices into foes with razor-sharp blades.

To Evo

1 Divine Sharl
5 Dark Sharls
10 Dark Stoans
30 Maxstoans

To Asc

Zeami (3)
Onryo (2)
Recommended Form - Ascension
Has two Slayers
Evolution SS is hard to use
Jubei, Master of Shinkage-Ryu (Evolution)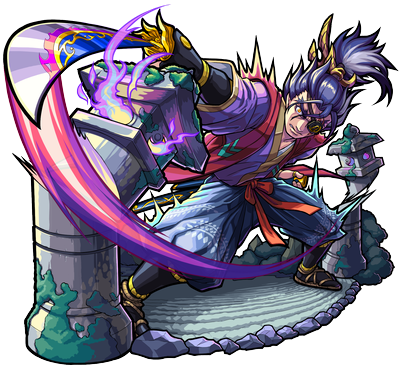 JP Name
-
JP #
1864
Class
Samurai
Element
Gender
-
Rarity
-

Sling
Bounce
Max Luck
99
Type
Power
Rating
-
Ability
Null Gravity Barrier
Gauge
Null Block
HP
21722 (+3900) = 25622
Obtain
-
ATK
28523 (+4200) = 32723 (39267 w/ Gauge)
SPD
219.2 (+33.15) = 252.35
Luck Skill
Badge
Strike Shot
Secret Art: Silent Eclipse - 25 Turns
Increases Speed and increases attack for each enemy defeated.
Bump Combo
Slice 'n' Dice (1736)
Randomly slices into foes with razor-sharp blades.

To Asc

Zeami (2)
Onryo (1)
Strengths
SS can deal a lot of damage (x1.8 ATK for 2 enemies and x2.6 ATK for 3 enemies defeated)
Weakness
Hard to use SS since he has higher SPD reduction per enemy bounced.
Ableberries
Class Kinstrength - Makes it easier to defeat enemies for SS
Class Kinspeed - Covers his low SPD
Survivor - Mitigate damage from Light enemies
Viable Quests

Impossibles/Colossals: Tsukuyomi | Tsukuyomi: Zero | Yomi | Karma


Fire: Hydra | Gargoyle


Water: Koalius


Wood:


Light: Marida of the Lamp | Orochimaru | Signal Man | Hakwa | Scyallara | Akechi Mitsuhide


Dark: Princess Takiyasha | Dark Wyrm | Bastet | Inari | Lady Rokujo | Valodica | Bahamut

Tower: 24F

Temple: Water (Time) | Wood (Carnage) | Dark (Carnage)
Twilight Whisper Jubei (Ascension)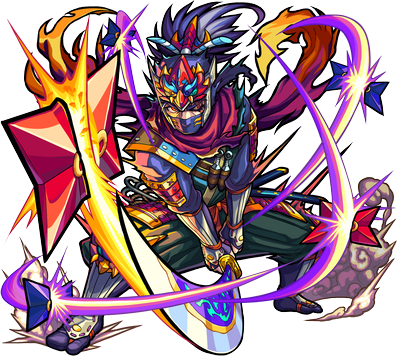 JP Name
-
JP #
1865
Class
Samurai
Element
Gender
-
Rarity
-

Sling
Bounce
Max Luck
99
Type
Blast
Rating
-
Ability
Paladin Slayer M / Fiend Slayer M
Gauge
Null Gravity Barrier
HP
20493 (+4200) = 24693
Obtain
-
ATK
17041 (+2500) = 19541 (23449 w/ Gauge)
SPD
226.43 (+34) = 260.43
Luck Skill
Badge
Strike Shot
Secret Art: Attune Shadow - 16 Turns
Attacks all enemies on contact with lightning.
Bump Combo
Energy Circle M (13259)
Fires a medium-sized elemental sphere of energy.

Sub Bump

To Evo

15 Dark Sharls
30 Dark Stoans
90 Maxstoans
Strengths
Two Slayers that procs his Bump Combos
Short Meteor SS that is good for mob clearing
Weakness
Not very good in dungeons that don't have Paladin or Fiend enemies
Ableberries
Class Kinstrength - Increases his damage to Paladin / Fiend enemies
Sidekick - Increases his Bump Combo damage
Viable Quests

Impossibles/Colossals:Yamato Takeru


Fire: Mordred | Zuma | Surtr


Water: Nurarihyon | Origa | Louis XIII | Oruga | Baal


Wood: Sylvasaur | Poltergeist


Light: Bright Blight | Behemoth | Verona | Ultimecia


Dark: Bahamut | Gilles de Rais | Slash | Zero

Tower: 22F | 24F | 27F | 28F | 30F | 35F | 40F

Temple: Water (Time) | Wood (Carnage) | Dark (Time)Dark (Carnage)
Martial Masters Series

Hatcher Monsters

Inshun

Sasaki Kojiro

Baiken

Miyamoto Musashi

Yagyu Jubei
Drop Monsters

Zeami

MC Basho

Chikamatsu Monzaemon

Okuni

Onryo
[Extreme] Guide
[Savage] Guide
[Extreme] Guide
[Savage] Guide
[Savage] Guide
Ad blocker interference detected!
Wikia is a free-to-use site that makes money from advertising. We have a modified experience for viewers using ad blockers

Wikia is not accessible if you've made further modifications. Remove the custom ad blocker rule(s) and the page will load as expected.