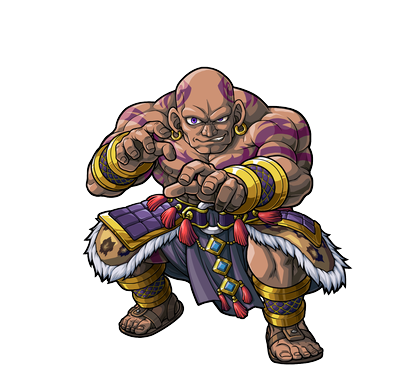 JP Name
-
JP #
1775
Class
Mancer
Element
Gender
-
Rarity
-

Sling
Bounce
Max Luck
72
Type
Power
Rating
-
Ability
Samurai Slayer L
Gauge
-
HP
8982 (+1400) = 10382
Obtain
-
ATK
12709 (+1225) = 13934
SPD
95.3 (+9.35) = 104.65
Luck Skill
-
Badge
Strike Shot
Natural Instinct - 15 Turns
Bashes the first contacted enemy and sends it flying.
Bump Combo
Super Blast (4592)
Attacks with a large, non-elemental blast around the user.

To Evo

1 Dark Sharl
5 Dark Stoans
10 Maxstoans
30 Stoans

Material For

Da Qiao, Xiao Qiao
Diaochan
Yuan Shao
Wu Tugu the Ravager King (Evolution)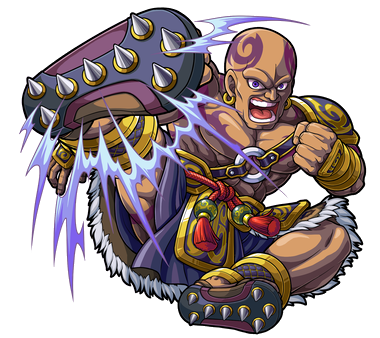 JP Name
-
JP #
1776
Class
Mancer
Element
Gender
-
Rarity
-

Sling
Bounce
Max Luck
90
Type
Power
Rating
-
Ability
Samurai Slayer L
Gauge
-
HP
15387 (+2460) = 17847
Obtain
-
ATK
19344 (+6600) = 25944
SPD
105.2 (+36.55) = 141.75
Luck Skill
-
Badge
Strike Shot
Spikeheel Kick - 16 Turns
Bashes the first contacted enemy and sends it flying.
Bump Combo
Mega Blast (5357)
Attacks with a very large, non-elemental blast around the user.
Strengths
Effective against Samurai Bosses
Weakness
No Null Abilities
Low SPD to deal any significant damage
Ad blocker interference detected!
Wikia is a free-to-use site that makes money from advertising. We have a modified experience for viewers using ad blockers

Wikia is not accessible if you've made further modifications. Remove the custom ad blocker rule(s) and the page will load as expected.