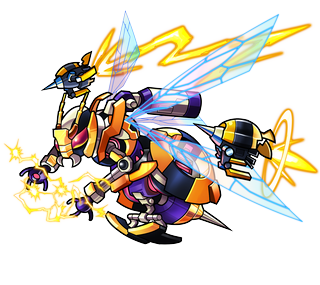 JP Name
-
JP #
919
Class
Mech
Element
Gender
-
Rarity
-

Sling
Bounce
Max Luck
72
Type
Speed
Rating
-
Ability
Flight / Null Warp
Gauge
-
HP
4567 (+1400) = 5967
Obtain
-
ATK
9294 (+900) = 10194
SPD
320.73 (+32.30) = 353.03
Luck Skill
-
Badge
Strike Shot
Bee Line - 12 Turns
Increases Speed.
Bump Combo
Homing Piercer 4 (1702)
Randomly targets foes with 4 elemental pass-through shots.

To Evo

1 Light Sharl
5 Light Stoans
10 Maxstoans
30 Stoans

Material For

Didier Simflaille
Ai Mechamori
Gigamantis
Kabushido
Vesputin Razer (Evolution)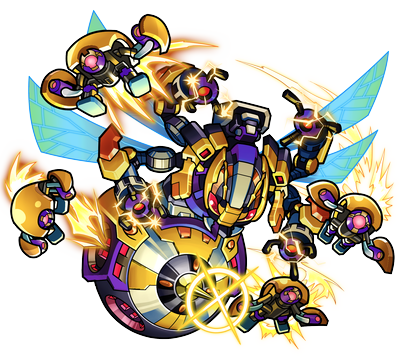 JP Name
-
JP #
920
Class
Mech
Element
Gender
-
Rarity
-

Sling
Bounce
Max Luck
90
Type
Speed
Rating
-
Ability
Flight / Null Warp
Gauge
HP
7976 (+2460) = 10436
Obtain
-
ATK
13616 (+4650) = 18266
SPD
306.30 (+107.95) = 414.25
Luck Skill
Badge
Strike Shot
Killer Bee Line - 24 Turns
Paralyzes enemies on contact with weak points.
Bump Combo
Homing Piercer 6 (1702)
Randomly targets foes with 6 elemental pass-through shots.
Strengths
Two Null Abilities
SS can paralyze enemies
Weakness
Low Bump Combo damage
Low HP
Super Strike Team Series

Hatcher Monsters

Sherry Blawesome

Didier Simflaille

Igor Psychotovich

Ai Mechamori

Gerlinde Veisser
Drop Monsters

Beetlestag

Wrathantula

Gigamantis

Vesputin

Kabushido
[Savage] Guide
[Savage] Guide
[Extreme] Guide
[Savage] Guide
[Extreme] Guide
Ad blocker interference detected!
Wikia is a free-to-use site that makes money from advertising. We have a modified experience for viewers using ad blockers

Wikia is not accessible if you've made further modifications. Remove the custom ad blocker rule(s) and the page will load as expected.