JP Name
-
JP #
566
Class
Deity
Element
Gender
-
Rarity
-

Sling
Bounce
Max Luck
90
Type
Balanced
Rating
-
Ability
Null Damage Wall
Gauge
-
HP
13663 (+2460) = 16123
Obtain
-
ATK
14609 (+1425) = 16034
SPD
240.3 (+23.8) = 264.1
Luck Skill
-
Badge
Strike Shot
Three Norns - 12 Turns
Increases Speed through a sisterly bond.
Bump Combo
Mega Blast (7653)
Attacks with a very large non-elemental blast around the user.

To Evo

1 Divine Sharl
5 Blue Sharls
10 Blue Stoans
30 Maxstoans

To Asc

Fenrir (4)
Jormungandr (2)
Recommended Form - Ascension
Two Null Abilities
Higher damaging Bump Combo
Verdandi Fortunemaker (Evolution)
JP Name
-
JP #
567
Class
Deity
Element
Gender
-
Rarity
-

Sling
Bounce
Max Luck
99
Type
Balanced
Rating
-
Ability
Null Wind
Gauge
Null Damage Wall
HP
21611 (+3900) = 25511
Obtain
-
ATK
19069 (+2250) = 21319 (25583 w/ gauge)
SPD
273.93 (+27.2) = 301.13
Luck Skill
Badge
Strike Shot
Destiny Rune - 18 Turns
Passes through enemies while attacking.
Bump Combo
Giga Blast (7499)
Attacks with a massive, non-elemental blast around the user.

To Asc

Fenrir (3)
Jormungandr (1)
Strengths
Giga Blast supports your team
Piercing SS can deal high damage or to grab items
Weakness
Ableberries
Knockout - Synergizes well with Piercing SS
Class Kinstrength - Increases SS damage
Viable Quests

Impossibles/Colossals:


Fire: Vendetta | Briareus | Taki Rentaro


Water: Waterblade Murasame


Wood:


Light: Marida of the Lamp | Jack


Dark:

Tower:

Temple: Water (Time) | Water (Carnage) | Light (Carnage) | Dark (Time)
Verdandi the Creator (Ascension)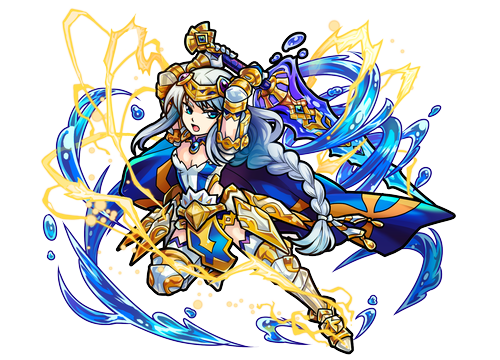 JP Name
-
JP #
568
Class
Deity
Element
Gender
-
Rarity
-

Sling
Bounce
Max Luck
99
Type
Blast
Rating
-
Ability
Null Damage Wall
Gauge
Null Gravity Barrier
HP
19091 (+4200) = 23291
Obtain
-
ATK
20088 (+1950) = 22038 (26445 w/ gauge)
SPD
285.77 (+28.9) = 315.67
Luck Skill
Badge
Strike Shot
Destiny Venus - 18 Turns
Passes through enemies while attacking.
Bump Combo
Rebound Ex Laser L (3480)
Attacks in an X pattern with 4 large elemental lasers that rebounds three times.

Sub Bump

To Evo

15 Blue Sharls
30 Blue Stoans
90 Maxstoans
Strengths
Two Null Abilities
Piercing SS can deal high damage or to grab items
Weakness
Bump Combo has inconsistent damage
Ableberries
Sidekick - Increases Bump Combo damage
Class Kinstrength - Increases SS Damage
Viable Quests

Impossibles/Colossals: Izanami | Ashura | Nirvana


Fire: Solwing | Astaroth | Vendetta | Fireblade Murasame | Tokugawa Yoshimune | Max Murai | Kanzuki Karin | Giraffina | Queen of Hearts | Hydra | Surtr | Forty-Seven Ronin | Jin | Fortuna | Gilgamesh (FF)


Water: Tiger I | Waterblade Murasame | Joker


Wood:


Light: Jack | Virgo Shaka | Emerald Dragon


Dark: Inari

Tower:

Temple: Fire (Time) | Water (Time) | Water (Carnage) | Light (Carnage) | Dark (Time)
Destined Ragnarok Series

Hatcher Monsters

Freyja

Verdandi

Yggdrasil

Baldr

Loki
Drop Monsters

Surtr

Jormungandr

Hraesvelgr

Fenrir

Hel
[Extreme] Guide
[Savage] Guide
[Savage] Guide
[Extreme] Guide
[Savage] Guide
Ad blocker interference detected!
Wikia is a free-to-use site that makes money from advertising. We have a modified experience for viewers using ad blockers

Wikia is not accessible if you've made further modifications. Remove the custom ad blocker rule(s) and the page will load as expected.