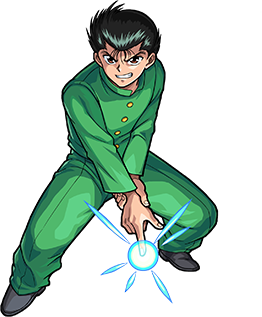 JP Name
浦飯幽助
JP #
2305
Class
Demihume
Element
Gender
-
Rarity
-

Sling
Bounce
Max Luck
90
Type
Balanced
Rating
-
Ability
Null Gravity Barrier
Gauge
-
HP
14330 (+2460) = 16790
Obtain
-
ATK
16954 (+825) = 17779
SPD
241.53 (+11.90) = 253.43
Luck Skill
-
Badge
Strike Shot
さぁ、おっ始めよーぜ! - 12 Turns
Increases Speed.
Bump Combo
Rewind Blaster (3214)
Attacks foes with 48 returning elemental shots.

To Evo

1 Divine Sharl
5 Blue Sharls
10 Blue Stoans
30 Maxstoans

To Asc

Sensui Minoru (3)
Makihara Sadao (3)
Recommended Form - Ascension
Higher Bump Combo damage
Evolution is replaceable with a lot of Water NGB monsters
Urameshi Yusuke (Evolution)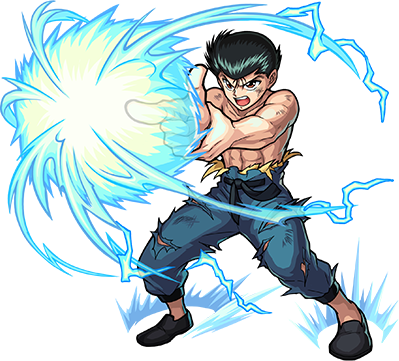 JP Name
霊界探偵 浦飯幽助
JP #
2306
Class
Demihume
Element
Gender
-
Rarity
-

Sling
Bounce
Max Luck
99
Type
Balanced
Rating
-
Ability
Null Gravity Barrier / Null Wind
Gauge
Null Block / Demon Slayer
HP
20895 (+3900) = 24795
Obtain
-
ATK
21774 (+2125) = 23899 (28679 w/ Gauge)
SPD
280.53 (28.05) = 308.58
Luck Skill
Badge
Strike Shot
霊丸 - 16 Turns
Unleashes a Reigun in the targeted direction.
Bump Combo
Rewind Blaster (4499)
Attacks foes with 64 returning elemental shots.

To Asc

Sensui Minoru (2)
Makihara Sadao (2)
Strengths
Rewind Blaster for mob clearing
Reigun deals high damage and can rebound a wall once
Weakness
Bump Combo has low single target damage
Ableberries
Sidekick - Increases Bump Combo damage
Survivor - Mitigates damage from enemies
Viable Quests

Impossibles/Colossals: Izanami | Tsukuyomi: Zero | Nirvana | Tsukuyomi | Arcadia | Cain


Fire: Gargoyle | Queen of Hearts | Solwing | Giraffina | Hydra | Momotaro | Jin


Water:


Wood:


Light: Pine | Cardinal Richelieu


Dark: Lady Rokujo

Tower: 31F

Temple: Fire (Time) | Water (Time) | Dark (Carnage)
Urameshi Yusuke (Ascension)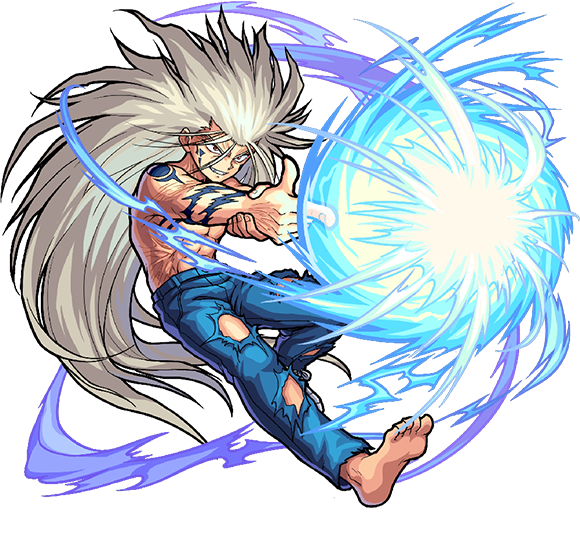 JP Name
魔族大隔世 浦飯幽助
JP #
2605
Class
Demon
Element
Gender
-
Rarity
-

Sling
Bounce
Max Luck
99
Type
Balanced
Rating
-
Ability
Null Damage Wall
Gauge
Null Magic Circle
HP
22180 (+4200) = 26380
Obtain
-
ATK
21518 (+2100) = 23618 (28342 w/ Gauge)
SPD
285.17 (+28.90) = 314.07
Luck Skill
Badge
Strike Shot
魔族覚醒霊丸 - 12 Turns
Bashes the first contacted enemy and attacks with a Reigun.
Bump Combo
Friendly Laser L (24255)
Fires a large elemental laser towards your teammates.

Sub Bump

To Evo

15 Blue Sharls
30 Blue Stoans
90 Maxstoans
Strengths
Powerful Bump Combos
12 Turn SS that can deal over 1 Million damage
Weakness
Hardly any dungeons that have both Damage Walls and Magic Circles
Ableberries
Sidekick - Increases Bump Combo damage
Class Kinstrength - Increases SS damage
Viable Quests

Impossibles/Colossals: Ashura


Fire: Vendetta | Fireblade Murasame | Solwing | Briareus


Water:


Wood:


Light:


Dark:

Tower:

Temple: Water (Time) | Water (Carnage) | Light (Carnage) | Dark (Carnage)
Ad blocker interference detected!
Wikia is a free-to-use site that makes money from advertising. We have a modified experience for viewers using ad blockers

Wikia is not accessible if you've made further modifications. Remove the custom ad blocker rule(s) and the page will load as expected.