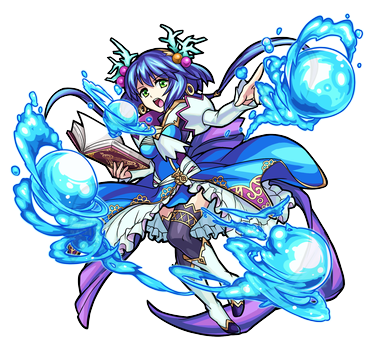 JP Name
-
JP #
1105
Class
Sprite
Element
Gender
-
Rarity
-

Sling
Bounce
Max Luck
90
Type
Blast
Rating
-
Ability
Null Warp
Gauge
-
HP
10844 (+2460) = 13304
Obtain
-
ATK
13971 (+1375) = 15346
SPD
244.17 (+23.80) = 267.97
Luck Skill
-
Badge
Strike Shot
Celestial Endowment - 12 Turns
Harnesses the waters to increase Speed.
Bump Combo
Glacier (12904)
Randomly attacks foes with 4 chunks of ice.

To Evo

1 Divine Sharl
5 Blue Sharls
10 Blue Stoans
30 Maxstoans

To Asc

Poltergeist (3)
Hanged Man (3)
Recommended Form - Evolution
More Null Abilities for versatility
Water Spirit Undine (Evolution)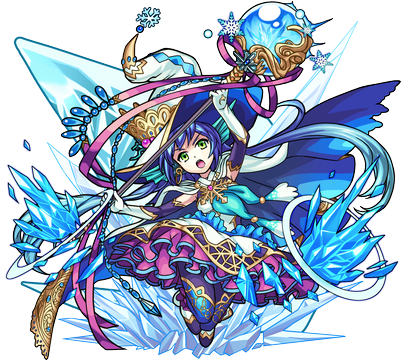 JP Name
-
JP #
1106
Class
Sprite
Element
Gender
-
Rarity
-

Sling
Pierce
Max Luck
99
Type
Blast
Rating
-
Ability
Null Damage Wall
Gauge
Null Warp
HP
18061 (+3900) = 21961
Obtain
-
ATK
16998 (+2475) = 19473 (23367 w/ Gauge)
SPD
275.37 (+41.65) = 317.02
Luck Skill
Badge
Strike Shot
Diamond Dust - 24 Turns
Uses water power to render teammates invincible on contact for 3 turns.
Bump Combo
Glacier (21504)
Randomly attacks foes with 6 chunks of ice.

To Asc

Poltergeist (2)
Hanged Man (2)
Strengths
Two Null Abilities
SS can protect allies and synergizes well with Sling
Weakness
Low Bump Combo damage and it can hit unintended targets
Ableberries
Survivor - Mitigates damage from enemies
Cutthroat - Useful against high HP Bosses
Viable Quests

Impossibles/Colossals: Ashura | Izanagi


Fire: Shen Gongbao | Vendetta | Wyatt Earp | Grey Alien | Kanzuki Karin | Ymir


Water: Dracula


Wood:


Light: Jack | Typhon | Zashiki Warashi | Yuan Shao


Dark: Dong Zhuo | Yeti | Shredder | Vanilla the Witch

Tower: 21F | 26F | 36F

Temple: Water (Time) | Water (Carnage) | Light (Carnage) | Dark (Time)
Wave Princess Undine (Ascension)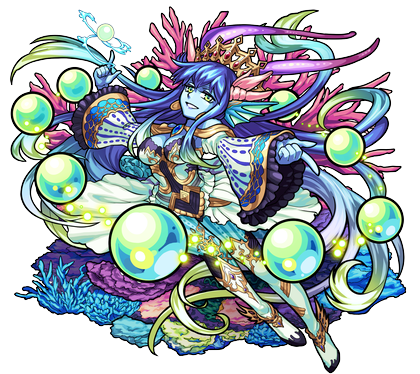 JP Name
-
JP #
1107
Class
Sprite
Element
Gender
-
Rarity
-

Sling
Bounce
Max Luck
99
Type
Blast
Rating
-
Ability
Null Warp
Gauge
HP
16765 (+4200) = 20965
Obtain
-
ATK
18706 (+2725) = 21431
SPD
246.43 (+37.40) = 283.83
Luck Skill
Badge
Strike Shot
Icicle Pearl - 13 Turns
Bashes the first contacted enemy and attacks with a water laser.
Bump Combo
One-way Laser XL (34032)
Attacks upward with a massive elemental laser.

Sub Bump

To Evo

15 Blue Sharls
30 Blue Stoans
90 Maxstoans
Strengths
Powerful Bump Combo
SS can be used to position for her Bump Combo
Weakness
Need to be consistently in position for Bump Combo
Ableberries
Sidekick - Increases Bump Combo damage
Survivor - Mitigates damage from enemies, especially after her SS
Viable Quests

Impossibles/Colossals: Izanami | Avalon


Fire: Momotaro | Gargoyle | Wyatt Earp | Shen Gongbao


Water:


Wood:


Light:


Dark: Vanilla the Witch

Tower:

Temple: Water (Time) | Water (Carnage)
Spellbound Spirits Series

Hatcher Monsters

Salamander

Undine

Gnome

Sylph

Cait Sith
Drop Monsters

Legion

Lantern Angler

Poltergeist

Ghoulie

Hanged Man
[Savage] Guide
[Savage] Guide
[Extreme] Guide
[Extreme] Guide
[Savage] Guide
Ad blocker interference detected!
Wikia is a free-to-use site that makes money from advertising. We have a modified experience for viewers using ad blockers

Wikia is not accessible if you've made further modifications. Remove the custom ad blocker rule(s) and the page will load as expected.