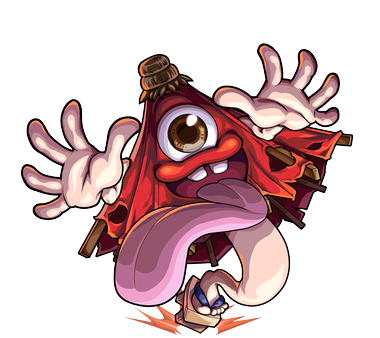 JP Name
-
JP #
1815
Class
Demon
Element
Gender
-
Rarity
-

Sling
Bounce
Max Luck
72
Type
Speed
Rating
-
Ability
Null Wind
Gauge
-
HP
6082 (+1400) = 7482
Obtain
-
ATK
5735 (+550) = 6285
SPD
240.13 (+23.8) = 263.93
Luck Skill
-
Badge
Strike Shot
Peekaboo! - 12 Turns
Bashes the first contacted enemy and sends it flying.
Bump Combo
Super Blast (6560)
Attacks with a large, non-elemental blast around the user.

To Evo

1 Red Sharl
5 Red Stoans
10 Maxstoans
30 Stoans

Material For

Azazel
Mammon
Succubus
Kamaitachi
Trickster Spirit Umbrellops (Evolution)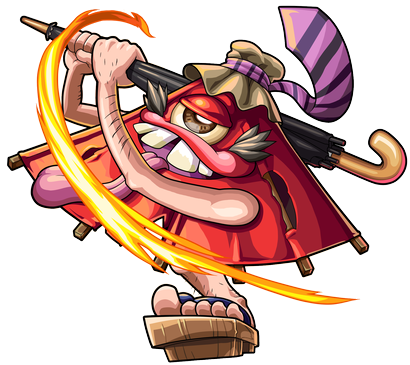 JP Name
-
JP #
1816
Class
Demon
Element
Gender
-
Rarity
-

Sling
Bounce
Max Luck
90
Type
Speed
Rating
-
Ability
Null Wind
Gauge
Null Damage Wall
HP
10644 (+2460) = 13104
Obtain
-
ATK
8370 (+2850) = 11220 (13464 w/ Gauge)
SPD
308.67 (+108.8) = 417.47
Luck Skill
-
Badge
Strike Shot
Fore! Bombs Away! - 12 Turns
Bashes the first contacted enemy and sends it flying.
Bump Combo
Mega Blast (7653)
Attacks with a very large, non-elemental blast around the user.
Strengths
High SPD that is on par with 6★ monsters
Short SS that can be used multiple times
Weakness
SS does not make use of his high SPD
Ad blocker interference detected!
Wikia is a free-to-use site that makes money from advertising. We have a modified experience for viewers using ad blockers

Wikia is not accessible if you've made further modifications. Remove the custom ad blocker rule(s) and the page will load as expected.