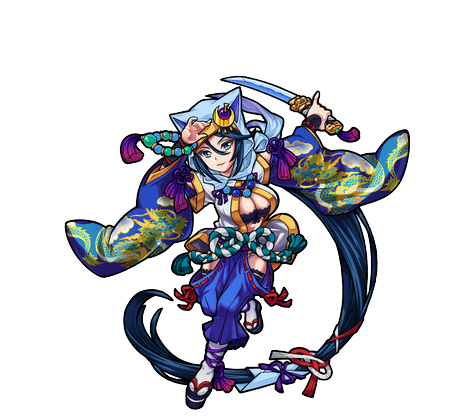 JP Name
-
JP #
791
Class
Samurai
Element
Gender
-
Rarity
-

Sling
Pierce
Max Luck
90
Type
Balanced
Rating
-
Ability
Null Damage Wall
Gauge
HP
12634 (+2460) = 15094
Obtain
-
ATK
13866 (+1350) = 15216
SPD
246.57 (+24.65) = 271.22
Luck Skill
-
Badge
Strike Shot
Warlord's Run - 12 Turns
Increases Speed.
Bump Combo
Vertical Laser L (9471)
Attacks upward and downward with 2 large elemental lasers.

To Evo

1 Divine Sharl
5 Blue Sharls
10 Blue Stoans
30 Maxstoans

To Asc

Tengu (3)
Kasha (2)
Kappa (2)
Recommended Form - Ascension
Has Null Ability and better Slayer
Kenshin, Dragon of Echigo (Evolution)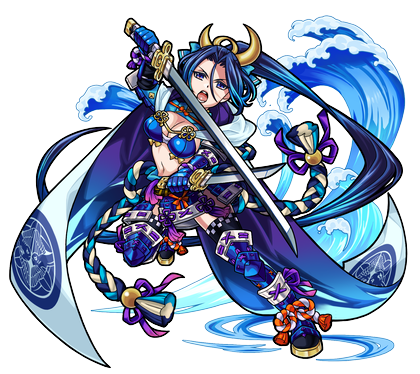 JP Name
-
JP #
792
Class
Samurai
Element
Gender
-
Rarity
-

Sling
Pierce
Max Luck
99
Type
Balanced
Rating
-
Ability
Dragon Slayer L
Gauge
HP
18582 (+3900) = 22482
Obtain
-
ATK
19459 (+2850) = 22309
SPD
328.57 (+49.30) = 377.87
Luck Skill
Badge
Strike Shot
Tenmakofuku - 21 Turns
Bashes the first contacted enemy and sends it flying.
Bump Combo
Ex Laser L (6187)
Attacks in an X pattern with 4 large elemental lasers.

To Asc

Tengu (2)
Kasha (1)
Kappa (1)
Strengths
Effective against Dragon enemies like Hakwa
Weakness
Ableberries
Class Kinstrength - Increases damage towards Dragon enemies
Class Kinspeed - Increases SPD to get more hits onto enemies
Viable Quests

Impossibles/Colossals:


Fire: Hydra | Fire Wyrm


Water:


Wood:


Light: Hakwa


Dark: Dark Wyrm

Tower:

Temple: Fire (Carnage) | Water (Time) | Wood (Carnage)
Echigo Warlord Kenshin (Ascension)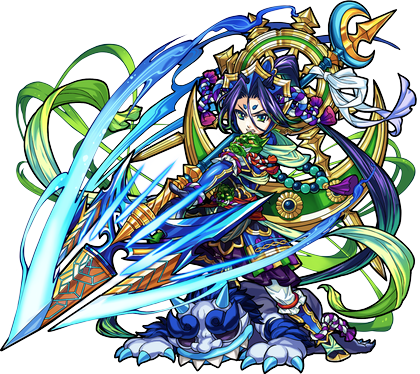 JP Name
-
JP #
793
Class
Samurai
Element
Gender
-
Rarity
-

Sling
Pierce
Max Luck
99
Type
Balanced
Rating
-
Ability
Null Damage Wall
Gauge
Fire Slayer
HP
16350 (+4200) = 20550
Obtain
-
ATK
20296 (+2975) = 23271 (27925 w/ Gauge)
SPD
320.17 (+48.45) = 368.62
Luck Skill
Badge
Strike Shot
Bishamonten - 30 Turns
Delays enemy attacks on contact for 3 turns.
Bump Combo
Vertical Laser L (12312)
Attacks upward and downward with 2 large elemental lasers.

Sub Bump

To Evo

15 Blue Sharls
30 Blue Stoans
90 Maxstoans
Strengths
Effective against all Fire enemies
SS can delay enemy attacks for your team
Weakness
Vertical Laser is not a reliable damage source
Ableberries
Class Kinstrength - Increases her Slayer damage
Strike Haste - Shortens her low Strike Shot cooldown
Class Kinvigor - Covers her low HP
Viable Quests

Impossibles/Colossals: Ashura | Izanami


Fire: Surtr | Vendetta | Princess Sakuya | Astaroth | Grey Alien | Fireblade Murasame | Fire Wyrm | Solwing | Briareus | Kanzuki Karin | Daisy | Fenrir X | Taki Rentaro | Fortuna | Haru


Water: Dracula


Wood:


Light: Jack


Dark:

Tower: 21F | 26F | 36F

Temple: Fire (Carnage) | Water (Time) | Light (Carnage) | Dark (Time)
Sengoku Samurai Series

Hatcher Monsters

Takeda Shingen

Uesugi Kenshin

Hojo Ujiyasu

Naoe Kanetsugu

Tokugawa Ieyasu
Drop Monsters

Kasha

Kappa

Tengu

Zashiki Warashi

Gashadokuro
[Savage] Guide
[Savage] Guide
[Extreme] Guide
[Extreme] Guide
[Savage] Guide
Ad blocker interference detected!
Wikia is a free-to-use site that makes money from advertising. We have a modified experience for viewers using ad blockers

Wikia is not accessible if you've made further modifications. Remove the custom ad blocker rule(s) and the page will load as expected.