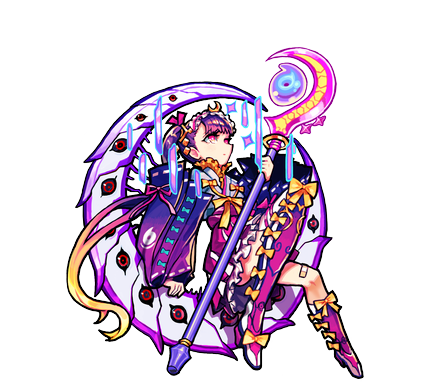 JP Name
ツクヨミ
JP #
972
Class
Deity
Element
Gender
Female
Rarity
5★

Sling
Pierce
Max Luck
90
Type
Speed
Rating
-
Ability
Minesweeper
Gauge
-
HP
14862 (+0) = 14862
Obtain
ATK
12808 (+0) = 12808
SPD
262.07 (+0) = 262.07
Luck Skill
-
Badge
-
Strike Shot
月に詠えば - 18 Turns
Sends the first contacted enemy flying and restores HP.
Bump Combo
Lightning 4 (9216)
Randomly attacks enemies with 4 lightning shots.

To Evo

2 Divine Sharls
10 Dark Sharls
20 Dark Stoans
60 Maxstoans

Material For

Yomi
Moon Reverie Tsukuyomi (Evolution)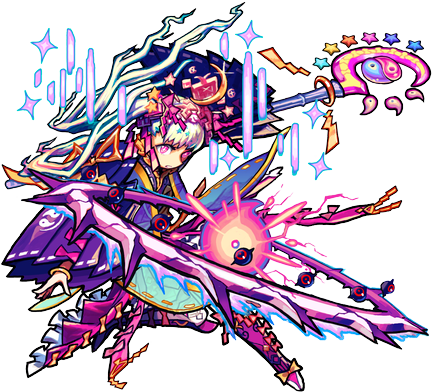 JP Name
月想ノ女神 ツクヨミ
JP #
973
Class
Deity
Element
Gender
Female
Rarity
6★

Sling
Pierce
Max Luck
99
Type
Speed
Rating
8.5
Ability
Minesweeper / Beast Slayer
Gauge
Null Warp / Deity Slayer
HP
17402 (+3900) = 21302
Obtain
Evolution
ATK
15811 (+5400) = 21211 (25453 w/ Gauge)
SPD
297.50 (+105.40) = 402.90
Luck Skill
-
Badge
-
Strike Shot
フライ・ミー・トゥ・ザ・ムーン - 20 Turns
Sends the first contacted enemy flying and restores HP.
Bump Combo
Lightning 6 (15360)
Randomly attacks enemies with 6 lightning shots.
Strengths
SS heals (fixed 40k) and deals damage
Double nulls
Plenty of beasts and deities to slay
Weakness
Bump combo hits randomly
SS deals little damage outside of weakpoint
Viable Quests

Impossibles/Colossals: Izanagi | Marici | Daikoku | Izanami: Zero | Kushinada: Zero | Izanagi: Zero | Doom | Akasha | Eden | El Dorado


Fire: Rakshasa | Wyatt Earp | Captain Mica | Daisy | Grey Alien | Leopoint


Water: ZENIGATA | First Empress | Princess Iron Fan


Wood: Zhang Jiao | Emerald Blade Muramasa | Diaochan | Halloweena | Tokugawa Yoshinobu | Kevin Verdure


Light: Hakwa | Typhon | Aries | Cardinal Richelieu | Marshall Titanium | Vishnu | Hikaru Genji


Dark: Satellite | Bull Demon King | Drillmax | Kamaitachi | Typera | Yeti | Tadakatsu Honda

Tower: 39F

Temple: Fire (Carnage) | Water (Carnage) | Wood (Time)
Impossibles

1st Round

Izanami
[Guide]

Yamato Takeru
[Guide]

Kushinada
[Guide]

Izanagi
[Guide]

Tsukuyomi
[Guide]
2nd Round

Ashura
[Guide]

Bishamonten
[Guide]

Marici
[Guide]

Daikoku
[Guide]

Acala
[Guide]
Zero

Izanami: Zero
[Guide]

Yamato: Zero
[Guide]

Kushinada: Zero
[Guide]

Izanagi: Zero
[Guide]

Tsukuyomi: Zero
[Guide]
War Gods

Nirvana
[Guide]

Doom
[Guide]

Memento Mori
[Guide]

Karma
[Guide]

Akasha
[Guide]
3rd Round

Cain
[Guide]

Lu Bu
[Guide]

Brutus
[Guide]
Ad blocker interference detected!
Wikia is a free-to-use site that makes money from advertising. We have a modified experience for viewers using ad blockers

Wikia is not accessible if you've made further modifications. Remove the custom ad blocker rule(s) and the page will load as expected.