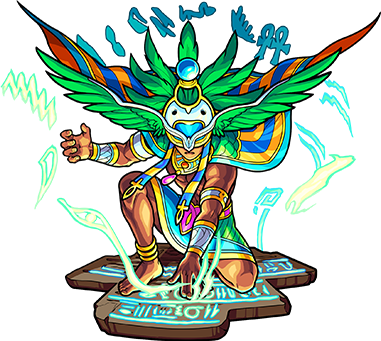 JP Name
-
JP #
2505
Class
Deity
Element
Gender
-
Rarity
-

Sling
Pierce
Max Luck
90
Type
Blast
Rating
-
Ability
Water Resistance / Counter Slayer
Gauge
Flight / Strike Shot Reducer
HP
17007 (+2460) = 19467
Obtain
-
ATK
12141 (+1175) = 13316 (15980 w/ Gauge)
SPD
201.00 (+19.55) = 220.55
Luck Skill
-
Badge
Strike Shot
アイビス・ワイズト - 18 Turns
Increases Speed and Strength and enables Counter Mode.
Bump Combo
Tag Laser L (17611)
Fires a large elemental laser in the bumping monster's direction of travel.

To Evo

1 Divine Sharl
5 Green Sharls
10 Green Stoans
30 Maxstoans

To Asc

Pharaoh (3)
Scarab (4)
Recommended Form - Evolution
Evolution better Bump Combo and ability synergy
Thoth (Evolution)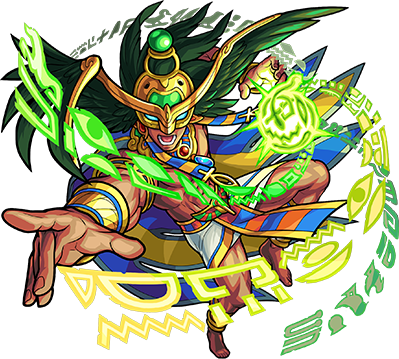 JP Name
-
JP #
2506
Class
Deity
Element
Gender
-
Rarity
-

Sling
Pierce
Max Luck
99
Type
Blast
Rating
-
Ability
Water Resistance / Counter Slayer
Gauge
Flight / Strike Shot Reducer
HP
18532 (+3900) = 22432
Obtain
-
ATK
16159 (+2350) = 18509 (22211 w/ Gauge)
SPD
215.83 (+32.30) = 248.13
Luck Skill
Badge
Strike Shot
ヒエログリフ・ストリーム - 22 Turns
Increases Speed and Strength and enables Counter Mode.
Bump Combo
Tag Laser XL (58705)
Fires a massive elemental laser in the bumping monster's direction of travel.

To Asc

Pharaoh (2)
Scarab (3)
Strengths
Really strong Blast-Type Bump Combo
Great synergy between SS and Bump Combo
Base Counter Slayer proc'ed by the Bump Combo
Weakness
Low Status, especially the SPD for damage and Bump Combo positioning
Only 1 Null
Bump Combo requires postioning and is difficult to use
Ableberries
Sidekick - Increases his powerful Bump Combo damage
Survivor - Really good with the Resistance and reduces damage taken for positioning
Viable Quests

Impossibles/Colossals:Yamato Takeru


Fire:


Water:Kay | Princess Sakuya X | Princess Iron Fan


Wood:


Light:Vishnu | Sphinx


Dark:Slash

Tower:32F

Temple:Water (Time) | Water (Carnage) | Wood (Carnage))
Thoth (Ascension)
JP Name
-
JP #
2507
Class
Deity
Element
Gender
-
Rarity
-

Sling
Bounce
Max Luck
99
Type
Speed
Rating
-
Ability
Demon Slayer M / Sprite Slayer M
Gauge
Null Warp
HP
17857 (+4200) = 22057
Obtain
-
ATK
18896 (+2750) = 21646 (25976 w/ Gauge)
SPD
400.63 (+60.35) = 460.98
Luck Skill
Badge
Strike Shot
真実のプシコスタジー - 24 Turns
Renders teammates invincible on contact for 3 turns.
Bump Combo
Homing Destruction 8 (10981)
Randomly targets foes with 8 powerful elemental shots.

Sub Bump

To Evo

15 Green Sharls
30 Green Stoans
90 Maxstoans
Strengths
2 base Slayers proc'ed by Bump Combo
Weakness
Only 1 Null
Mediocre when Slayers are not proc'ed
Ableberries
Class Kinstrength - Increase ATK for the Slayer
Viable Quests

Impossibles/Colossals: Izanagi: Zero


Fire:


Water: Schubert | Sima Yi


Wood:


Light: Ghoulie


Dark:

Tower:

Temple: Water (Time) | Water (Carnage) | Wood (Time) | Wood (Carnage))
Egyptians 2.0

Hatcher Monsters

Nephthys

Thoth

Atum
Ad blocker interference detected!
Wikia is a free-to-use site that makes money from advertising. We have a modified experience for viewers using ad blockers

Wikia is not accessible if you've made further modifications. Remove the custom ad blocker rule(s) and the page will load as expected.