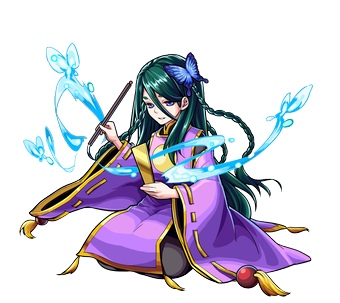 JP Name
-
JP #
1364
Class
Samurai
Element
Gender
-
Rarity
-

Sling
Pierce
Max Luck
72
Type
Balanced
Rating
-
Ability
Mech Slayer
Gauge
-
HP
7561 (+1400) = 8961
Obtain
-
ATK
6859 (+650) = 7509
SPD
249.20 (+24.65) = 273.85
Luck Skill
-
Badge
Strike Shot
Poetic Justice - 12 Turns
Increases Speed.
Bump Combo
Homing Piercer 4 (1702)
Randomly targets foes with 4 elemental pass-through shots.

To Evo

1 Dark Sharl
5 Dark Stoans
10 Maxstoans
30 Stoans

Material For

Taira no Kiyomori
Master Flutist Atsumori (Evolution)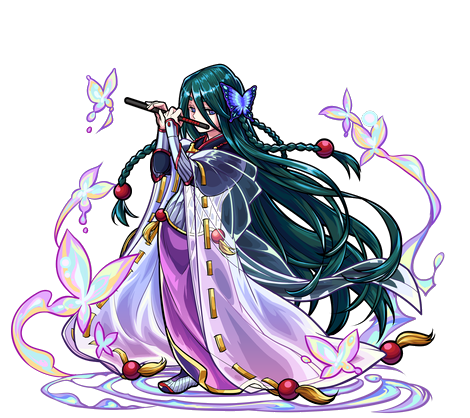 JP Name
-
JP #
1365
Class
Samurai
Element
Gender
-
Rarity
-

Sling
Pierce
Max Luck
90
Type
Speed
Rating
-
Ability
Mech Slayer M
Gauge
Null Gravity Barrier
HP
13202 (+2460) = 15662
Obtain
-
ATK
8759 (+2975) = 11734 (14081 w/ Gauge)
SPD
275.67 (+96.90) = 372.57
Luck Skill
-
Badge
Strike Shot
Melody at the Water's Edge - 14 Turns
Bashes the first contacted enemy and attacks with a laser.
Bump Combo
Homing Piercer 6 (1702)
Randomly targets foes with 6 elemental pass-through shots.
Strengths
Effective against Mech enemies like the Mech Birds
Weakness
Low ATK stat and doesn't work well with his PIerce Sling
Ad blocker interference detected!
Wikia is a free-to-use site that makes money from advertising. We have a modified experience for viewers using ad blockers

Wikia is not accessible if you've made further modifications. Remove the custom ad blocker rule(s) and the page will load as expected.