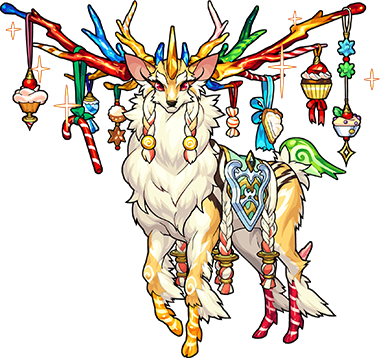 JP Name
-
JP #
2542
Class
Beast
Element
Gender
-
Rarity
-

Sling
Bounce
Max Luck
90
Type
Balanced
Rating
-
Ability
Mech Slayer
Gauge
-
HP
17683 (+0) = 17683
Obtain
-
ATK
16328 (+0) = 16328
SPD
247.47 (+0) = 247.47
Luck Skill
-
Badge
-
Strike Shot
スウィート・サイレンス - 18 Turns
Explodes on enemy contact and does damage to all foes in the vicinity.
Bump Combo
Energy Circle S (5412)
Fires a small elemental sphere of energy.

To Evo

1 Divine Sharl
5 Light Sharls
10 Light Stoans
30 Maxstoans

Material For

Elizabeth I
Lady Tomoe
Domyoji Anko
Sweet Deer (Evolution)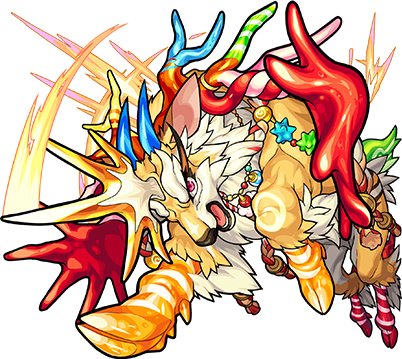 JP Name
-
JP #
2543
Class
Beast
Element
Gender
-
Rarity
-

Sling
Bounce
Max Luck
99
Type
Balanced
Rating
-
Ability
Null Gravity Barrier
Gauge
Mech Slayer
HP
 19122 (+3900) = 23022
Obtain
-
ATK
15134 (+5175) = 20309 (24371 w/ Gauge)
SPD
248.17 (+88.40) = 336.57
Luck Skill
Badge
-
Strike Shot
キャンディクラフト・ホーン - 20 Turns
Explodes on enemy contact and does damage to all foes in the vicinity.
Bump Combo
Energy Circle M (9471)
Fires a medium-sized elemental sphere of energy.
Strengths
Explosion SS is powerful
Wide-reaching Energy Circle
Weakness
Single Null
Can be replaced by better NGB monsters if there are no mechs to slay
Viable Quests

Impossibles/Colossals:


Fire: Gunblaize | Briareus


Water: Lobstar


Wood:


Light:


Dark: Kabushido | Princess Takiyasha | Deathscoil | Darkblade Murasame

Tower:

Temple:
Brave Girls Series

Hatcher Monsters

Elizabeth I

Lady Tomoe

Calamity Jane
Drop Monsters

Cream Monster

Bubble Boy

Sweet Deer

Domyoji Anko
[Savage] Guide
[Extreme] Guide
[Extreme] Guide
[Lethal] Guide
Ad blocker interference detected!
Wikia is a free-to-use site that makes money from advertising. We have a modified experience for viewers using ad blockers

Wikia is not accessible if you've made further modifications. Remove the custom ad blocker rule(s) and the page will load as expected.