JP Name
-
JP #
1256
Class
Demihume
Element
Gender
-
Rarity
-

Sling
Pierce
Max Luck
90
Type
Balanced
Rating
-
Ability
Null Warp
Gauge
-
HP
13468 (+2460) = 15928
Obtain
-
ATK
12079 (+1175) = 13254
SPD
283.60 (+28.05) = 311.65
Luck Skill
-
Badge
Strike Shot
Whiff of Earl Grey - 12 Turns
Increases Speed.
Bump Combo
Mega Blast (7653)
Attacks with a very large, non-elemental blast around the user.

To Evo

1 Divine Sharl
5 Blue Sharls
10 Blue Stoans
30 Maxstoans

To Asc

Marshal Titanium (3)
Sergeant Manganese (2)
Recommended Form - Ascension
Extra Null Ability
Bounce Sling for viability in Avalon
Noble Scion Suzuran (Evolution)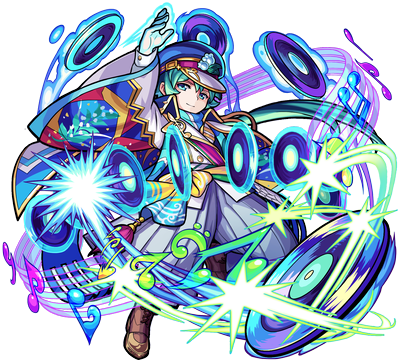 JP Name
-
JP #
1257
Class
Demihume
Element
Gender
-
Rarity
-

Sling
Pierce
Max Luck
99
Type
Balanced
Rating
-
Ability
Null Warp / Fire Resistance
Gauge
-
HP
21517 (+3900) = 25417
Obtain
-
ATK
19435 (+2850) = 22285
SPD
322.07 (+48.45) = 370.52
Luck Skill
Badge
Strike Shot
Modern Jazz Jam - 30 Turns


Attacks all enemies on contact with a lightning shower.

Bump Combo
Giga Blast (7499)


Attacks with a massive, non-elemental blast around the user.

To Asc

Marshal Titanium (2)
Sergeant Manganese (1)
Strengths
Pierce Sling synergizes well with Meteor SS
Mitigates damage from Fire enemies
Weakness
Ableberries
Survivor - Mitigates damage from enemies
Class Kintregnth - Increases Meteor damage
Cutthroat - Good for high HP Bosses
Viable Quests

Impossibles/Colossals:


Fire: Captain Mica | Zetton


Water:


Wood:


Light: Ghoulie | Gemini Saga


Dark:

Tower:

Temple: Water (Time) | Water (Carnage)
Lily Spirit Suzuran (Ascension)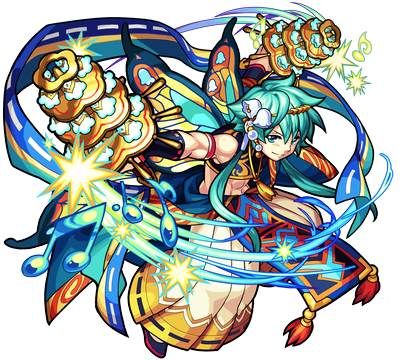 JP Name
-
JP #
1258
Class
Sprite
Element
Gender
-
Rarity
-

Sling
Bounce
Max Luck
99
Type
Balanced
Rating
-
Ability
Flight / Null Warp
Gauge
Nebulan Slayer
HP
20155 (+4200) = 24355
Obtain
-
ATK
18503 (+2700) = 21203 (25443 w/ Gauge)
SPD
285.53 (+43.35) = 328.88
Luck Skill
Badge
Strike Shot
Bells of the Valley - 23 Turns
Dizzies foes with speed and cancels projectiles for a set number of turns.
Bump Combo
Volatile Blast M (3189)
Causes a massive blast that triggers additional Bump Combos.

Sub Bump

To Evo

15 Blue Sharls
30 Blue Stoans
90 Maxstoans
Strengths
Double Null Abilities and Slayer
Bump Combos both support and deal damage
Weakness
Hard to use Wave to hit enemies
Ableberries
Survivor - Mitigates damage from enemies
Class Kintregnth - Increases SS damage
Cutthroat - Good for high HP Bosses
Viable Quests

Impossibles/Colossals: Daikokuten | Avalon


Fire: Grey Alien | Wyatt Earp | Roc | Zetton


Water: ZENIGATA | First Empress


Wood:


Light: Ghoulie | Origami


Dark: Satellite | Geppetto

Tower:

Temple: Fire (Time) | Fire (Carnage) | Water (Time) | Water (Carnage) | Light (Time)
Nostalgia Blooms Series

Hatcher Monsters

Suzuran

Tanpopo

Sakura
Drop Monsters

Captain Mica

Lieutenant Bismuth

Sergeant Manganese

Marshal Titanium

Corporal Nickel
[Extreme] Guide
[Savage] Guide
[Savage] Guide
[Extreme] Guide
[Savage] Guide
Ad blocker interference detected!
Wikia is a free-to-use site that makes money from advertising. We have a modified experience for viewers using ad blockers

Wikia is not accessible if you've made further modifications. Remove the custom ad blocker rule(s) and the page will load as expected.