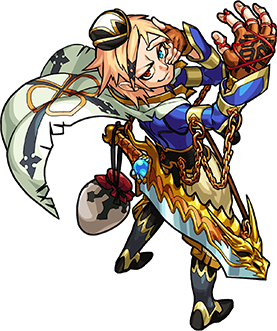 JP Name
-
JP #
2346
Class
Samurai
Element
Gender
-
Rarity
-

Sling
Bounce
Max Luck
90
Type
Balanced
Rating
-
Ability
Null Damage Wall
Gauge
-
HP
17231 (+0) = 17231
Obtain
-
ATK
19311 (+0) = 19311
SPD
296.60 (+0) = 296.60
Luck Skill
-
Badge
Strike Shot
The Beast Unleashed - 12 Turns
Increases Speed.
Bump Combo
Homing Shot 12 (3075)
Randomly targets foes with 12 elemental shots.

To Evo

1 Divine Sharl
5 Light Sharls
10 Light Stoans
30 Maxstoans

Material For

Zhuge Liang
Lady Sun
Sima Yi
Great Emperor Sun Quan (Evolution)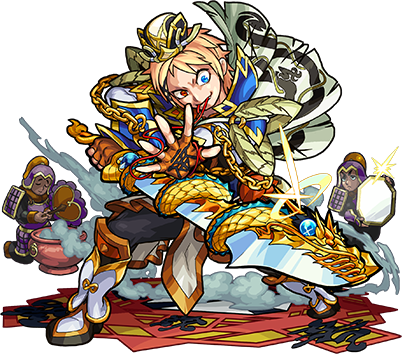 JP Name
-
JP #
2347
Class
Samurai
Element
Gender
-
Rarity
-

Sling
Bounce
Max Luck
99
Type
Balanced
Rating
-
Ability
Null Damage Wall
Gauge
Fiend Slayer / Etherean Slayer
HP
17662 (+3900) = 21562
Obtain
-
ATK
15304 (+5225) = 20529
SPD
243.50 (+86.70) = 330.2
Luck Skill
Badge
Strike Shot
Lamentations of the Sun Dragon - 18 Turns
Passes through enemies while attacking.
Bump Combo
Homing Shot 18 (3075)
Randomly targets foes with 18 elemental shots.
Strengths
Double Slayers and Null Damage Wall that is effective against Bishamonten
Piercing SS works well with his Slayers
Weakness
Viable Quests

Impossibles/Colossals: Bishamonten


Fire:


Water: Origa | Nurarihyon | Butterfly Monstriker


Wood: Poltergeist


Light: Sphinx | Fenrir


Dark: Visceron | Dong Zhuo

Tower:

Temple:
3 Kingdoms III Series

Hatcher Monsters

Zhuge Liang

Zhao Yun

Lady Sun
Drop Monsters

Huang Gai

Sima Yi

Meng Huo

Sun Quan
[Savage] Guide
[Lethal] Guide
[Extreme] Guide
[Extreme] Guide
Ad blocker interference detected!
Wikia is a free-to-use site that makes money from advertising. We have a modified experience for viewers using ad blockers

Wikia is not accessible if you've made further modifications. Remove the custom ad blocker rule(s) and the page will load as expected.