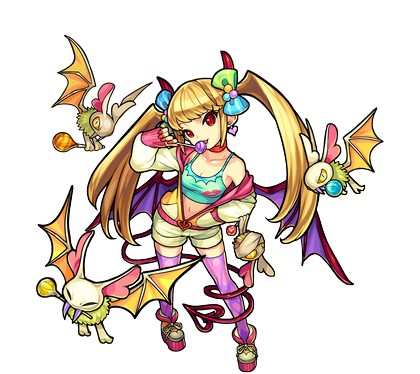 JP Name
-
JP #
1810
Class
Fiend
Element
Gender
-
Rarity
-

Sling
Bounce
Max Luck
90
Type
Blast
Rating
-
Ability
Null Damage Wall
Gauge
-
HP
12242 (+2460) = 14702
Obtain
-
ATK
14730 (+1450) = 16180
SPD
248.30 (+24.65) = 272.95
Luck Skill
-
Badge
Strike Shot
Lollipop Charm - 8 Turns
Bashes the first contacted enemy and sends it flying.
Bump Combo
Homing Shot 12 (4305)
Randomly targets foes with 12 elemental shots.

To Evo

1 Divine Sharl
5 Light Sharls
10 Light Stoans
30 Maxstoans

To Asc

Signal Man (3)
Umbrellops (3)
Recommended Form - Ascension
Flight gives more versatility than Demihume Slayer
Short Spread give more damage for Ascension, even though Evolution is a Blast type
Candy Succubus (Evolution)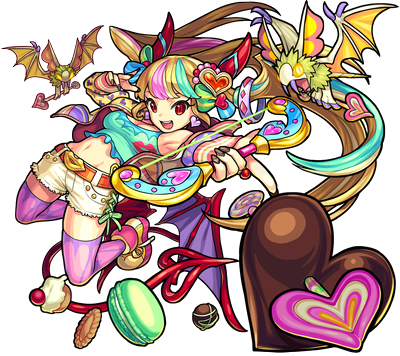 JP Name
-
JP #
1811
Class
Fiend
Element
Gender
-
Rarity
-

Sling
Bounce
Max Luck
99
Type
Blast
Rating
-
Ability
Null Damage Wall / Demihume Slayer M
Gauge
-
HP
18580 (+3900) = 22480
Obtain
-
ATK
22572 (+3300) = 25872
SPD
262.30 (+39.95) = 302.25
Luck Skill
Badge
Strike Shot
Arrow of Temptation - 8 Turns
Bashes the first contacted enemy and sends it flying.
Bump Combo
Homing Destruction 8 (15375)
Randomly targets foes with 8 powerful elemental shots.

To Asc

Signal Man (2)
Umbrellops (2)
Strengths
High fixed damage from SS (500,000); Can one-shot the Wakurin in Time Trials
Weakness
Hard to use Slayer due to little Demihume Bosses that has Damage Walls
Ableberries
Class Kinstrength - Deals more damage with Slayer
Survivor - Mitigate damage from enemies
Viable Quests

Impossibles/Colossals:


Fire: Wyatt Earp


Water:


Wood: HIKAKIN


Light: Zashiki Warashi


Dark: Dong Zhuo | Spookat

Tower: 21F

Temple: Water (Time) | Water (Carnage) | Wood (Carnage) | Dark (Time)
Wyrmguard Succubus (Ascension)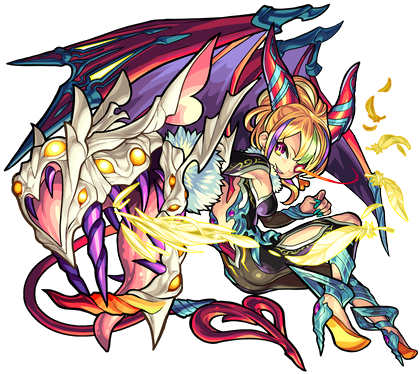 JP Name
-
JP #
1812
Class
Fiend
Element
Gender
-
Rarity
-

Sling
Bounce
Max Luck
99
Type
Blast
Rating
-
Ability
Flight / Null Gravity Barrier
Gauge
-
HP
17258 (+4200) = 21458
Obtain
-
ATK
22693 (+3325) = 26018
SPD
287.50 (+43.35) = 330.85
Luck Skill
Badge
Strike Shot
Hungry Claw - 8 Turns
Bashes the first contacted enemy and sends it flying.
Bump Combo
Homing Destruction 8 (15375)
Randomly targets foes with 8 powerful elemental shots.

Sub Bump

To Evo

15 Light Sharls
30 Light Stoans
90 Maxstoans
Strengths
High fixed damage from SS (500,000); Can one-shot the Wakurin in Time Trials
SS positions you for her Bump Combos
Weakness
SS does low damage on normal enemies
Ableberries
Survivor - Mitigate damage from enemies
Sidekick - Increases her Blast type Bump Combo damage
Strike Haste - Shorten SS for Time Trials in case the Wakurin appears on the first Boss stage
Viable Quests

Impossibles/Colossals: Tsukuyomi | Acala


Fire: Zeami


Water:


Wood: Gigamantis


Light: Princess Nokko


Dark: Deathscoil | Gilles de Rais | Krishna | Bastet | Princess Takiyasha | Nokko | Bahamut

Tower: 25F | 28F | 32F

Temple: Fire (Time) | Fire (Carnage) | Water (Time) | Water (Carnage) | Wood (Carnage) | Light (Time) | Dark (Carnage)
Ad blocker interference detected!
Wikia is a free-to-use site that makes money from advertising. We have a modified experience for viewers using ad blockers

Wikia is not accessible if you've made further modifications. Remove the custom ad blocker rule(s) and the page will load as expected.