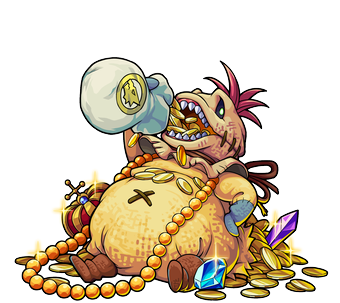 JP Name
-
JP #
1460
Class
Sprite
Element
Gender
-
Rarity
-

Sling
Bounce
Max Luck
72
Type
Power
Rating
-
Ability
Null Warp
Gauge
-
HP
7848 (+1400) = 9248
Obtain
-
ATK
14314 (+1400) = 15714
SPD
156.20 (+15.30) = 171.50
Luck Skill
-
Badge
Strike Shot
Gold-Coin Vacuum - 22 Turns
Gigantifies the user on enemy contact and mows enemies down.
Bump Combo
Volatile Blast S (1672)
Causes a massive blast that triggers additional Bump Combos.

To Evo

1 Light Sharl
5 Light Stoans
10 Maxstoans
30 Stoans

Material For

Chronos
Kraken
Gold Guardian Spriggan (Evolution)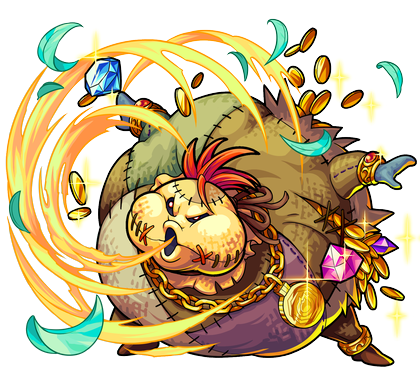 JP Name
-
JP #
1461
Class
Sprite
Element
Gender
-
Rarity
-

Sling
Bounce
Max Luck
90
Type
Power
Rating
-
Ability
Null Warp
Gauge
-
HP
13601 (+2460) = 16061
Obtain
-
ATK
20578 (+7025) = 27603
SPD
148.13 (+51.85) = 199.98
Luck Skill
-
Badge
Strike Shot
Goldblast Breath - 24 Turns
Gigantifies the user on enemy contact and mows enemies down.
Bump Combo
Volatile Blast M (1952)
Causes a massive blast that triggers additional Bump Combos.
Strengths
Bump Combo works as a good support
Weakness
Low SPD to deal any damage
Ad blocker interference detected!
Wikia is a free-to-use site that makes money from advertising. We have a modified experience for viewers using ad blockers

Wikia is not accessible if you've made further modifications. Remove the custom ad blocker rule(s) and the page will load as expected.