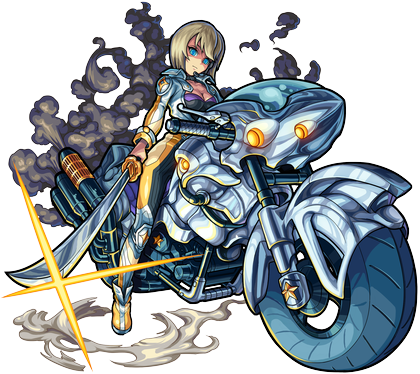 JP Name
-
JP #
1007
Class
Demihume
Element
Gender
-
Rarity
-

Sling
Bounce
Max Luck
90
Type
Balanced
Rating
-
Ability
Demon Slayer
Gauge
HP
12727 (+2460) = 15187
Obtain
-
ATK
14001 (+1375) = 15376
SPD
268.70 (+26.35) = 295.05
Luck Skill
-
Badge
Strike Shot
All You Need is Sword - 12 Turns
Increases Speed.
Bump Combo
Spread Shot XL3 (2009)
Fires three 16-way sprays of massive elemental bullets.

To Evo

1 Divine Sharl
5 Light Sharls
10 Light Stoans
30 Maxstoans

To Asc

Grey Alien (2)
Yeti (1)
Jackalope (3)
Recommended Form - Either
Evolution deals massive damage to Demon enemies
Ascension has a Null Ability as well as a Slayer
Agent Spica (Evolution)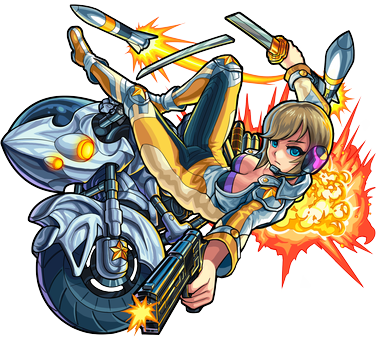 JP Name
-
JP #
1008
Class
Demihume
Element
Gender
-
Rarity
-

Sling
Bounce
Max Luck
99
Type
Balanced
Rating
-
Ability
Demon Slayer XL
Gauge
HP
20851 (+3900) = 24751
Obtain
-
ATK
18208 (+2650) = 20858
SPD
278.57 (+41.65) = 320.22
Luck Skill
Badge
Strike Shot
Golden Eye for an Eye - 16 Turns
Sends the first contacted enemy flying and restores HP.
Bump Combo
Spread Piercer XL3 (2812)
Fires three 16-way sprays of massive elemental pass-through shots.

To Asc

Grey Alien (1)
Yeti (1)
Jackalope (2)
Strengths
Very effective against Demon enemies
SS can be used to heal HP for your team
Weakness
No Null Abilities
Low damage towards non-Demon enemies
Ableberries
Class Kinstrength - Increases damage towards Demon enemies
Survivor - Mitigates damage from enemies
Viable Quests

Impossibles/Colossals:


Fire:


Water: Queen Butterflight | Younger Toguro | Younger Toguro 100%


Wood: Medusa


Light: Ghoulie | Scyllara


Dark: Deathscoil | Cybele

Tower:

Temple: Water (Time) | Wood (Carnage)
Full Metal Spica (Ascension)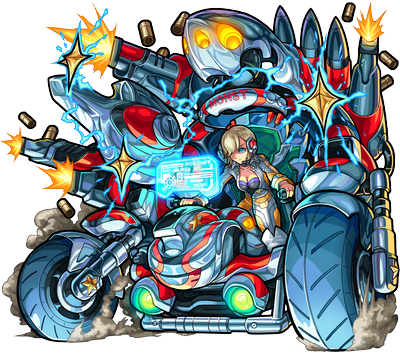 JP Name
-
JP #
1009
Class
Mech
Element
Gender
-
Rarity
-

Sling
Bounce
Max Luck
99
Type
Balanced
Rating
-
Ability
Null Gravity Barrier
Gauge
Demon Slayer M
HP
19190 (+4200) = 23390
Obtain
-
ATK
18391 (+2675) = 21066 (25279 w/ Gauge)
SPD
312.40 (+46.75) = 359.15
Luck Skill
Badge
Strike Shot
Kill and Let Die - 22 Turns
Rigs the first contacted enemy with a bomb whose explosive power increases with the number of hits.
Bump Combo
Spread Piercer XL3 (2812)
Fires three 16-way sprays of massive elemental pass-through shots.

Sub Bump

To Evo

15 Light Sharls
30 Light Stoans
90 Maxstoans
Strengths
Effective against Demon enemies
Weakness
SS damage output depends on your team
Ableberries
Class Kinstrength - Increases damage towards Demons
Survivor - Mitigates damage from enemies
Viable Quests

Impossibles/Colossals:


Fire: Queen of Hearts | Jin


Water: Queen Butterflight


Wood:


Light: Scyllara | Ghoulie


Dark: Cybele | Deathscoil | Deathscoil x 9th Angel | Gilles de Rais

Tower:

Temple: Wood (Carnage) | Dark (Carnage)
Operation Stardust Series

Hatcher Monsters

Antares

Sirius

Deneb

Spica

Canopus
Drop Monsters

Grey Alien

Nessie

Jackalope

Skyfish

Yeti
[Extreme] Guide
[Savage] Guide
[Savage] Guide
[Savage] Guide
[Extreme] Guide
Ad blocker interference detected!
Wikia is a free-to-use site that makes money from advertising. We have a modified experience for viewers using ad blockers

Wikia is not accessible if you've made further modifications. Remove the custom ad blocker rule(s) and the page will load as expected.