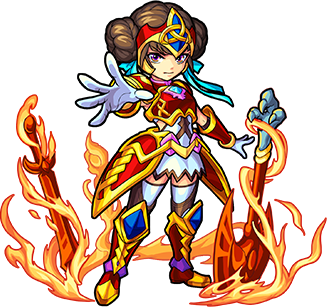 JP Name
-
JP #
2550
Class
Deity
Element
Gender
-
Rarity
-

Sling
Bounce
Max Luck
90
Type
Power
Rating
-
Ability
Mech Slayer L / Bump Combo x2
Gauge
-
HP
17626 (+2460) = 20086
Obtain
-
ATK
23153 (+2250) = 25403
SPD
203.23 (+20.40) = 223.63
Luck Skill
-
Badge
Strike Shot
ノルン3姉妹の宿命 - 13 Turns
Strikes the first contacted enemy and attacks with a laser.
Bump Combo
Meteor-struction (106645)
Attacks a random enemy with a devastating meteor.

To Evo

1 Divine Sharl
5 Red Sharls
10 Red Stoans
30 Maxstoans

To Asc

Angrboða (3)
Jotun (2)
Garm (1)
Skuld (Evolution)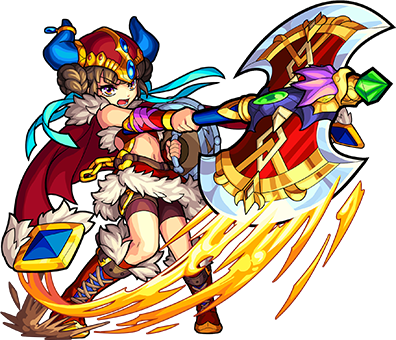 JP Name
-
JP #
2551
Class
Deity
Element
Gender
-
Rarity
-

Sling
Bounce
Max Luck
99
Type
Power
Rating
-
Ability
Mech Slayer L / Bump Combo x2
Gauge
HP
20680 (+3900) = 24580
Obtain
-
ATK
31355 (+4600) = 35955
SPD
202.60 (+30.60) = 233.20
Luck Skill
Badge
Strike Shot
ノルン・ウォーアックス - 13 Turns
Strikes the first contacted enemy and attacks with a laser.
Bump Combo
Meteor-struction (142194)
Attacks a random enemy with a devastating meteor.

To Asc

Angrboða (2)
Jotun (1)
Garm (1)
Strengths
Powerful and decently common Slayer
Weakness
No nulls severely limits viability
Ableberries
Class Kinstrength - Increases her ATK for the Slayer
Sidekick - Increases bump combo damage
Viable Quests

Impossibles/Colossals:


Fire:


Water:


Wood: Gigamantis | Jotun


Light:


Dark:

Tower:

Temple: Wood (Carnage)
Skuld (Ascension)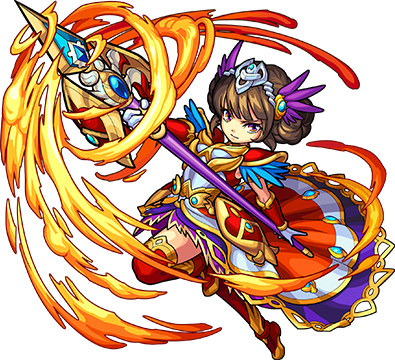 JP Name
-
JP #
2552
Class
Deity
Element
Gender
-
Rarity
-

Sling
Bounce
Max Luck
99
Type
Speed
Rating
-
Ability
Flight / Status Recovery
Gauge
Null Warp
HP
17894 (+4200) = 22094
Obtain
-
ATK
19790 (+2900) = 22690 (27228 w/ Gauge)
SPD
393.80 (+59.50) = 453.30
Luck Skill
Badge
Strike Shot
デスティニーワルキューレ - 25 Turns
Reveals all a boss's weak points on contact.
Bump Combo
ATK Up (0)
Grants an attack boost to teammates.

Sub Bump

To Evo

15 Red Sharls
30 Red Stoans
90 Maxstoans
Strengths
Clears Mag Mell's bump combo lock
Attack-Up bump
Weakness
Little to no bump combo damage
Ableberries
Survivor - Reduces damage intake
Style Kinstrength - Increases her low ATK with other bounce allies
Viable Quests

Impossibles/Colossals: Kushinada | Daikokuten | Mag Mell


Fire: Grey Alien


Water:


Wood: Zhang Jiao | Jiraiya | Tokugawa Yoshinobu | Kevin Verdure | Emerald Blade Muramasa


Light:


Dark: Satellite | Drillmax | Domyoji Anko

Tower:

Temple: Fire (Carnage) | Fire (Time) | Wood (Carnage) | Wood (Time) | Light (Time)
Ragnarok 3 Series

Hatcher Monsters

Skuld

Urd

Heimdall
Drop Monsters

Ymir

Jotun

Garm

Angrboða
[Lethal] Guide
[Extreme] Guide
[Savage] Guide
[Extreme] Guide
Ad blocker interference detected!
Wikia is a free-to-use site that makes money from advertising. We have a modified experience for viewers using ad blockers

Wikia is not accessible if you've made further modifications. Remove the custom ad blocker rule(s) and the page will load as expected.