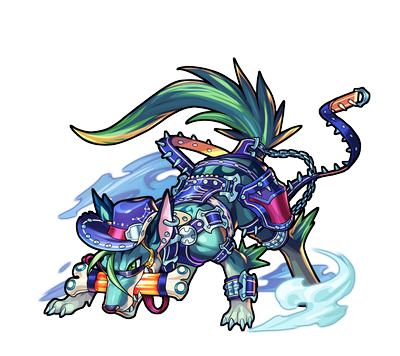 JP Name
-
JP #
1001
Class
Beast
Element
Gender
-
Rarity
-

Sling
Pierce
Max Luck
90
Type
Speed
Rating
-
Ability
Null Gravity Barrier
Gauge
HP
8978 (+2460) = 11438
Obtain
-
ATK
11389 (+1100) = 12489
SPD
329.37 (+33.15) = 362.52
Luck Skill
-
Badge
Strike Shot
Brutal Bloodhound - 12 Turns
Increases Speed.
Bump Combo
Slice 'n' Dice (1236)
Randomly slices into foes with razor-sharp blades.

To Evo

1 Divine Sharl
5 Blue Sharls
10 Blue Stoans
30 Maxstoans

To Asc

Yeti (2)
Nessie (4)
Recommended Form - Either
Evolution effective against Sprite enemies
Ascension has more Null Abilities
Agent Sirius (Evolution)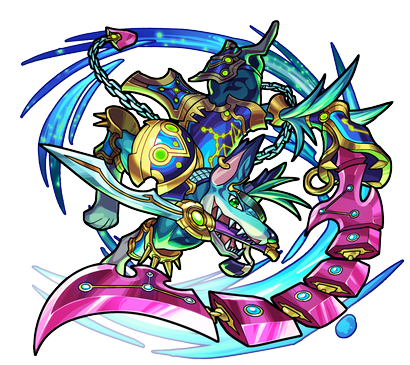 JP Name
-
JP #
1002
Class
Beast
Element
Gender
-
Rarity
-

Sling
Pierce
Max Luck
99
Type
Speed
Rating
-
Ability
Null Gravity Barrier
Gauge
Sprite Slayer L
HP
17510 (+3900) = 21410
Obtain
-
ATK
17646 (+2350) = 19996 (23996 w/ Gauge)
SPD
375.37 (+56.95) = 432.32
Luck Skill
Badge
Strike Shot
Spiral Hound Slash - 18 Turns
Increases Speed and does a lot of damage to Shields.
Bump Combo
Slice 'n' Dice (2431)
Randomly slices into foes with razor-sharp blades.

To Asc

Yeti (1)
Nessie (3)
Strengths
Evolution effective against Sprite enemies like Lightblade Murasame
Bump Combo can generate hits against Scorpions
Weakness
Ableberries
Class Kinstrength - Increases damage towards Sprite enemies
Bias Kinstrength - Increases ATK for other Sprite Slayers like Surtr
Knockout - Synergizes well with SS
Viable Quests

Impossibles/Colossals: Izanami


Fire: Hydra | Forty-Seven Ronin | Momotaro | Gargoyle | Destroyah


Water: Waterblade Murasame


Wood:


Light: Lightblade Murasame | Jack


Dark: Darkblade Murasame

Tower:

Temple: Fire (Time) | Water (Time) | Dark (Carnage)
Pangalactic Sirius (Ascension)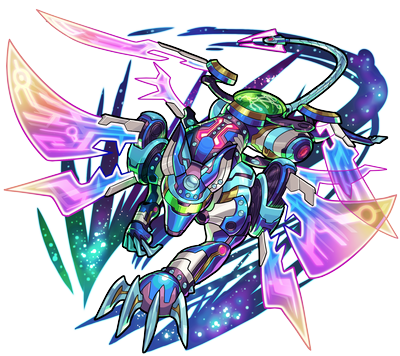 JP Name
-
JP #
1003
Class
Galaxite
Element
Gender
-
Rarity
-

Sling
Pierce
Max Luck
99
Type
Speed
Rating
-
Ability
Null Gravity Barrier
Gauge
Null Block
HP
18849 (+4200) = 23049
Obtain
-
ATK
18045 (+3250) = 21295 (25554 w/ Gauge)
SPD
408.47 (+62.05) = 470.52
Luck Skill
Badge
Strike Shot
Dogdroid Stealth - 20 Turns
Fires a mechanical laser, then attacks with a homing shot.
Bump Combo
Slice 'n' Dice (2431)
Randomly slices into foes with razor-sharp blades.

Sub Bump

To Evo

15 Blue Sharls
30 Blue Stoans
90 Maxstoans
Strengths
Two Null Abilities
Bump Combos can generate hits against Scorpions
Weakness
Ableberries
Knockout - Synergizes well with his high SPD
Viable Quests

Impossibles/Colossals: Arcadia | Tsukuyomi | Cain


Fire: Gargoyle | Wyatt Earp | Forty-Seven Ronin | Destoryah | Momotaro | Hydra


Water:


Wood:


Light:


Dark: Blizzaga

Tower:

Temple: Fire (Time) | Water (Time) | Dark (Carnage)
Operation Stardust Series

Hatcher Monsters

Antares

Sirius

Deneb

Spica

Canopus
Drop Monsters

Grey Alien

Nessie

Jackalope

Skyfish

Yeti
[Extreme] Guide
[Savage] Guide
[Savage] Guide
[Savage] Guide
[Extreme] Guide
Ad blocker interference detected!
Wikia is a free-to-use site that makes money from advertising. We have a modified experience for viewers using ad blockers

Wikia is not accessible if you've made further modifications. Remove the custom ad blocker rule(s) and the page will load as expected.