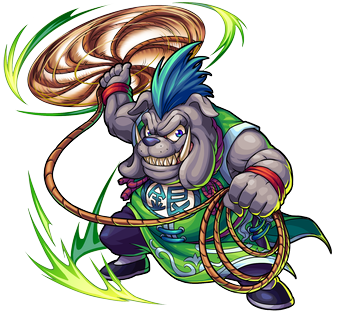 JP Name
-
JP #
1242
Class
Beast
Element
Gender
-
Rarity
-

Sling
Bounce
Max Luck
72
Type
Balanced
Rating
-
Ability
Fiend Slayer
Gauge
-
HP
7061 (+1400) = 8461
Obtain
-
ATK
8914 (+850) = 9764
SPD
153.53 (+15.30) = 168.83
Luck Skill
-
Badge
Strike Shot
Bandit's Lasso - 12 Turns
Increases Speed.
Bump Combo
Spread Shot L2 (1722)
Fires two 16-way sprays of large elemental bullets.

To Evo

1 Green Sharl
5 Green Stoans
10 Maxstoans
30 Stoans

Material For

Zhu Bajie
Sanzang Fashi
Bull Demon King
Great King Silver Horn (Evolution)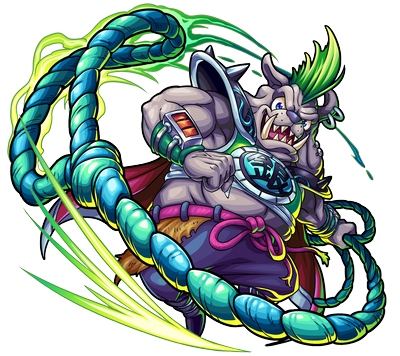 JP Name
-
JP #
1243
Class
Beast
Element
Gender
-
Rarity
-

Sling
Bounce
Max Luck
90
Type
Balanced
Rating
-
Ability
Fiend Slayer M
Gauge
Null Damage Wall
HP
12096 (+2460) = 14556
Obtain
-
ATK
10036 (+3425) = 13461 (16154)
SPD
169.53 (+59.50) = 229.03
Luck Skill
-
Badge
Strike Shot
Scoundrel's Chain - 20 Turns


Explodes on first enemy contact and does a lot of damage to all foes in the vicinity.

Bump Combo
Spread Shot XL3 (2009)


Fires three 16-way sprays of massive elemental bullets.
Strengths
Effective against Fiend enemies
SS can deal high damage
Weakness
Low Bump Combo damage
Low SPD for a Balanced monster
Ad blocker interference detected!
Wikia is a free-to-use site that makes money from advertising. We have a modified experience for viewers using ad blockers

Wikia is not accessible if you've made further modifications. Remove the custom ad blocker rule(s) and the page will load as expected.