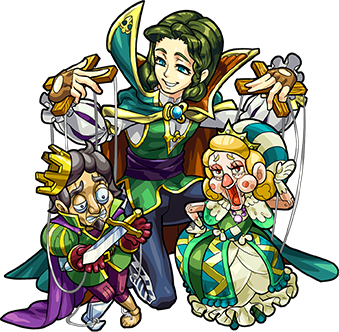 JP Name
-
JP #
2254
Class
Demihume
Element
Gender
-
Rarity
-

Sling
Bounce
Max Luck
90
Type
Balanced
Rating
-
Ability
Mine Sweeper
Gauge
-
HP
16299 (+2460) = 18759
Obtain
-
ATK
15348 (+1500) = 16848
SPD
247.93 (+24.65) = 272.58
Luck Skill
-
Badge
Strike Shot
As You Love It - 12 Turns
Increases Speed.
Bump Combo
Spread Piercer XL3 (2009)
Fires three 16-way sprays of massive elemental pass-through shots.

To Evo

1 Divine Sharl
5 Green Sharls
10 Green Stoans
30 Maxstoans

To Asc

Gigabeast Fighters (3)
Judge Rock (4)
Recommended Form - Ascension
Manipulative Playwright Shakespeare (Evolution)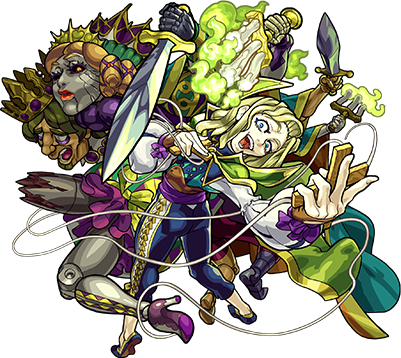 JP Name
-
JP #
2255
Class
Demihume
Element
Gender
-
Rarity
-

Sling
Bounce
Max Luck
99
Type
Balanced
Rating
-
Ability
Mine Sweeper M / Demon Slayer M
Gauge
HP
21154 (+3900) = 25054
Obtain
-
ATK
22750 (+3325) = 26075
SPD
253.57 (+38.25) = 291.82
Luck Skill
Badge
Strike Shot
Euphoric Tragedy - 18 Turns
Passes through enemies while attacking.
Bump Combo
Spread Pierce-struction XL3 (4499)
Fires three 16-way sprays of massive elemental pass-through shots.

To Asc

Gigabeast Fighters (2)
Judge Rock (3)
Strengths
Effective against Demon enemies and synergizes well with SS
Weakness
Only one Null Ability
Low damage onto non-Demon enemies
Ableberries
Class Kinstrength - Increases damage towards Demon enemies
Viable Quests

Impossibles/Colossals: Yamato Takeru: Zero


Fire:


Water: Queen Butterflight


Wood: Halloweena


Light: Ghoulie | Scyllara


Dark: Deathscoil | Karasu

Tower:

Temple: Water (Time) | Wood (Carnage) | Light (Time)
Shakespeare the Word Puppeteer (Ascension)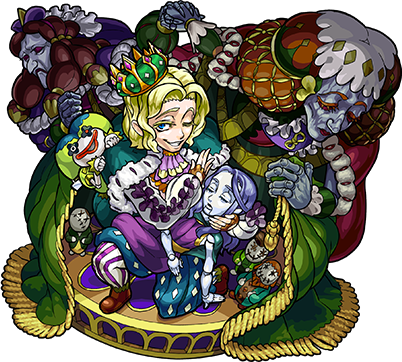 JP Name
-
JP #
2256
Class
Demihume
Element
Gender
-
Rarity
-

Sling
Bounce
Max Luck
99
Type
Balanced
Rating
-
Ability
Null Warp
Gauge
Status Recovery
HP
18881 (+4200) = 23081
Obtain
-
ATK
18984 (+2775) = 21759 (26110 w/ Gauge)
SPD
305.63 (+45.9) = 351.53
Luck Skill
Badge
Strike Shot
Nightmare Curtain Call - 12 Turns
Increases Strength, and draws your teammates.
Bump Combo
Vertical Laser XL (24255)
Attacks upward and downward with 2 massive elemental lasers.

Sub Bump

To Evo

15 Green Sharls
30 Green Stoans
90 Maxstoans
Strengths
New Strike Shot that teleports allies towards Shakespeare which is great to activate powerful Bump Combos
Weakness
Status Recovery and Sling don't synergizes
Team is prone to more damage from enemies after SS
Ableberries
Sidekick - Increases Bump Combo damage
Viable Quests

Impossibles/Colossals: Doom


Fire:


Water: Sima Yi


Wood: Tokugawa Yoshinobu


Light: Fenrir


Dark: Vanilla the Witch | Bull Demon King

Tower: 24F

Temple: Water (Time) | Wood (Carnage)
Library of Dark Marchen Series

Hatcher Monsters

Andersen

Shakespeare

Dante
Drop Monsters

Judge Rock

Gigabeast Fighters

Hikaru Genji

Lady Rokujo
[Savage] Guide
[Extreme] Guide
[Lethal] Guide
[Extreme] Guide
Ad blocker interference detected!
Wikia is a free-to-use site that makes money from advertising. We have a modified experience for viewers using ad blockers

Wikia is not accessible if you've made further modifications. Remove the custom ad blocker rule(s) and the page will load as expected.