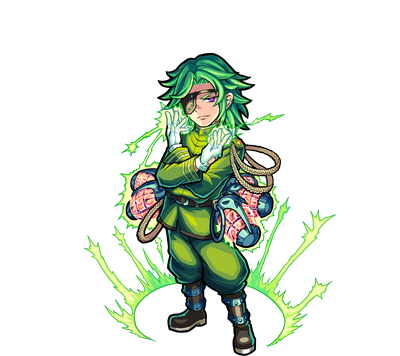 JP Name
-
JP #
1270
Class
Demihume
Element
Gender
-
Rarity
-

Sling
Bounce
Max Luck
72
Type
Blast
Rating
-
Ability
Mine Sweeper
Gauge
-
HP
7481 (+1400) = 8881
Obtain
-
ATK
6423 (+625) = 7048
SPD
229.10 (+22.95) = 252.05
Luck Skill
-
Badge
Strike Shot
Petrification Grenade - 18 Turns
Explodes on first enemy contact and does a lot of damage to all foes in the vicinity.
Bump Combo
Super Blast (6560)
Attacks with a large, non-elemental blast around the user.

To Evo

1 Green Sharl
5 Green Stoans
10 Maxstoans
30 Stoans

Material For

Suzuran
Captain Mica
Marshal Titanium
Emerald-eye Manganese (Evolution)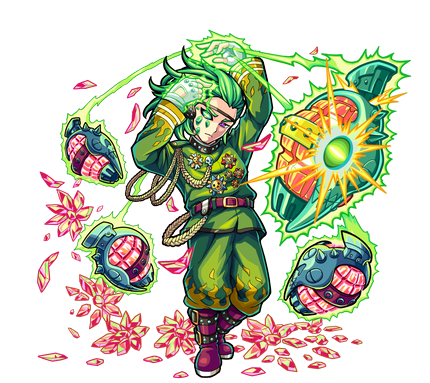 JP Name
-
JP #
1271
Class
Demihume
Element
Gender
-
Rarity
-

Sling
Bounce
Max Luck
90
Type
Blast
Rating
-
Ability
Mine Sweeper
Gauge
-
HP
13905 (+2460) = 15555
Obtain
-
ATK
9152 (+3175) = 12277
SPD
211.50 (+74.80) = 286.30
Luck Skill
-
Badge
Strike Shot
Shining Explosion - 20 Turns
Explodes on first enemy contact and does a lot of damage to all foes in the vicinity.
Bump Combo
Mega Blast (7653)
Attacks with a very large, non-elemental blast around the user.
Strengths
Weakness
No damage from Bump Combo
Only 1 Null
Nostalgia Blooms Series

Hatcher Monsters

Suzuran

Tanpopo

Sakura
Drop Monsters

Captain Mica

Lieutenant Bismuth

Sergeant Manganese

Marshal Titanium

Corporal Nickel
[Extreme] Guide
[Savage] Guide
[Savage] Guide
[Extreme] Guide
[Savage] Guide
Ad blocker interference detected!
Wikia is a free-to-use site that makes money from advertising. We have a modified experience for viewers using ad blockers

Wikia is not accessible if you've made further modifications. Remove the custom ad blocker rule(s) and the page will load as expected.