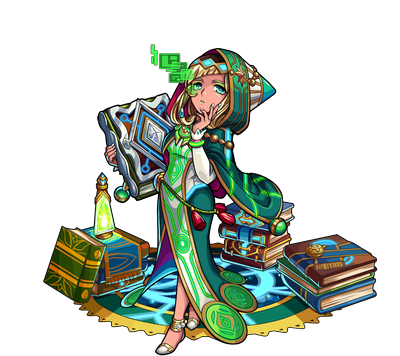 JP Name
-
JP #
1395
Class
Demihume
Element
Gender
-
Rarity
-

Sling
Pierce
Max Luck
90
Type
Blast
Rating
-
Ability
Null Gravity Barrier
Gauge
-
HP
11343 (+2460) = 13803
Obtain
-
ATK
13635 (+1325) = 14960
SPD
230.00 (+22.95) = 252.95
Luck Skill
-
Badge
Strike Shot
Prognosis - 24 Turns
Renders teammates invincible on contact for 2 turns.
Bump Combo
Glacier (21504)
Randomly attacks foes with 4 chunks of ice.

To Evo

1 Divine Sharl
5 Green Sharls
10 Green Stoans
30 Maxstoans

To Asc

Marida of the Lamp (2)
Humphrey (1)
Recommended Form - Ascension
Storyteller Scheherazade (Evolution)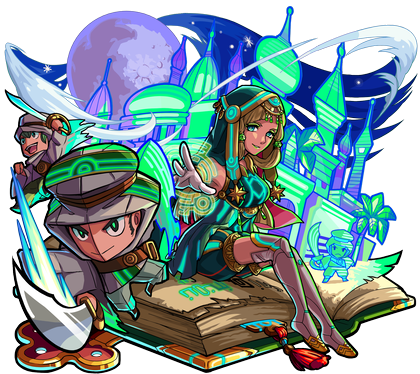 JP Name
-
JP #
1396
Class
Demihume
Element
Gender
-
Rarity
-

Sling
Bounce
Max Luck
99
Type
Blast
Rating
-
Ability
Mech Slayer L
Gauge
Null Gravity Barrier
HP
19615 (+3900) = 23515
Obtain
-
ATK
16590 (+2425) = 19015 (22818 w/ Gauge)
SPD
262.10 (+39.95) = 302.05
Luck Skill
Badge
Strike Shot
1001 Nights - 24 Turns
Renders teammates invincible on contact for 3 turns.
Bump Combo
Glacier (21504)
Randomly attacks foes with 6 chunks of ice.

To Asc

Marida of the Lamp (3)
Humphrey (2)
Strengths
SS can mitigate damage which is very good in dungeons like 22F
Effective against Mech enemies, namely the Mech Birds
Weakness
Bump Combo doesn't do a lot of damage, despite being a Blast Type
Ableberries
Survivor - Mitigates damage intake
Sidekick - Increases her Bump Combo power
Viable Quests

Impossibles/Colossals: Nirai Kanai


Fire:


Water: Lobstar | Nurarihyon | Tiger I


Wood:


Light:


Dark: Kabushido

Tower: 22F | 27F

Temple: Water (Time) | Water (Carnage) | Wood (Carnage) | Dark (Carnage)
Star Oracle Scheherazade (Ascension)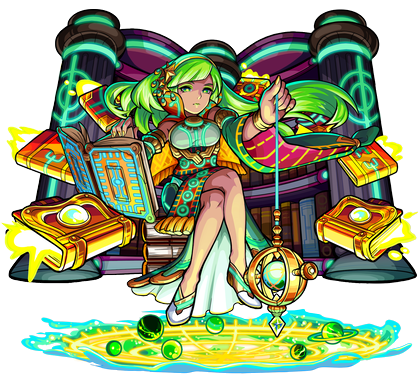 JP Name
-
JP #
1397
Class
Demihume
Element
Gender
-
Rarity
-

Sling
Pierce
Max Luck
99
Type
Blast
Rating
-
Ability
Null Damage Wall
Gauge
Recovery / Strike Shot Reducer
HP
19267(+4200) = 23467
Obtain
-
ATK
19955 (+2450) = 22405 (26886 w/ Gauge)
SPD
276.33 (+41.65) = 317.98
Luck Skill
Badge
Strike Shot
Galactic Revelations - 18 Turns
Increases Speed and Strength.
Bump Combo
Cross Laser L (8662)
Attacks in a cross pattern with large elemental lasers.

Sub Bump

To Evo

15 Green Sharls
30 Green Stoans
90 Maxstoans
Strengths
Good support Ability in Recovery to keep Team HP high
Decent stats for a Blast Type
Weakness
Bump Combo doesn't do a lot of damage, despite being a Blast Type
Ableberries
Class Kinstrength - Can increase Kushinada's ATK over the one-shot border for Bishamonten
Class Kinspeed - Makes hitting allies for Recovery easier
Viable Quests

Impossibles/Colossals: Bishamonten | Penglai


Fire:


Water: Dracula | Nurarihyon | Queen Butterflight


Wood: Serket


Light: Marida of the Lamp


Dark:

Tower: 22F

Temple: Water (Time) | Water (Carnage) | Wood (Time) | Wood (Carnage) | Light (Carnage) | Dark (Time)
Ad blocker interference detected!
Wikia is a free-to-use site that makes money from advertising. We have a modified experience for viewers using ad blockers

Wikia is not accessible if you've made further modifications. Remove the custom ad blocker rule(s) and the page will load as expected.