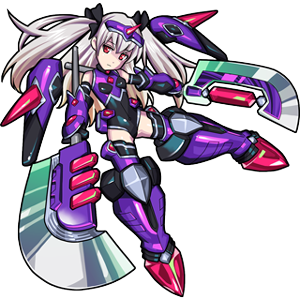 JP Name
黒神 サヤ
JP #
332
Class
Mech
Element
Gender
Female
Rarity
4★

Sling
Pierce
Max Luck
75
Type
Speed
Rating
Ability
Flight / Mech Slayer L
Gauge
-
HP
6370 (+1400) = 7770
Obtain
Hatcher
ATK
7441 (+1280) = 8721
SPD
309.53 (+33.32) = 342.85
Luck Skill
-
Badge
Strike Shot
Dark Wave - 12 Turns
Uses dark weaponry to greatly increase Speed.
Bump Combo
Spread Shot L2 (1722)
Fires two 16-way sprays of large elemental bullets.

To Evo

1 Dark Sharl
5 Dark Stoans
10 Maxstoans
30 Stoans
Umbral Saya (Evolution)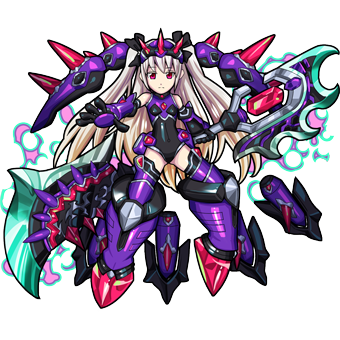 JP Name
黒神 サヤ 【闇武】
JP #
333
Class
Mech
Element
Gender
Female
Rarity
5★

Sling
Pierce
Max Luck
90
Type
Speed
Rating
4.0
Ability
Flight / Mech Slayer XL
Gauge
-
HP
11122 (+2460) = 13582
Obtain
Evolution
ATK
12849 (+2240) = 15089
SPD
342.4 (+39.1) = 381.5
Luck Skill
-
Badge
Strike Shot
Twin Dragon Revels - 36 Turns
Uses combined darkness to do more damage the lower teammate HP gets.
Bump Combo
Spread Shot XL3 (2009)
Fires 3 16-way sprays of massive elemental bullets.
Strengths
Very effective against Mech enemies
Weakness
SS is very situational
Low damage against non-Mech enemies
Iron Oath Series

Hatcher Monsters

Karin

Nanami

Kazane

Hikari

Saya
Drop Monsters

Solwing

Delugian

Florrior

Zic Zephyr

Murdigris
[Extreme] Guide
[Savage] Guide
[Extreme] Guide
[Savage] Guide
[Savage] Guide
Ad blocker interference detected!
Wikia is a free-to-use site that makes money from advertising. We have a modified experience for viewers using ad blockers

Wikia is not accessible if you've made further modifications. Remove the custom ad blocker rule(s) and the page will load as expected.