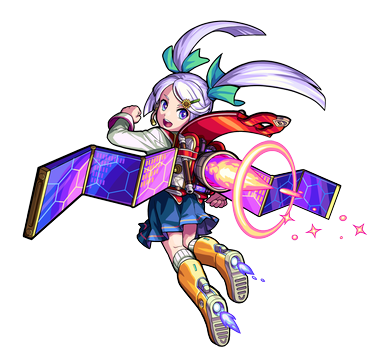 JP Name
-
JP #
1380
Class
Nebulan
Element
Gender
-
Rarity
-

Sling
Bounce
Max Luck
90
Type
Power
Rating
-
Ability
Flight
Gauge
-
HP
12237 (+0) = 12237
Obtain
-
ATK
18151 (+0) = 18151
SPD
175.4 (+0) = 175.4
Luck Skill
-
Badge
Strike Shot
Amazing Journey - 18 Turns
Launches a pulse attack in the targeted direction.
Bump Combo
Lock-on Laser L (4584)
Attacks nearby enemies with large elemental lasers.

To Evo

1 Divine Sharl
5 Dark Sharls
10 Dark Stoans
30 Maxstoans

To Asc

PC-G3 (3)
Factorian (1)
Wicked Wheels (1)
Rycemaker (1)
Recommended Form - Evolution
High damage from Bump Combo and very unique for Extreme monsters
There are better NDW Extreme monsters that can replace Ascension
Orbital Maiden Satellite (Evolution)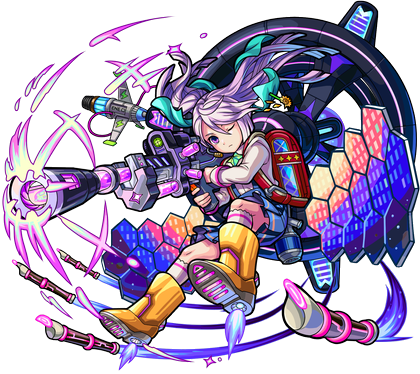 JP Name
-
JP #
1381
Class
Nebluan
Element
Gender
-
Rarity
-

Sling
Bounce
Max Luck
99
Type
Power
Rating
-
Ability
Flight / Null Wind
Gauge
-
HP
17369 (+3900) = 21269
Obtain
-
ATK
21934 (+7500) = 29434
SPD
181.93 (+64.60) = 246.53
Luck Skill
Badge
Strike Shot
Sputnik Solitude - 21 Turns
Fires a satellite cannon in the targeted direction, then attacks with a homing shot.
Bump Combo
Lock-on Laser XL (17325)
Attacks nearby enemies with massive elemental lasers.

To Asc

PC-G3 (2)
Factorian (1)
Wicked Wheels (1)
Rycemaker (1)
Strengths
High damage from Bump Combo that doesn't really require positioning
Weakness
Only Flight for Abilities
Ableberries
Sidekick - Increases her Bump Combo damage
Viable Quests

Impossibles/Colossals: Daikokuten


Fire: Burst | Roc


Water:


Wood: Green Goblin


Light: Cardinal Richelieu | Ishikawa Goemon | Pine


Dark:

Tower: 39F

Temple: Fire (Time) | Fire (Carnage) | Water (Time) | Wood (Carnage) | Light (Time)
Weather Satellite (Ascension)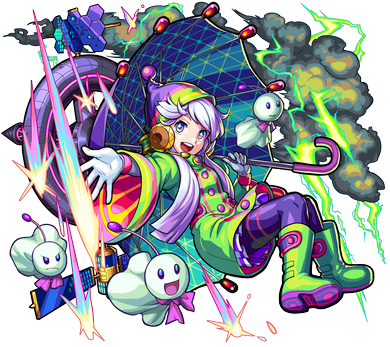 JP Name
-
JP #
1382
Class
Nebulan
Element
Gender
-
Rarity
-

Sling
Bounce
Max Luck
99
Type
Balanced
Rating
-
Ability
Null Damage Wall / Strike Shot Reducer
Gauge
-
HP
18334 (+4200) = 22534
Obtain
-
ATK
18797 (+6425) = 25222
SPD
223.27 (+79.05) = 302.32
Luck Skill
Badge
Strike Shot
Final Forecast - 30 Turns
Attacks all enemies on contact with a thunderstorm.
Bump Combo
Homing Piercer 8 (2342)
Randomly targets foes with 8 elemental pass-through shots.

Sub Bump

To Evo

15 Dark Sharls
30 Dark Stoans
90 Maxstoans
Strengths
Bump Combo and SS great for mob clearing
High stats
Weakness
Nothing really special and can be replaced by a lot of monsters
Ableberries
Class Kinstrength - Increases her SS damage
Strike Haste - Shortens her SS Cooldown
Viable Quests

Impossibles/Colossals:


Fire:


Water:


Wood: PC-G3 | Siren | Tengu


Light: Jack | Sagat


Dark: Dong Zhuo

Tower:

Temple: Water (Time) | Water (Carnage) | Wood (Time) | Wood (Carnage) | Light (Carnage) | Dark (Time)
Ad blocker interference detected!
Wikia is a free-to-use site that makes money from advertising. We have a modified experience for viewers using ad blockers

Wikia is not accessible if you've made further modifications. Remove the custom ad blocker rule(s) and the page will load as expected.