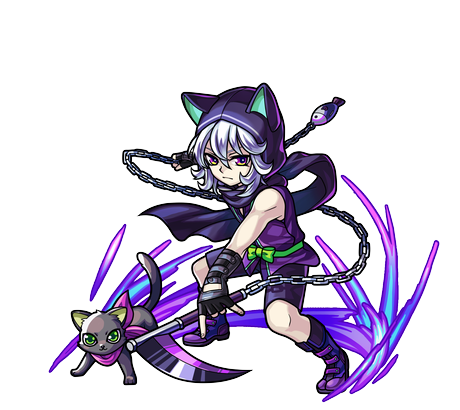 JP Name
-
JP #
670
Class
Demihume
Element
Gender
-
Rarity
-

Sling
Pierce
Max Luck
90
Type
Speed
Rating
-
Ability
Demihume Slayer
Gauge
-
HP
10770 (+2460) = 13230
Obtain
-
ATK
11600 (+1125) = 12725
SPD
311.6 (+31.45) = 343.05
Luck Skill
-
Badge
Strike Shot
Invocation: Shadowwalker - 13 Turns
Increases Speed
Bump Combo
Vertical Laser L (9471)
Attacks upward and downward with 2 large elemental lasers.

To Evo

1 Divine Sharl
5 Dark Sharls
10 Dark Stoans
30 Maxstoans

To Asc

Jiraiya (2)
Inugami (3)
Izuna (1)
Recommended Form - Evolution
Sanada Brave Sasuke (Evolution)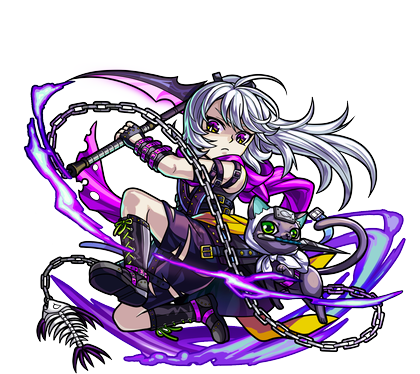 JP Name
-
JP #
671
Class
Demihume
Element
Gender
-
Rarity
-

Sling
Pierce
Max Luck
99
Type
Speed
Rating
-
Ability
Null Warp
Gauge
Null Damage Wall
HP
18171 (+3900) = 22071
Obtain
-
ATK
17092 (+2500) = 19592 (23510 w/ Gauge)
SPD
352.4 (+53.55) = 405.95
Luck Skill
Badge
Strike Shot
Invocation: Dark Reaper - 18 Turns
Increases Speed and Strength and does a lot of damage to Shields.
Bump Combo
Vertical Laser L (12312)
Attacks upward and downward with 2 large elemental lasers.

To Asc

Jiraiya (1)
Inugami (3)
Izuna (1)
Strengths
Weakness
Ableberries
Class Kinstrength - Covers his low ATK
Knockout - Synergizes well with Sling and high SPD
Viable Quests

Impossibles/Colossals: Eden


Fire:


Water:


Wood:


Light: Marida of the Lamp | Yuan Shao


Dark: Vanilla the Witch | Yeti | Visceron

Tower:

Temple: Water (Time) | Water (Carnage) | Wood (Time) | Wood (Carnage) | Light (Carnage) | Dark (Time)

Koga Ninja Sasuke (Ascension)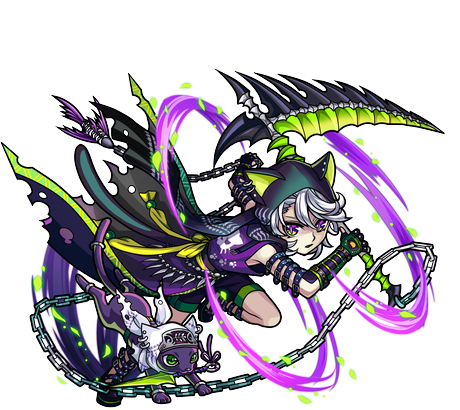 JP Name
-
JP #
672
Class
Demihume
Element
Gender
-
Rarity
-

Sling
Pierce
Max Luck
99
Type
Speed
Rating
-
Ability
Demihume Slayer M
Gauge
HP
19607 (+4200) = 23807
Obtain
-
ATK
21600 (+3150) = 24750
SPD
332.67 (+50.15) = 382.82
Luck Skill
Badge
Strike Shot
Invocation: Abyssal Scythe - 16 Turns
Bashes the first contacted enemy and sends it flying with a sickle and chain.
Bump Combo
Vertical laser L (12312)
Attacks upward and downward with 2 large elemental lasers

Sub Bump

To Evo

15 Dark Sharls
30 Dark Stoans
90 Maxstoans
Strengths
Effective against Demihume enemies
Weakness
Ableberries
Class Kinstrength - Increases her damage towards Demihume enemies
Knockout - Synergizes well SS
Viable Quests

Impossibles/Colossals:


Fire:


Water:


Wood: Issun


Light: Cabaletta | Orochimaru | Origami | Ishikawa Goemon


Dark:

Tower:

Temple: Water (Time) | Wood (Carnage)

Night of the Ninja Series

Hatcher Monsters

Hattori Hanzo

Kirigakure Saizo

Momochi Sandayu

Saotome Shuri

Sarutobi Sasuke
Drop Monsters

Inugami

Tsunade

Jiraiya

Orochimaru

Izuna
[Savage] Guide
[Savage] Guide
[Extreme] Guide
[Extreme] Guide
[Savage] Guide
Ad blocker interference detected!
Wikia is a free-to-use site that makes money from advertising. We have a modified experience for viewers using ad blockers

Wikia is not accessible if you've made further modifications. Remove the custom ad blocker rule(s) and the page will load as expected.