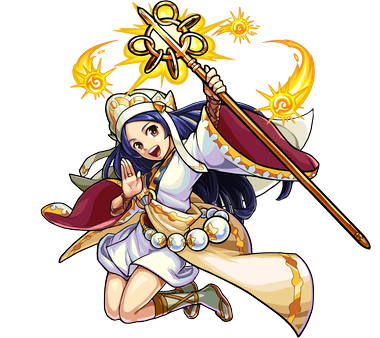 JP Name
-
JP #
1232
Class
Paladin
Element
Gender
-
Rarity
-

Sling
Bounce
Max Luck
90
Type
Balanced
Rating
-
Ability
Null Gravity Barrier
Gauge
-
HP
12492 (+2460) = 14952
Obtain
-
ATK
18108 (+1775) = 19883
SPD
215.30 (+21.25) = 236.55
Luck Skill
-
Badge
Strike Shot
Sermon of Love - 12 Turns
Increases Speed.
Bump Combo
Rebound Laser M3 (1353)
Attacks with a medium-sized elemental laser that rebounds three times.

To Evo

1 Divine Sharl
5 Light Sharls
10 Light Stoans
30 Maxstoans

To Asc

Princess Iron Fan (3)
Silver Horn (2)
Silver Horn (2)
Recommended Form - Evolution
Element Slayer and Null Ability
Higher damaging SS
Lightbringer Sanzang Fashi (Evolution)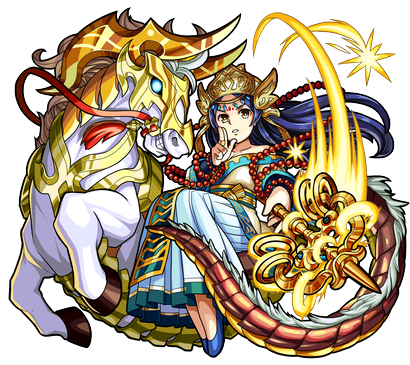 JP Name
-
JP #
1233
Class
Paladin
Element
Gender
-
Rarity
-

Sling
Pierce
Max Luck
99
Type
Speed
Rating
-
Ability
Dark Resistance
Gauge
Dark Slayer / Null Warp
HP
17220 (+3900) = 21120
Obtain
-
ATK
17677 (+2575) = 20252 (24302 w/ Gauge)
SPD
379.20 (+56.95) = 436.15
Luck Skill
Badge
Strike Shot
Gandhara - 21 Turns
Deals a ton of damage on contact with enemy weak point.
Bump Combo
Rebound Laser L4 (2486)
Attacks with a large elemental laser that rebounds four times.

To Asc

Princess Iron Fan (2)
Silver Horn (1)
Silver Horn (1)
Strengths
Very effective in Dark Dungeons with Resistance and Slayer
Weak Point SS is very strong and procs Slayer
Weakness
Only Null Warp
Hard to deal damage with Bump Combo
Ableberries
Survivor - Mitigates damage from enemies
Class Kinstrength - Increases damage towards Dark enemies
Viable Quests

Impossibles/Colossals: Tsukuyomi | Tsukuyomi: Zero | Akasha


Fire:


Water:


Wood:


Light:


Dark: Da Vinci | Zero | Dark Wyrm | Vanilla the Witch | Lady Rokujo | Princess Takiyasha

Tower: 34F

Temple: Water (Time) | Wood (Time) | Wood (Carnage) | Dark (Carnage)
Goddess of Mercy Sanzang (Ascension)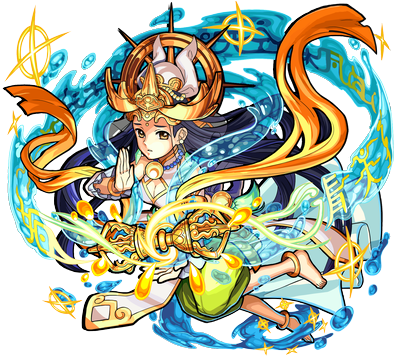 JP Name
-
JP #
1234
Class
Paladin
Element
Gender
-
Rarity
-

Sling
Pierce
Max Luck
99
Type
Speed
Rating
-
Ability
Null Gravity Barrier
Gauge
Status Recovery
HP
18866 (+4200) = 23066
Obtain
-
ATK
20391 (+2675) = 23066 (27680 w/ Gauge)
SPD
342.47 (+51.85) = 394.32
Luck Skill
Badge
Strike Shot
Bharata - 18 Turns
Increases Speed and Strength and does a lot of damage to Drones.
Bump Combo
Rebound Laser L4 (2486)
Attacks with a large elemental laser that rebounds four times.

Sub Bump

To Evo

15 Light Sharls
30 Light Stoans
90 Maxstoans
Strengths
Unique Status Recovery and has Null Ability
Weakness
Hard to deal damage with Bump Combo
Ableberries
Detox - Works well in 24F in Tower of Champions
Class Kinvigor - Works well with other Paladin monsters
Viable Quests

Impossibles/Colossals: Tsukuyomi


Fire: Destroyah


Water: Aquarius Camus


Wood:


Light:


Dark: Shadow Blade Muramasa | Princess Takiyasha | Krishna | Bull Demon King | M. Bison | Virgo Shaka

Tower: 24F

Temple: Fire (Time) | Water (Time) | Wood (Carnage) | Dark (Carnage)
Ad blocker interference detected!
Wikia is a free-to-use site that makes money from advertising. We have a modified experience for viewers using ad blockers

Wikia is not accessible if you've made further modifications. Remove the custom ad blocker rule(s) and the page will load as expected.