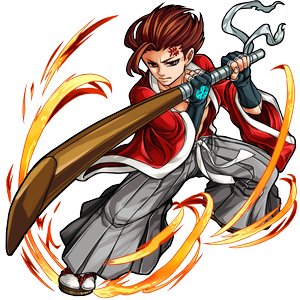 JP Name
-
JP #
497
Class
Samurai
Element
Gender
-
Rarity
-

Sling
Pierce
Max Luck
72
Type
Power
Rating
-
Ability
Deity Slayer
Gauge
-
HP
7591 (+1400) = 8991
Obtain
-
ATK
7689 (+1500) = 9189
SPD
230.67 (+45.9) = 276.57
Luck Skill
-
Badge
Strike Shot
Flame Edge - 22 Turns
Uses fiery blade to increase Speed.
Bump Combo
Lock-on Shockwave 3 (7576)
Attacks with 3 non-elemental shockwaves.

To Evo

1 Red Sharl
5 Red Stoans
10 Maxstoans
30 Stoans

Material For

Sakamoto Ryoma
Okita Soji
Tokugawa Yoshinobu
Nazca
Saito the Survivor (Evolution)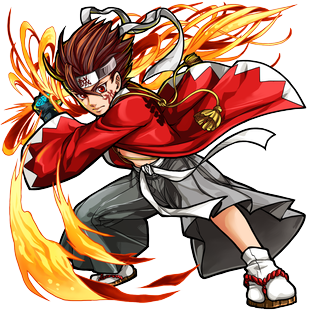 JP Name
-
JP #
498
Class
Samurai
Element
Gender
-
Rarity
-

Sling
Pierce
Max Luck
90
Type
Balanced
Rating
-
Ability
Deity Slayer
Gauge
-
HP
13286 (+2460) = 15746
Obtain
-
ATK
13457 (+2625) = 16082
SPD
269.53 (+54.4) = 323.93
Luck Skill
-
Badge
Strike Shot
Mugai-ryu - 18 Turns
Increases Speed and Strength and does a lot of damage to Shields.
Bump Combo
Lock-on Shockwave 6 (13259)
Attacks with 6 non-elemental shockwaves.
Strengths
Effective against Deity enemies
High stats
Weakness
Rising Sun Revolutionaries Series

Hatcher Monsters

Sakamoto Ryoma

Katsu Kaishu

Oryo

John Manjiro

Saigo Takamori
Drop Monsters

Saito Hajime

Okita Soji

Tokugawa Yoshinobu

Kondo Isami

Hijikata Toshizo
[Savage] Guide
[Extreme] Guide
[Extreme] Guide
[Savage] Guide
[Savage] Guide
Ad blocker interference detected!
Wikia is a free-to-use site that makes money from advertising. We have a modified experience for viewers using ad blockers

Wikia is not accessible if you've made further modifications. Remove the custom ad blocker rule(s) and the page will load as expected.