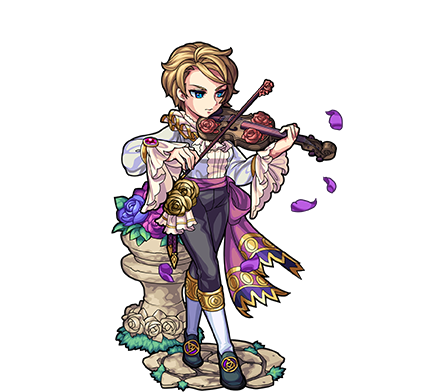 JP Name
-
JP #
1945
Class
Paladin
Element
Gender
-
Rarity
-

Sling
Bounce
Max Luck
90
Type
Balanced
Rating
-
Ability
Null Warp
Gauge
-
HP
11594 (+2460) = 14054
Obtain
-
ATK
12003 (+1175) = 13178
SPD
294.67 (+28.9) = 323.57
Luck Skill
-
Badge
Strike Shot
The Proud Rose - 12 Turns
Increases Speed.
Bump Combo
Spread Shot XL3 (2009)
Fires three 16-way sprays of massive elemental bullets.

To Evo

1 Divine Sharl
5 Dark Sharls
10 Dark Stoans
30 Maxstoans

To Asc

Giraffina (3)
Koalius (2)
Recommended Form - Ascension
More Null Abilities and Recovery
Rosaceae Knight Rosa (Evolution)
JP Name
-
JP #
1946
Class
Paladin
Element
Gender
-
Rarity
-

Sling
Bounce
Max Luck
99
Type
Balanced
Rating
-
Ability
Deity Slayer
Gauge
Null Warp
HP
17172 (+3900) = 21072
Obtain
-
ATK
19450 (+2850) = 22300 (26760 w/ Gauge)
SPD
312.9 (+46.75) = 359.65
Luck Skill
Badge
Strike Shot
Noblesse Rapier - 25 Turns
Reveals all a boss's weak points on contact.
Bump Combo
Spread Pierce-struction XL3 (4499)
Fires three 16-way sprays of massive elemental pass-through shots.

To Asc

Giraffina (2)
Koalius (1)
Strengths
Reveal Weak Point SS to help allies deal more damage
Effective against Deity enemies and Bump Combo procs the Slayer
Weakness
Bump Combo needs positioning to be effective
Ableberries
Strike Haste - Can shorten her SS cooldown
Class Kinstrength - Increases damage towards Deity enemies
Viable Quests

Impossibles/Colossals: Izanagi | Izanagi: Zero


Fire:


Water:


Wood:


Light: Origami | Ghoulie


Dark: Bull Demon King

Tower:

Temple: Water (Time) | Wood (Time) | Wood (Carnage)
Blossom Spirit Rosa (Ascension)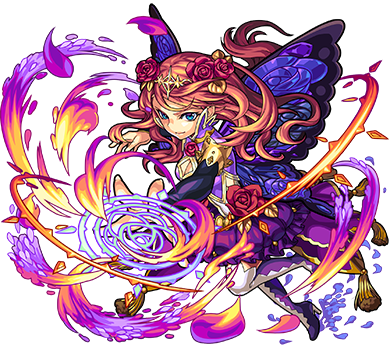 JP Name
-
JP #
1947
Class
Sprite
Element
Gender
-
Rarity
-

Sling
Bounce
Max Luck
99
Type
Balanced
Rating
-
Ability
Flight / Null Warp
Gauge
Recovery
HP
18920 (+4200) = 23120
Obtain
-
ATK
19090 (+2800) = 21890 (26268 w/ Gauge)
SPD
254.4 (+38.25) = 292.65
Luck Skill
Badge
Strike Shot
Rule of Roses - 25 Turns
Reveals all a boss's weak points on contact.
Bump Combo
Spread Pierce-struction XL3 (4499)
Fires three 16-way sprays of massive elemental pass-through shots.

Sub Bump

To Evo

15 Dark Sharls
30 Dark Stoans
90 Maxstoans
Strengths
Two Null Abilities and Recovery for support
Reveal Weak Point SS to help allies deal more damage
Weakness
Bump Combos need positioning to be effective
Ableberries
Strike Haste - Shortens her SS CD further
Sidekick - Increases her Bump Combo damage
Viable Quests

Impossibles/Colossals: Daikokuten | Izanagi | Izanagi: Zero | Eden


Fire: Grey Alien | Zetton


Water: First Empress


Wood: Zhang Jiao | Green Goblin


Light: Ghoulie | Typhon | Gemini Saga | Hikaru Genji | Origami


Dark: Godzilla & Eva-01 | Honda Tadakatsu | Drillmax | Satellite | Vanilla the Witch | Domyoji Anko

Tower:

Temple: Fire (Time) | Fire (Carnage) | Water (Time) | Wood (Time) | Wood (Carnage) | Light (Time)
Flower Series 2

Hatcher Monsters

Dahlia

Iris

Rosa
Drop Monsters

Giraffina

Koalius

Garzelle

Capybarry

Zebralizer
[Extreme] Guide
[Extreme] Guide
[Savage] Guide
[Savage] Guide
[Savage] Guide
Ad blocker interference detected!
Wikia is a free-to-use site that makes money from advertising. We have a modified experience for viewers using ad blockers

Wikia is not accessible if you've made further modifications. Remove the custom ad blocker rule(s) and the page will load as expected.