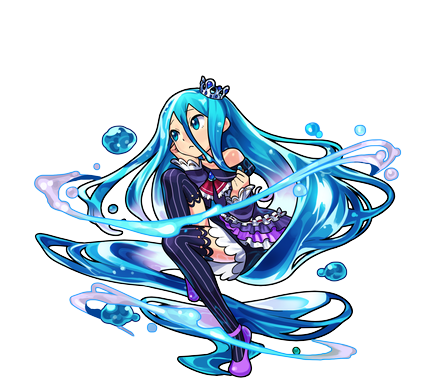 JP Name
ラプンツェル
JP #
833
Class
Demihume
Element
Gender
Female
Rarity
5★

Sling
Pierce
Max Luck
90
Type
Blast
Rating
-
Ability
Fiend Slayer
Gauge
-
HP
9928 (+2460) = 12388
Obtain
Hatcher
ATK
11606 (+1125) = 12731
SPD
178.83 (+17.85) = 196.68
Luck Skill
-
Badge
Strike Shot
マザー・ゴーテル - 12 Turns
Increases Speed.
Bump Combo
Cross Laser M (6629)
Attacks in a cross pattern with medium-sized elemental lasers.

To Evo

1 Divine Sharl
5 Blue Sharls
10 Blue Stoans
30 Maxstoans

To Asc

Vanilla the Witch (3)
Gluttony (3)
Recommended Form - Ascension
NGB with more common slayers
Tower Princess Rapunzel (Evolution)
JP Name
塔の上の姫 ラプンツェル
JP #
834
Class
Demihume
Element
Gender
Female
Rarity
★

Sling
Bounce
Max Luck
99
Type
Blast
Rating
7.0
Ability
Fiend Slayer L
Gauge
-
HP
16097 (+3900) = 19997
Obtain
Evolution
ATK
19391 (+2825) = 22216
SPD
213.40 (+32.30) = 245.70
Luck Skill
Badge
Strike Shot
ドリーム・シアター - 17 Turns
Fires a number of homing shots.

Bump Combo
Cross Laser L (8662)
Attacks in a cross pattern with large elemental lasers.

To Asc

Vanilla the Witch (2)
Gluttony (2)
Strengths
Very effective against Fiend enemies
Weakness
Ableberries
Class Kinstrength - Increases damage towards Fiend enemies
Sidekick - Increases Bump Combo damage that procs with Slayer
Viable Quests

Impossibles/Colossals:


Fire: Vendetta | Surtr | Mordred


Water: Nurarihyon | Dracula


Wood:


Light: Bright Blight


Dark:

Tower:

Temple: Water (Time) | Dark (Carnage)

Megatress Rapunzel (Ascension)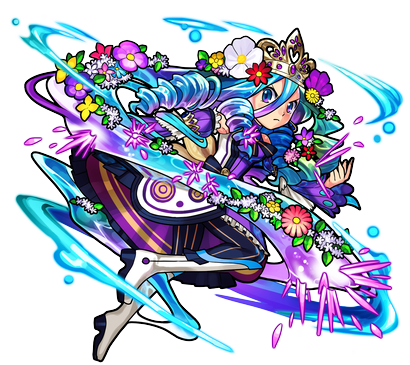 JP Name
髪長姫 ラプンツェル
JP #
835
Class
Demihume
Element
Gender
Female
Rarity
6★

Sling
Bounce
Max Luck
99
Type
Blast
Rating
8.0
Ability
Mech Slayer M / Demon Slayer M
Gauge
Null Gravity Barrier
HP
16368 (+4200) = 20568
Obtain
Ascension
ATK
16764 (+2450) = 19214 (23056 w/ Gauge)
SPD
220.30 (+33.15) = 253.45
Luck Skill
Badge
Strike Shot
レイニーデイ・ウーマン - 17 Turns
Fires a number of homing shots.
Bump Combo
Cross Laser L (8662)
Attacks in a cross pattern with large elemental lasers.

Sub Bump

To Evo

15 Blue Sharls
30 Blue Stoans
90 Maxstoans
Strengths
Two Slayers along with a Null Ability
Weakness
Inconsistent SS damage
Low SPD
Ableberries
Knockout - Great against Ashura in Tower of Champions - 31F
Sidekick - Increases Bump Combo damage that procs with Slayer
Cutthroat - Useful against high HP Bosses
Viable Quests

Impossibles/Colossals: Izanami


Fire: Astaroth | Tokugawa Yoshimune | Solwing | Briareus | Queen of Hearts | Giraffina | Gremory | Jin


Water: Kraken | Queen Butterflight


Wood:


Light: Cardinal Richelieu | Ghoulie


Dark: Kabushido | Deathscoil | Deathscoil x 9th Angel

Tower: 31F

Temple: Fire (Time) | Water (Time) | Dark (Carnage)

Transcendent Tales Series

Hatcher Monsters

King Beebie

Rapunzel

Snow Bow White

Aladdin

Pinocchio
Drop Monsters

Vendetta

Gluttony

Dr. Ginger

Lazanicoff

Vanilla the Witch
[Extreme] Guide
[Savage] Guide
[Savage] Guide
[Savage] Guide
[Extreme] Guide
Ad blocker interference detected!
Wikia is a free-to-use site that makes money from advertising. We have a modified experience for viewers using ad blockers

Wikia is not accessible if you've made further modifications. Remove the custom ad blocker rule(s) and the page will load as expected.