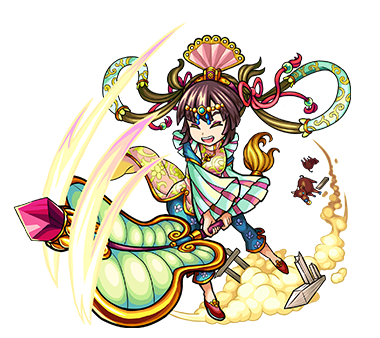 JP Name
-
JP #
1997
Class
Mancer
Element
Gender
-
Rarity
-

Sling
Bounce
Max Luck
90
Type
Blast
Rating
-
Ability
Null Gravity Barrier
Gauge
-
HP
15634 (+0) = 15634
Obtain
-
ATK
10247 (+0) = 10247
SPD
247.93 (+0) = 247.93
Luck Skill
-
Badge
Strike Shot
Twinkling Fan - 20 Turns
On each enemy rebound, attacks outward with fan waves.
Bump Combo
Cross Laser M (6629)
Attacks in a cross pattern with medium-sized elemental lasers.

To Evo

1 Divine Sharl
5 Light Sharls
10 Light Stoans
30 Maxstoans
Ice Spirit Iron Fan X (Evolution)
JP Name
-
JP #
1998
Class
Mancer
Element
Gender
-
Rarity
-

Sling
Bounce
Max Luck
99
Type
Blast
Rating
-
Ability
Fiend Slayer
Gauge
Null Gravity Barrier
HP
16832 (+3900) = 20732
Obtain
-
ATK
13712 (+4675) = 18387 (22064 w/ Gauge)
SPD
234.4 (+82.45) = 316.85
Luck Skill
Badge
Strike Shot
Fan Regalia - 24 Turns
On each enemy rebound, attacks outward with fan waves.
Bump Combo
Cross Laser L (8662)
Attacks in a cross pattern with large elemental lasers.
Strengths
Effective against Fiend monsters
Blast Type Cross Laser L for high damage
Weakness
Hardly deals damage towards non-Fiend enemies due to low ATK stat
Ableberries
Sidekick - Increases her Bump Combo power
Class Kinstrength - Increases damage towards Fiend enemies
Viable Quests

Impossibles/Colossals:


Fire:


Water: Oruga


Wood:


Light: Bright Blight


Dark: Zero | Gilles de Rais | Slash

Tower:

Temple: Water (Time)

Ad blocker interference detected!
Wikia is a free-to-use site that makes money from advertising. We have a modified experience for viewers using ad blockers

Wikia is not accessible if you've made further modifications. Remove the custom ad blocker rule(s) and the page will load as expected.