JP Name
-
JP #
1145
Class
Demon
Element
Gender
-
Rarity
-

Sling
Pierce
Max Luck
72
Type
Balanced
Rating
-
Ability
Null Damage Wall
Gauge
-
HP
7664 (+1400) = 9064
Obtain
-
ATK
7396 (+700) = 8096
SPD
233.33 (+22.95) = 256.28
Luck Skill
-
Badge
Strike Shot
Breakwater Breaker - 25 Turns
Attacks enemies on contact with giant building stones.
Bump Combo
Lock-on Shockwave 3 (7576)
Attacks with 3 non-elemental shockwaves.

To Evo

1 Light Sharl
5 Light Stoans
10 Maxstoans
30 Stoans

Material For

Princess Takiyasha
Boulder Chucker Preta (Evolution)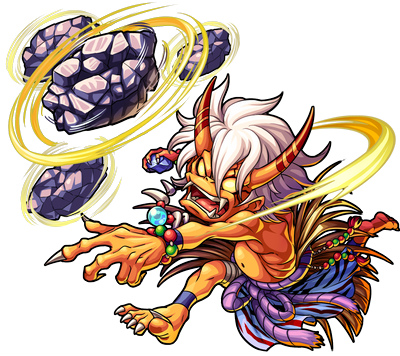 JP Name
-
JP #
1146
Class
Demon
Element
Gender
-
Rarity
-

Sling
Pierce
Max Luck
90
Type
Balanced
Rating
-
Ability
Null Damage Wall
Gauge
HP
13414 (+2460) = 15874
Obtain
-
ATK
12946 (+4400) = 17346
SPD
272.67 (+96.05) = 368.72
Luck Skill
Badge
Strike Shot
Sanzu Savaging - 26 Turns
Attacks enemies on contact with giant building stones.
Bump Combo
Lock-on Shockwave 6 (13259)
Attacks with 6 non-elemental shockwaves.
Strengths
Meteor SS for mob clearing and synergizes with Sling
Weakness
Onmyodo Road Series

Hatcher Monsters

Izumo

Ibaraki Doji

Diviner Seimei
Drop Monsters

Rakshasa

Goldman

Doman

Preta

Princess Takiyasha
[Extreme] Guide
[Savage] Guide
[Savage] Guide
[Savage] Guide
[Extreme] Guide
Ad blocker interference detected!
Wikia is a free-to-use site that makes money from advertising. We have a modified experience for viewers using ad blockers

Wikia is not accessible if you've made further modifications. Remove the custom ad blocker rule(s) and the page will load as expected.