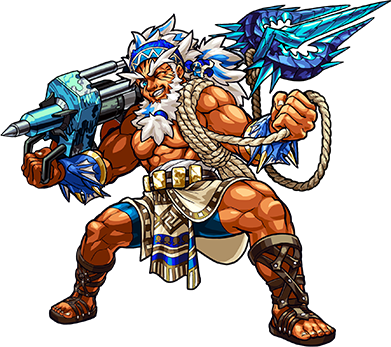 JP Name
ポセイドン
JP #
2148
Class
Deity
Element
Gender
-
Rarity
-

Sling
Pierce
Max Luck
90
Type
Balanced
Rating
-
Ability
Null Damage Wall
Gauge
-
HP
12705 (+2460) = 15165
Obtain
-
ATK
12485 (+1225) = 13710
SPD
246.73 (+24.65) = 271.38
Luck Skill
-
Badge
Strike Shot
Spirit of Triton - 12 Turns
Increases Speed.
Bump Combo
Spread Shot XL3 (2009)
Fires three 16-way sprays of massive elemental bullets.

To Evo

1 Divine Sharl
5 Blue Sharls
10 Blue Stoans
30 Maxstoans

To Asc

Gremory (2)
Barbatos (3)
Recommended Form - Evolution
More Null Abiltiies
Better SS that can mob clear
Poseidon the Trident (Evolution)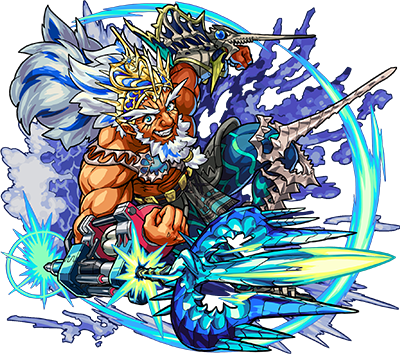 JP Name
海神 ポセイドン
JP #
2149
Class
Deity
Element
Gender
-
Rarity
-

Sling
Pierce
Max Luck
99
Type
Balanced
Rating
-
Ability
Null Damage Wall
Gauge
Null Block
HP
20341 (+3900) = 24241
Obtain
-
ATK
18477 (+2700) = 21177 (25412 w/ Gauge)
SPD
275.3 (+41.65) = 316.95
Luck Skill
Badge
Strike Shot
Trident Injection - 30 Turns
Attacks all enemies on contact with lightning.
Bump Combo
Spread Pierce-struction XL3 (4499)
Fires three 16-way sprays of massive elemental pass-through shots.

To Asc

Gremory (1)
Barbatos (2)
Strengths
Weakness
A lot of other powerful Water Null Damage Wall monsters in the game
Ableberries
Class Kinstrength - Increases SS damage
Survivor - Mitigates damage from enemies
Cutthroat - Works well in Ashura
Viable Quests

Impossibles/Colossals: Ashura


Fire: Vendetta | Astaroth | Fireblade Murasame | Shen Gongbao | Taki Rentaro


Water:


Wood:


Light: Scyllara | Pine | Marida of the Lamp | Yuan Shao


Dark: Kamaitachi

Tower: 21F | 26F | 36F

Temple: Water (Time) | Water (Carnage) | Light (Carnage) | Dark (Time)
Poseidon, Ruler of the Seas (Ascension)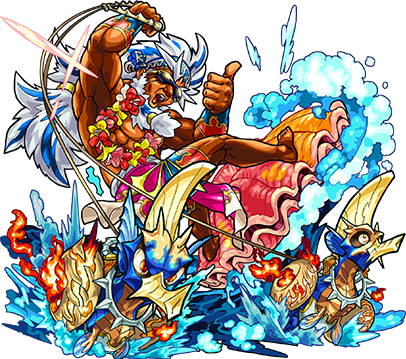 JP Name
海の支配者 ポセイドン
JP #
2150
Class
Deity
Element
Gender
-
Rarity
-

Sling
Pierce
Max Luck
99
Type
Speed
Rating
-
Ability
Deity Slayer
Gauge
Null Damage Wall
HP
17887 (+4200) = 22087
Obtain
-
ATK
17493 (+2550) = 20043 (24051 w/ Gauge)
SPD
357.87 (+53.55) = 411.42
Luck Skill
Badge
Strike Shot
Godly Surfboard - 18 Turns
Increases Speed and Strength
Bump Combo
Spread Pierce-struction XL3 (4499)
Fires three 16-way sprays of massive elemental pass-through shots.

Sub Bump

To Evo

15 Blue Sharls
30 Blue Stoans
90 Maxstoans
Strengths
Effective against Deity enemies and works well with his Sling
Weakness
Low damage towards non-Deity enemies
A lot of other powerful Water Null Damage Wall monsters in the game
Ableberries
Class Kinstrength - Increases damage towards Deity enemies
Survivor - Mitigates damage from enemies
Sidekick - Increases the damage of his Wave Bump
Viable Quests

Impossibles/Colossals:


Fire: Fortuna | Vendetta | Fireblade Murasame | Astaroth


Water:


Wood:


Light:


Dark:

Tower:

Temple: Water (Time) | Water (Carnage) | Light (Carnage) | Dark (Time)
Ad blocker interference detected!
Wikia is a free-to-use site that makes money from advertising. We have a modified experience for viewers using ad blockers

Wikia is not accessible if you've made further modifications. Remove the custom ad blocker rule(s) and the page will load as expected.