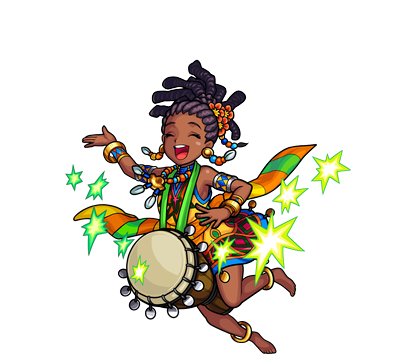 JP Name
-
JP #
2228
Class
Demihume
Element
Gender
-
Rarity
-

Sling
Bounce
Max Luck
72
Type
Speed
Rating
-
Ability
Vivolith Slayer L
Gauge
-
HP
6082 (+1400) = 7482
Obtain
-
ATK
6517 (+625) = 7142 (17855 w/ Gauge)
SPD
241.07 (+23.8) = 264.87
Luck Skill
-
Badge
Strike Shot
Djembe Rhythm - 12 Turns
Bashes the first contacted enemy and sends it flying.
Bump Combo
Super Blast (6560)
Attacks with a large, non-elemental blast around the user.

To Evo

1 Green Sharl
5 Green Stoans
10 Maxstoans
30 Stoans

Material For

Schubert
Earth's Heartbeat Poca-Poco (Evolution)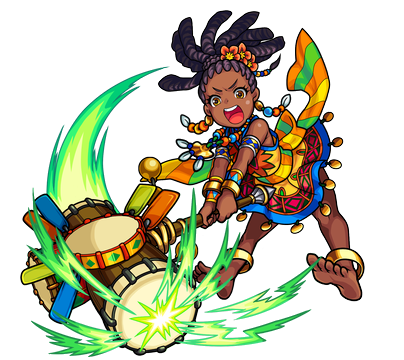 JP Name
-
JP #
2229
Class
Demihume
Element
Gender
-
Rarity
-

Sling
Bounce
Max Luck
90
Type
Speed
Rating
-
Ability
Vivolith Slayer XL
Gauge
HP
10644 (+2460) = 13104
Obtain
-
ATK
8179 (+2775) = 10954
SPD
309.9 (+109.65) = 419.55
Luck Skill
Badge
Strike Shot
Smash of the Drums - 12 Turns
Bashes the first contacted enemy and sends it flying.
Bump Combo
Mega Blast (7653)
Attacks with a very large, non-elemental blast around the user.
Strengths
Effective against Vivolith enemies
Giga Blast Bump procs allies' Bump Combos
Weakness
Low stats
No Null Abilities
Artists Series

Hatcher Monsters

Katsushika Hokusai

Rembrandt

Gogh
Drop Monsters

Taki Rentaro

Schubert

Poca-Poco

Dvorak

Con Brio
[Extreme] Guide
[Extreme] Guide
[Savage] Guide
[Savage] Guide
[Savage] Guide
Ad blocker interference detected!
Wikia is a free-to-use site that makes money from advertising. We have a modified experience for viewers using ad blockers

Wikia is not accessible if you've made further modifications. Remove the custom ad blocker rule(s) and the page will load as expected.