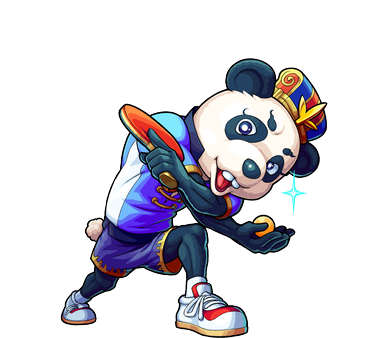 JP Name
-
JP #
1767
Class
Beast
Element
Gender
-
Rarity
-

Sling
Bounce
Max Luck
72
Type
Speed
Rating
-
Ability
Null Warp
Gauge
-
HP
6651 (+1400) = 8051
Obtain
-
ATK
6577 (+625) = 7202
SPD
246.5 (+24.65) = 271.15
Luck Skill
-
Badge
Strike Shot
Bamboo Slice - 21 Turns
Fires a number of homing shots.
Bump Combo
Homing Shot 8 (2583)
Randomly targets foes with 8 elemental shots.

To Evo

1 Blue Sharl
5 Blue Stoans
10 Maxstoans
30 Stoans

Material For

Diaochan
Panda the Ping Pong Prodigy (Evolution)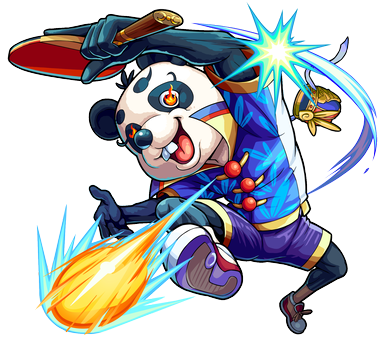 JP Name
-
JP #
1768
Class
Beast
Element
Gender
-
Rarity
-

Sling
Bounce
Max Luck
90
Type
Speed
Rating
-
Ability
Vivolith Slayer M
Gauge
Null Warp
HP
11643 (+2460) = 14103
Obtain
-
ATK
8514 (+2900) = 11414 (13696 w/ Gauge)
SPD
288.07 (+101.15) = 389.22
Luck Skill
-
Badge
Strike Shot
Monochrome Smash - 21 Turns
Fires a number of homing shots.
Bump Combo
Homing Shot 12 (3075)
Randomly targets foes with 12 elemental shots.
Strengths
Effective against Vivolith enemies and has high SPD to deal damage
Weakness
No damage onto enemies outside of Vivolith
Ad blocker interference detected!
Wikia is a free-to-use site that makes money from advertising. We have a modified experience for viewers using ad blockers

Wikia is not accessible if you've made further modifications. Remove the custom ad blocker rule(s) and the page will load as expected.