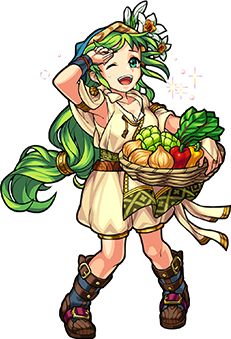 JP Name
-
JP #
2151
Class
Deity
Element
Gender
-
Rarity
-

Sling
Bounce
Max Luck
90
Type
Balanced
Rating
-
Ability
Null Warp
Gauge
-
HP
13142 (+2460) = 15602
Obtain
-
ATK
17748 (+1750) = 19498
SPD
223 (+22.1) = 245.1
Luck Skill
-
Badge
Strike Shot
Harvest Season - 12 Turns
Increases Speed.
Bump Combo
Energy Burst 4 (34850)
Unleashes four powerful non-elemental attacks in various directions.

To Evo

1 Divine Sharl
5 Green Sharls
10 Green Stoans
30 Maxstoans

To Asc

Baal (3)
Barbatos (2)
Decarabia (1)
Recommended Form - Evolution
Uncommon Motivation SS
Damaging Bump Combo
Persephone the Harvest (Evolution)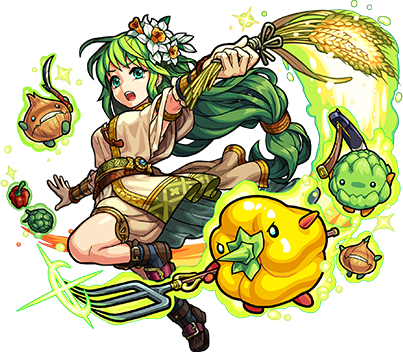 JP Name
-
JP #
2152
Class
Deity
Element
Gender
-
Rarity
-

Sling
Bounce
Max Luck
99
Type
Balanced
Rating
-
Ability
Null Warp / Null Wind
Gauge
HP
17110 (+3900) = 21010
Obtain
-
ATK
24811 (+3625) = 28436
SPD
274.63 (+41.65) = 316.28
Luck Skill
Badge
Strike Shot
Veggie Frenzy - 24 Turns
Motivates teammates and leads them against the enemy.
Bump Combo
Energy Burst 4 (57400)
Unleashes four powerful non-elemental attacks in various directions.

To Asc

Baal (2)
Barbatos (1)
Decarabia (1)
Strengths
Motivation SS that is uncommon in the game, especially for normal Hatcher monsters
Energy Burst 4 for damage
Weakness
No real use for Null Wind
Need to position for Bump Combo
Ableberries
Sidekick - Increases her Bump Combo damage
Survivor - Mitigates damage from enemies
Viable Quests

Impossibles/Colossals: Izanagi | Doom | Izanagi: Zero | Akasha


Fire:


Water: Kay | Louis XIII | Schubert | Sima Yi | Jabberwock


Wood: Tokugawa Yoshinobu


Light: Origami | Hikaru Genji


Dark: Geppetto | Vanilla the Witch | Venom

Tower: 22F

Temple: Water (Time) | Water (Carnage) | Wood (Time) | Wood (Carnage) | Dark (Carnage)
Persephone, Queen of the Underworld (Ascension)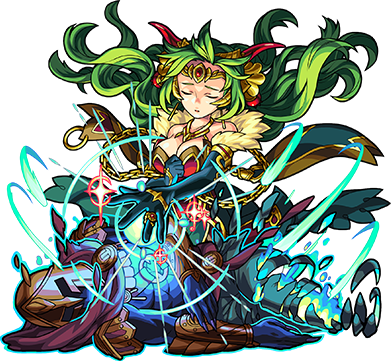 JP Name
-
JP #
2153
Class
Deity
Element
Gender
-
Rarity
-

Sling
Bounce
Max Luck
99
Type
Balanced
Rating
-
Ability
Null Gravity Barrier
Gauge
Null Block
HP
18530 (+4200) = 22730
Obtain
-
ATK
19734 (+2875) = 22609 (27130 w/ Gauge)
SPD
263.83 (+39.95) = 303.78
Luck Skill
Badge
Strike Shot
Hades' Pomegranate - 19 Turns
Creates a healing wall on the first wall contacted.
Bump Combo
Speed Up (0)
Grants a speed boost to teammates.

Sub Bump

To Evo

15 Green Sharls
30 Green Stoans
90 Maxstoans
Strengths
Supportive Bump Combo
Healing Wall SS to help you in a pinch
Weakness
Low damage from SS and Bump
Ableberries
Class Kinstrength - Increases ATK to over 30000
Viable Quests

Impossibles/Colossals: Tsukuyomi: Zero | Tsukuyomi | Yomi


Fire:


Water: Baal | Koalius | Goldy & Baldy


Wood:


Light: Scyllara | Pine


Dark:

Tower:

Temple: Water (Time) | Wood (Carnage) | Dark (Carnage)
Ad blocker interference detected!
Wikia is a free-to-use site that makes money from advertising. We have a modified experience for viewers using ad blockers

Wikia is not accessible if you've made further modifications. Remove the custom ad blocker rule(s) and the page will load as expected.