JP Name
-
JP #
1921
Class
Discordi
Element
Gender
-
Rarity
-

Sling
Bounce
Max Luck
90
Type
Balanced
Rating
-
Ability
Null Warp
Gauge
-
HP
14797 (+0) = 14797
Obtain
-
ATK
17397 (+0) = 17397
SPD
312.23 (+0) = 312.23
Luck Skill
-
Badge
Strike Shot
Formation P - 15 Turns
Bashes the first contacted enemy and sends it flying.
Bump Combo
Ex Laser M (4735)
Attacks in an X pattern with 4 medium-sized elemental lasers.

To Evo

1 Divine Sharl
5 Green Sharls
10 Green Stoans
30 Maxstoans

To Asc

Typera (3)
Cutter Fish (3)

Material For

Ame-no-Uzume
Takemikazuchi
Typera
Recommended Form - Evolution
Has one of the main Null Abilities
Robot Savior Pencil Base (Evolution)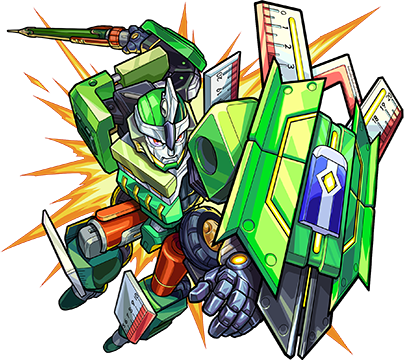 JP Name
-
JP #
1922
Class
Discordi
Element
Gender
-
Rarity
-

Sling
Bounce
Max Luck
99
Type
Balanced
Rating
-
Ability
Null Warp
Gauge
Paladin Slayer M
HP
17841 (+3900) = 21741
Obtain
-
ATK
16033 (+5475) = 21508 (25810 w/ Gauge)
SPD
256.37 (+90.95) = 347.32
Luck Skill
Badge
Strike Shot
Stationary Burst - 16 Turns
Bashes the first contacted enemy and sends it flying.
Bump Combo
Ex Laser L (6187)
Attacks in an X pattern with 4 large elemental lasers.

To Asc

Typera (2)
Cutter Fish (2)
Strengths
Effective against Paladin enemies
Weakness
Ableberries
Class Kinstrength - Increases damage towards Paladin enemies
Viable Quests

Impossibles/Colossals:


Fire:


Water: Louis XIII | First Empress


Wood:


Light:


Dark:

Tower:

Temple: Water (Time) | Water (Carnage)
Trace Launcher Pencil Base (Ascension)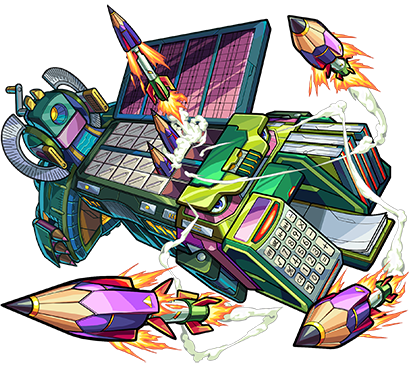 JP Name
-
JP #
1923
Class
Discordi
Element
Gender
-
Rarity
-

Sling
Bounce
Max Luck
99
Type
Blast
Rating
-
Ability
Null Wind
Gauge
Null Block / Dash L
HP
19211 (+4200) = 23411
Obtain
-
ATK
11200 (+3825) = 15025 (18030 w/ Gauge)
SPD
114.43 (+39.95) = 154.38
Luck Skill
Badge
Strike Shot
Rapid Fire Pencil Rockets - 25 Turns
Launches a pulse attack in the targeted direction.
Bump Combo
Homing Piercer (3345)
Randomly targets foes with 8 elemental pass-through shots.

Sub Bump

To Evo

15 Green Sharls
30 Green Stoans
90 Maxstoans
Strengths
Bump Combos are useful in mob clearing
Weakness
Low stats in general
Not many uses for Null Wind and Null Block
Ableberries
Sidekick - Increases his Bump Combo damage for mob clearing
Viable Quests

Impossibles/Colossals:


Fire:


Water: Koalius


Wood:


Light: Pine


Dark:

Tower:

Temple: Water (Time)
Ad blocker interference detected!
Wikia is a free-to-use site that makes money from advertising. We have a modified experience for viewers using ad blockers

Wikia is not accessible if you've made further modifications. Remove the custom ad blocker rule(s) and the page will load as expected.