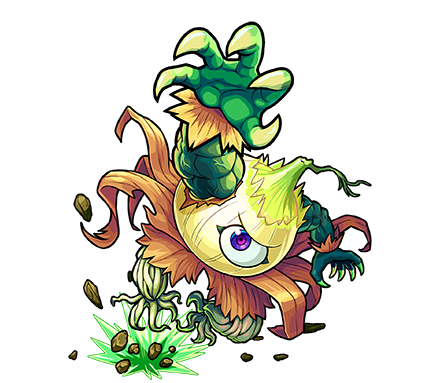 JP Name
-
JP #
1900
Class
Sprite
Element
Gender
-
Rarity
-

Sling
Bounce
Max Luck
72
Type
Power
Rating
-
Ability
Null Gravity Barrier
Gauge
-
HP
6735 (+1400) = 8135
Obtain
-
ATK
10737 (+1025) = 11762
SPD
145.53 (+14.45) = 159.98
Luck Skill
-
Badge
-
Strike Shot
The Flying Onion - 10 Turns
Bashes the first contacted enemy and sends it flying.
Bump Combo
Homing Piercer 4 (1394)
Randomly targets foes with 4 elemental pass-through shots.

To Evo

1 Green Sharl
5 Green Stoans
10 Maxstoans
30 Stoans

Material For

Lasagny
Nacho
Chocolat
Pine
Crying Onion Head (Evolution)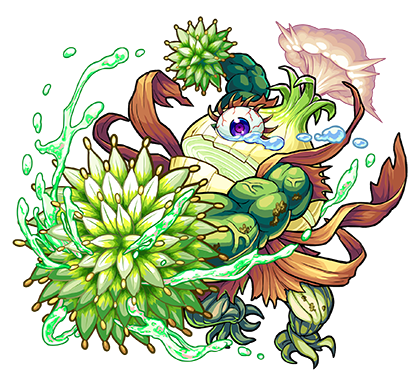 JP Name
-
JP #
1901
Class
Sprite
Element
Gender
-
Rarity
-

Sling
Bounce
Max Luck
90
Type
Power
Rating
-
Ability
Null Gravity Barrier
Gauge
Demon Slayer
HP
11538 (+2460) = 13998
Obtain
-
ATK
15684 (+5350) = 21034 (25240 w/ Gauge)
SPD
160.63 (+56.95) = 217.58
Luck Skill
-
Badge
-
Strike Shot
Who's Crying? - 10 Turns
Bashes the first contacted enemy and sends it flying.
Bump Combo
Homing Piercer 6 (1394)
Randomly targets foes with 6 elemental pass-through shots.
Strengths
Effective against Demon enemies
10 Turn Bash SS that can be used to avoid Damage Walls
Weakness
Culinary Champs

Hatcher Monsters

Lasagny

Nacho

Chocolat
Drop Monsters

Pepper

Lobstar

Onion Head

Pine

Eggbee
[Savage] Guide
[Extreme] Guide
[Savage] Guide
[Extreme] Guide
[Savage] Guide
Ad blocker interference detected!
Wikia is a free-to-use site that makes money from advertising. We have a modified experience for viewers using ad blockers

Wikia is not accessible if you've made further modifications. Remove the custom ad blocker rule(s) and the page will load as expected.