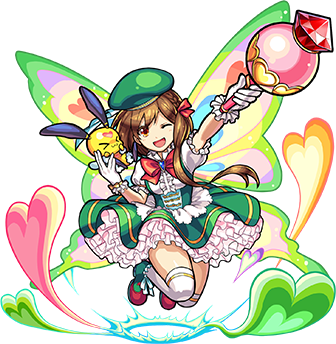 JP Name
オリーブ
JP #
2140
Class
Sprite
Element
Gender
Female
Rarity
5★

Sling
Pierce
Max Luck
90
Type
Speed
Rating
-
Ability
Null Gravity Barrier
Gauge
-
HP
15112 (+0) = 15112
Obtain
Medal Exchange
ATK
10194 (+0) = 10194
SPD
356.13 (+0) = 356.13
Luck Skill
-
Badge
-
Strike Shot
オリーブ♥トゥインクル - 12 Turns
Increases Speed.
Bump Combo
Energy Circle S (5412)
Fires a small elemental sphere of energy.

To Evo

1 Divine Sharl
5 Green Sharls
10 Green Stoans
30 Maxstoans
Olive the Elegant (Evolution)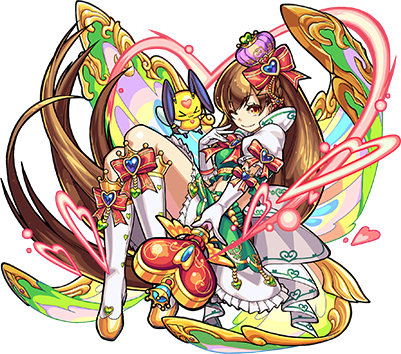 JP Name
プリティー オリーブ
JP #
2141
Class
Sprite
Element
Gender
Female
Rarity
6★

Sling
Pierce
Max Luck
99
Type
Speed
Rating
7.5
Ability
Heart Barrier
Gauge
Null Gravity Barrier / Gravity Barrier Slayer
HP
19128 (+3900) = 23028
Obtain
Evolution
ATK
13612 (+4650) = 18262 (21914 w/ Gauge)
SPD
292.40 (+103.70) = 396.10
Luck Skill
Badge
Strike Shot
オリーブ♥デイドリーム - 18 Turns
Increases Speed and Strength and does a lot of damage to Shields.
Bump Combo
Energy Heart (13259)
Fires a medium-sized elemental heart of energy.
Strengths
Heart Barrier can nullify debuffs and damage
Slays any enemy with a Gravity Barrier
Weakness
Heart Barrier can only absorb around 3000 damage
Only useful in dungeons with Gravity Barriers
Ableberries
Survivor - Increase the effectiveness of her Heart Barrier
Class Kinstrength - Increase her Slayer damage
Sidekick - Increases her Bump Combo damage
Viable Quests

Impossibles/Colossals: Yamato Takeru | Karma | Nirai Kanai | Lu Bu


Fire:


Water: Okita Soji | Kraken | Fox Metal | Yamata no Orochi | Baal | Goldy & Baldy | Oruga


Wood:


Light: Princess Nokko | Signal Man | Nero | Behemoth | Minamoto no Yoritomo


Dark: Darkblade Murasame | Krishna | Gilles de Rais | Princess Takiyasha | Blizzaga

Tower: 22F

Temple: Water (Time) | Wood (Carnage) | Dark (Carnage)
Ad blocker interference detected!
Wikia is a free-to-use site that makes money from advertising. We have a modified experience for viewers using ad blockers

Wikia is not accessible if you've made further modifications. Remove the custom ad blocker rule(s) and the page will load as expected.