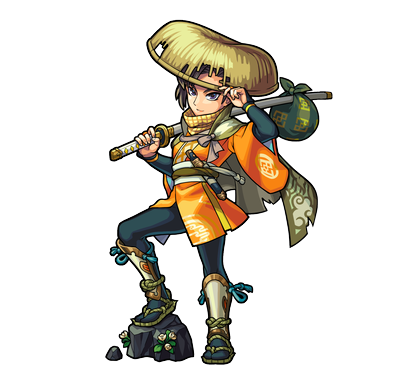 JP Name
-
JP #
1874
Class
Demihume
Element
Gender
-
Rarity
-

Sling
Bounce
Max Luck
72
Type
Speed
Rating
-
Ability
Null Damage Wall
Gauge
-
HP
6819 (+1400) = 8219
Obtain
-
ATK
6102 (+575) = 6677
SPD
260.17 (+25.5) = 285.67
Luck Skill
-
Badge
Strike Shot
Kabuki Wanderlust - 12 Turns
Increases Speed.
Bump Combo
Ex Laser S (2706)
Attacks in an X pattern with 4 small elemental lasers.

To Evo

1 Light Sharl
5 Light Stoans
10 Maxstoans
30 Stoans

Material For

Chikamatsu Monzaemon
Kabuki Miko Okuni (Evolution)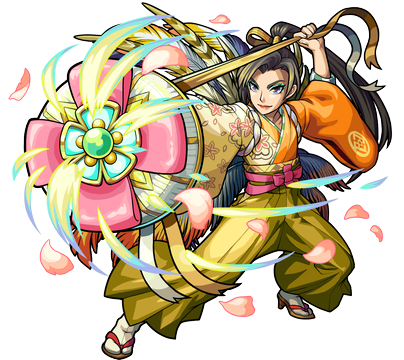 JP Name
-
JP #
1875
Class
Demihume
Element
Gender
-
Rarity
-

Sling
Bounce
Max Luck
90
Type
Speed
Rating
-
Ability
Null Damage Wall
Gauge
Null Block
HP
11818 (+2460) = 14278
Obtain
-
ATK
9230 (+3150) = 12380 (14856 w/ Gauge)
SPD
301.77 (+106.25) = 408.02
Luck Skill
-
Badge
Strike Shot
Blossom Cheer - 16 Turns
Passes through enemies while attacking.
Bump Combo
Ex Laser M (4735)
Attacks in an X pattern with 4 medium-sized elemental lasers.
Strengths
Has Null Block which is unique for ★5
Weakness
Low ATK stat and no Bump Combo damage
Martial Masters Series

Hatcher Monsters

Inshun

Sasaki Kojiro

Baiken

Miyamoto Musashi

Yagyu Jubei
Drop Monsters

Zeami

MC Basho

Chikamatsu Monzaemon

Okuni

Onryo
[Extreme] Guide
[Savage] Guide
[Extreme] Guide
[Savage] Guide
[Savage] Guide
Ad blocker interference detected!
Wikia is a free-to-use site that makes money from advertising. We have a modified experience for viewers using ad blockers

Wikia is not accessible if you've made further modifications. Remove the custom ad blocker rule(s) and the page will load as expected.