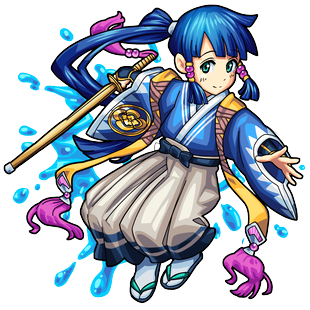 JP Name
-
JP #
499
Class
Samurai
Element
Gender
-
Rarity
-

Sling
Pierce
Max Luck
90
Type
Speed
Rating
-
Ability
Mech Slayer
Gauge
-
HP
11652 (+0) = 11652
Obtain
ATK
12633 (+0) = 12633
SPD
362.3 (+0) = 362.3
Luck Skill
-
Badge
Strike Shot
Vicious Thrust - 15 Turns
Bashes the first contacted enemy and sends it flying with a vicious thrust.
Bump Combo
Vertical Laser L (9471)
Attacks upward and downward with 2 large elemental lasers.

To Evo

1 Divine Sharl
5 Blue Sharls
10 Blue Stoans
30 Maxstoans

To Asc

Hijikata Toshizo (2)
Saito Hajime (1)
Tokugawa Yoshinobu (1)

Material For

> Tokugawa Yoshinobu
Napoleon
Recommended Form - Ascension
Okita the Blade (Evolution)
JP Name
-
JP #
500
Class
Samurai
Element
Gender
-
Rarity
-

Sling
Pierce
Max Luck
99
Type
Speed
Rating
-
Ability
Mech Slayer L
Gauge
HP
14749 (+3900) = 18649
Obtain
-
ATK
20702 (+2000) = 22702
SPD
365.1 (+36.55) = 401.65
Luck Skill
Badge
Strike Shot
Tennen Rishin-ryu - 16 Turns
Bashes the first contacted enemy and sends it flying with a vicious thrust.
Bump Combo
Ex Laser L (6187)
Attacks in an X pattern with 4 large elemental lasers

To Asc

Hijikata Toshizo (2)
Tokugawa Yoshinobu (1)
Strengths
Very effective against Mech enemies
Weakness
Ableberries
Class Kinstrength - Increases enemies towards Mechs
Cutthroat - Useful against high HP Bosses
Class Kinvigor - Covers his low HP
Viable Quests

Impossibles/Colossals: Ashura


Fire: Solwing | Briareus


Water:


Wood:


Light:


Dark: Kabushido

Tower:

Temple: Water (Time) | Water (Carnage)
Shinsengumi Captain Okita (Ascension)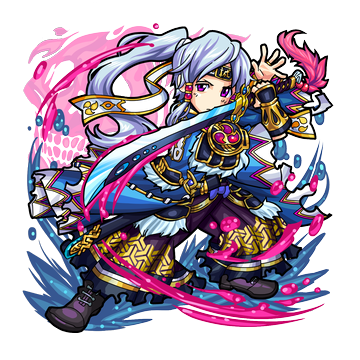 JP Name
-
JP #
501
Class
Samurai
Element
Gender
-
Rarity
-

Sling
Pierce
Max Luck
99
Type
Speed
Rating
-
Ability
Mech Slayer
Gauge
Null Damage Wall
HP
13949 (+4200) = 18149
Obtain
-
ATK
17956 (+1750) = 19706 (23647 w/ Gauge)
SPD
334.97 (+33.15) = 368.12
Luck Skill
Badge
Strike Shot
Flying Rishin-ryu - 16 Turns
Rebound off enemies and dance across the battlefield.
Bump Combo
Homing Shot 12 (3294)
Randomly targets foes with 12 elemental shots.

Sub Bump

To Evo

15 Blue Sharls
30 Blue Stoans
90 Maxstoans
Strengths
Effective against Mech enemies
SS can deal high damage in tight spots
Weakness
Ableberries
Class Kinstrength - Increases enemies towards Mechs
Cutthroat - Useful against high HP Bosses
Class Kinvigor - Covers his low HP
Viable Quests

Impossibles/Colossals: Ashura


Fire: Fire Wyrm | Astaroth | Vendetta | Hydra | Solwing | Briareus


Water: Lilith | Dracula


Wood:


Light: Jack


Dark:

Tower:

Temple: Water (Time) | Water (Carnage) | Light (Carnage) | Dark (Time)
Rising Sun Revolutionaries Series

Hatcher Monsters

Sakamoto Ryoma

Katsu Kaishu

Oryo

John Manjiro

Saigo Takamori
Drop Monsters

Saito Hajime

Okita Soji

Tokugawa Yoshinobu

Kondo Isami

Hijikata Toshizo
[Savage] Guide
[Extreme] Guide
[Extreme] Guide
[Savage] Guide
[Savage] Guide
Ad blocker interference detected!
Wikia is a free-to-use site that makes money from advertising. We have a modified experience for viewers using ad blockers

Wikia is not accessible if you've made further modifications. Remove the custom ad blocker rule(s) and the page will load as expected.