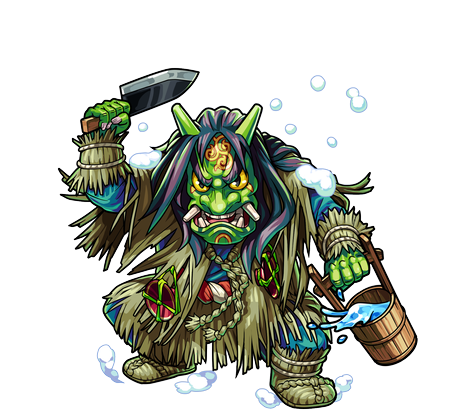 JP Name
-
JP #
1819
Class
Demihume
Element
Gender
-
Rarity
-

Sling
Bounce
Max Luck
72
Type
Power
Rating
-
Ability
Null Warp
Gauge
-
HP
7747 (+1400) = 9147
Obtain
-
ATK
15026 (+1450) = 16476
SPD
168.83 (+17) = 185.83
Luck Skill
-
Badge
Strike Shot
Crybabies Beware - 25 Turns
Attacks enemies on contact with an acorn shower.
Bump Combo
Homing Shot 8 (1291)
Randomly targets foes with 18 elemental shots.

To Evo

1 Green Sharl
5 Green Stoans
10 Maxstoans
30 Stoans

Material For

Kamaitachi
Mountain Deity Namahage (Evolution)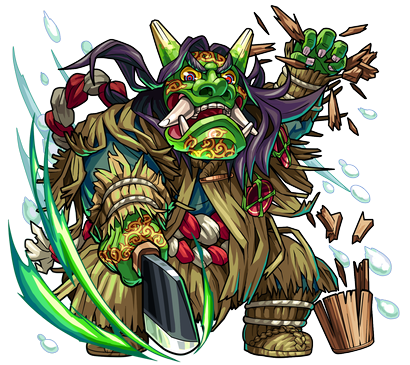 JP Name
-
JP #
1820
Class
Demihume
Element
Gender
-
Rarity
-

Sling
Bounce
Max Luck
90
Type
Power
Rating
-
Ability
Null Warp
Gauge
Null Block
HP
13531 (+2460) = 15991
Obtain
-
ATK
16281 (+5550) = 21831 (26197 w/ Gauge)
SPD
161.23 (+56.95) = 218.18
Luck Skill
-
Badge
Strike Shot
Yearly Havoc - 28 Turns
Attacks enemies on contact with an acorn shower.
Bump Combo
Homing Shot 12 (2195)
Randomly targets foes with 12 elemental shots.
Strengths
Unique Ability kit
SS great for mob clearing
Weakness
Low SPD and Power type makes hitting multiple enemies during SS very hard
Low single target damage
Ad blocker interference detected!
Wikia is a free-to-use site that makes money from advertising. We have a modified experience for viewers using ad blockers

Wikia is not accessible if you've made further modifications. Remove the custom ad blocker rule(s) and the page will load as expected.